Dirrrty Poptastic Awards 2003
Hottest Euro Hit

If only they released them here.

1. Lene - It's Your Duty (To Shake That Booty)

2. Sita - Come With Me

3. Nena & Kim Wilde - Anytime, Anywhere, Anyplace

4. Ice T ft. Cool T - The Magic Key

5. Sarah Conner - Bounce
Dirrrty Poptastic Awards 2003
Albums That Are Sure To be Classics

1. Will Young - Friday's Child

2. Maroon 5 - Songs About Jane

3. Delta Goodrem - Innocent Eyes

4. Girls Aloud - Sounds Of The Underground

5. Britney Spears - In The Zone
My World Idol Review
I decided after 6 days and nearly reaching the results show that I should reveal my thoughts on the matter of World Idol.

Alexander, Germany: I wasn't pleased by this performance because I know Alex can sing better, even on this (actually brilliant) song. Download his recorded version for proof. Don't bother with any of his other songs though, they're quite...German.

Guy Sebastian, Australia: I didn't like the arrangement of this at all and I'm not even a fan of the original so this had little hope with me. However, it was evident that Guy has a really great singing voice and I can see him doing rather well tomorrow night. I only wish he'd done Crazy In Love in the fur coat instead, that would have been far more enjoyable.

Diana Karazon, Pan-Arab: Like Simon, I couldn't understand a word of this and couldn't tell whether it was any good or not. I'm sure she is lovely and brilliant if you're into classical Arabian music but for those of us who aren't she isn't much use.

Jamai Loman, Holland: Jamai is the Idol of one of my favourite countries in the world but is sadly not representative of their usual brilliance. Still, he was pretty good and actually better than he often has been. His first single is pretty cool too so you should hear it if you haven't already.

Heinz Winckler, South Africa: Aww lovely Heinz! I've liked Heinz for over a year and he is my 3rd fave Idol without doubt. He's a nice guy and lovely looking and very talented too. Give him a chance voters!

Alex/Alicja/Ala/Ali Janosz, Poland: The girl with 4 names rules even more than antitcipated! "I hate you!" in a Polish accent will be a favourite phrase of mine for years to come, I can tell.

Ryan, Canada: I can't even remember his surname which isn't good for him. Also twice I have forgotten he existed at all and spent ages recounting Idols and wondering if there were only 10 in the first place. His performance was just as forgettable. Ooh I remembered! Ryan Malcolm. Even his name is dull...

Kelly Clarkson, USA: Yuck. Go away please.

Peter Evrard, Belgium: Yuck. Go away please.

Will Young, UK: Who is this guy? He's really good! I'd even buy his CDs.

Kurt Nilsen, Norway: I really think Kurt will win tomorrow. He's got all the factors. He's European and the other Europeans are sure to vote for one of their own rather than us or the Americans for the usual political reasons. Also, he's a good singer and funny looking so will pick up a lot of UK votes and maybe from other countries that think like we do.

So who's gonna win? I think it's between 3 people. Kurt, Guy and Will. Kelly could do it if the world gets really stupid, but remember this vote was on Xmas day and Boxing day - how many voters would have been completely sober? Not many I bet. So who knows where their fingers could have slipped? (Ew, bad phrasing! I'll leave it just for hilarity's sake)
2003's Biggest Surprises
There's so many things that happened in the world of pop this year that I never expected. Here are just some of them:

Britney would get even better

Girls Aloud would last the year and I'd actually like them and buy their album

David Sneddon and Blazin' Squad would release good songs (Don't Let Go & Flip Reverse)

An annoying fat girl and an annoying lesbian would win Pop Idol and Fame Academy.

Lemar would be the only FA1 'student' still signed.

And some things that didn't surprise me at all:

Westlife would cover Cliff Richard and Barry Manilow.

One True Voice would split up and Snedhead would be dropped.

Phixx would release the best debut of the year.

Will would become a better and bigger pop star than ever, with his previous critics falling over themselves to take back their harsh words.

Justin would work his way through every female celebrity. One per day and he'd still be fully-booked.

All this makes me very excited about 2004. You could think of pop as several large ships (Some, such as the Polydor ship, are bigger than others, such as the EMI ship) all headed for the same small yacht. Only a few artists successfully jump on, sometimes pushing a few others off the yacht as they arrive. Many tragically miss, while others hang onto the sides for as long as they physically can before hurtling to the depths of the sea. So who in 2004 will be sunbathing on the deck of the pop yacht and who will be lying cold on the ocean floor? Only time will tell!
Dirrrty Poptastic Awards 2003
Most Touching Ballad

Songs to sway to.

1. Will Young - Leave Right Now

2. Gary Jules - Mad World

3. Christina Aguilera - Beautiful

4. Girls Aloud - Life Got Cold (NOT NGA, as fab as it is!)

5. Delta Goodrem - Born To Try
Dirrrty Poptastic Awards 2003
Best Song To Dance To

Let's boogie!

1. Phixx - Hold On Me

2. Darren Hayes - Crush (1980 Me)

3. Girls Aloud - No Good Advice

4. Beyonce - Crazy In Love

5. Britney Spears - Me Against The Music
Dirrrty Poptastic Awards 2003
Voice That Gave Me Goosebumps

Pop stars these days are very talented bunch (Some of them at least)

1. Will Young

2. Darren Hayes

3. Adam Levine (Maroon 5)

4. Christina Aguilera

5. Delta Goodrem
New Buttons!
Of All The Things You Can Do With A New Digital Camera
I had to make a shoe collage:
Back!
Although my blog magically carried on posting without me, I have been away since Wednesday. And so much has happened since then! Here's a quick round up:

First up, Christmas Eve which involved relatives professing their love for my dear William and my uncle giving me very expensive (ie. worth 5 times more than the largest amount of money I've ever had) computer software for free. Hooray!

Then Christmas morning when I recieved a great number of ace presents including t-shirts, CDs, DVDs, books, cute things from Paperchase and more! My little cousin had more Christmas presents than all the family put together and my Mum assigned me about 10 CDs to copy for the relatives. Does she forget I have a life too?

The next brilliant event was what I have been waiting for at least a year - WORLD IDOL! A full review is to come.

Boxing Day was also fab as I went to see my World Idol loving grandparents and aunty. We talked about World Idol, played games involving World Idol and dressed up in my grandma's fur coats and ace hats from the 70s. Yay!

And then we came home and here I am. THE END.
And the winner is...
Will Young - Leave Right Now
Was there ever any doubt?
Merry Christmas!
2nd Most Poptastic Single Of 2003
Michael Andrews ft. Gary Jules - Mad World
Xmas no.1! Yippee! The original is also extraordinarily ace and very worth hearing if you haven't already.
3rd Most Poptastic Single Of 2003
Phixx - Hold On Me
I loved Andrew and Mikey in Popstars and when I heard they had made a band with the other 'rejects' I was very excited. After a while nothing seemed to have come of it, but then their name appeared on the release schedule and a
website
was found. A few weeks later the video was on The Box and I couldn't believe my luck - a poptastic 80s song with very little clothing! So next time someone you love is kicked out too early on a reality pop show - remember the story of Phixx...
Don't Forget!
Thanks Hula for the brilliant picture.
So Here It Is, Merry Christmas!
And Christmas wouldn't be complete without presents, so here are my virtual efforts:
For
Pandarama
:
Cos he loves buff hotties
For
Pop Kitten
:
A kitten that likes pop music! Who
doesn't
want one of those?
For
Fairy Cakes
:
Because she loves these tops.
For
Popbichon
:
A bichon that likes pop! What every pop fan needs.
For
Hula
:
Hula dancing!
For
Smudge
:
I had to go on a football web site to get this - arrrrrgggghhhh!
For
AlYson
:
She's so Oz as! And a bit bonza too.
For
Claire
:
4 LBH sisters for the queen of LBH-ers.
For
Gemma/jtlover
:
She's jtlover for a reason, you know!
For Flum:
His title on a t-shirt
For Droo:
The t-shirt says it all I think!
Have a great Christmas everyone! I'm off to Nottingham tomorrow morning to spend Xmas with relatives so I'll be back on Sunday night wanting all the gossip. Byeee! xx
Dirrrty Poptastic Awards 2003
Best Moment In Pop
A few of the most memorable...
1. Nicola 's bum says: "I'm a rude ginger bitch - botherd!"
2. Leave Right Now sells out across the country
3. Bonkers Britney storms out in interview with Simon Popworld
4. Alistair's lucky pants
5. Nil points!
4th Most Poptastic Single Of 2003
Darren Hayes - Crush (1980 Me)
I am a
huge
Darren and Savage Garden fan and this, the only single he released this year, is one of my favourites. The 80s video is brilliant and it's a really catchy pop song. Darren is back on the pop scene in 2004 with a new single out Feb 9th and album soon after - hooray!
5th Most Poptastic Single Of 2003
Amy Studt - Misfit
When I had finally given up hope of a follow up to the amazing Just A Little Girl, this appeared on the music channels! I first saw it on Flaunt and after that watched them for weeks not getting bored of this. I don't think I ever will!
What I'd Really Like For My Birthday
My Will calendar to magically morph into the real thing
To go back in time and get my new trainers before they sold out (grrrr!)
Maroon 5 to do a concert not in Glasgow
Darren Hayes to hurry up with his new single - I want to hear and he promised we could before xmas. Only 3 days left Darren...

I actually can't think of anything else. I've been very pleased with what I got - I don't even want a different Xmas no.1. Hooray!
The 5 Worst Pop Stars In The World
And why they make rubbish pop stars: (Cos pictures would make me feel ill)
1. Clay Aitken - He is a geeky, ugly, musicals about Jesus singer. Not a pop star!
2. Gareth Gates - He can't sing, is easily persuaded by glamour models and greedy record company men and can't talk on TV. Not a pop star!
3. Daniel Bedingfield - Years of media training wouldn't save him. Not a pop star!
4. Fast Food Rockers - The most pop starry thing about this lot is their shameless manipulation of young kids. Not pop stars!
5. Alex Parks - She doesn't want to be a pop star so she should go off and do her silly folk rock songs and let someone else who wants it have a turn. Not a pop star!
To
The Dumper
with you all!
A Song For The Paul Cattermoles Of This World
The new single by Basement Jaxx feat. Lisa Kekaula is simply fantastic. I'm not really a fan but I loved their song, Plug It In with JC Chasez of the wonderful pop quintet NSync so much I decided I had to hear this and it really was worth it, cos I love it to bits and I've never heard anything quite like it. My 10 favourites bits are:
1. The chorus: "Good luck, good luck, Good luck in your new band, Enjoy your nightmares son, When you're resting your head."
2. Near the end when it goes all crazy and bleepy. Not that it isn't crazy all the way through of course.
3. Lisa Kekaula - I have no idea who she is but she evidently rocks.
4. The bit in the midle which repeats "No more lies" a few times getting stronger each time.
5. The first line, "Tell me, tell me, is life just a playground?"
6. The line "You're so totally deluded!"
7. The theme - it is something only musicians experience.
8. The chorus is sung in loads of different ways.
9. The backing music.
10. The whispers of "Lisa" at the beginning.
Some
info
on Lisa and her old band, the BellRays.
Loving that big hair!
Fame Academy Charity Concert
Click
It will be full of children, parents and grannies but still I am quite tempted. Will definitely be considering this if I have any money left after going to as many Will shows as poss and hopefully Maroon 5 in March if they announce a gig a bit closer to me than Glasgow!
Yeeeeeeeeeeeeeeeeees!
Number one! Woo! Yay! This may well be the first good Xmas/my birthday no.1 ever. Some would argue the Spice Girls or GA, but none of those were up to the respective band's usual status so they don't count as good. I was so happy when I found out I sang along to an advert for Berkshire Fiesta Centre and (sit tight, this one's a shocker) Busted! On a similar note - has anyone seen what is under Gary Jules' hat? I am dying to know if it is a ginger mohican - there's no reason it should not be.
6th Most Poptastic Single Of 2003
Alistair Griffin - Bring It On
I know people will say this can't possibly be the 6th best, but Fame Academy was such a big part of my year in pop, he has to be included, and this is quite a catchy little number after all. Only just this year though, it's out 29 Dec.
Dirrrty Poptastic Awards 2003
Modern Pop Icons
Who's doing it for pure pop in 03?
1. Britney Spears
2. Girls Aloud
3. S Club 8
4. Phixx
5. Kylie Minogue
Hooray!
American Idol 3! ITV 2! 23rd January! Does life get any more exciting? No, it does not. Also on the subject of American Idols, Clay Aitken is the cause of all bad things in the world of pop. The Simons know this and gave Mark a Clay song to sing on purpose. Evil men.

Oh yeah and apparently some fat girl won Pop Idol - isn't that the best joke ever?
Notice Anything Different?
Look up, a bit more, yep! There they are - 4 little pop pixies next to the header. I will keep changing them depending on who I feel needs some recognition. You, my readers, can also make suggestions in the comments boxes or tag board.
Dirrrty Poptastic Awards 2003
Cutest Reality TV Contestant
Awwwww!
1. Will Young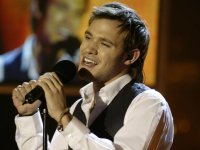 2. Alistair Griffin
3. Andrew Kinlochan
4. Sam Nixon
5. Mikey Green
7th Most Poptastic Single Of 2003
Puretone - Stuck In A Groove
I wasn't botherd either way with Addicted To Bass but this is hugely ace and underrated. It led to a mild Amiel (the singer of the 2 Puretone singles) obsession, which is a coincidence as her 2nd and best single is called Obsession - wow!
10 More Reasons Why Mark Should Win Pop Idol
1. Naughty gambling people will lose money.
2. His chocolate lolly will be less fattening.
3. He can still visit his family from London.
4. He needs compensation for his burnt bits.
5. Gareth can still do his duet with Michelle if she comes 2nd, but if she wins she has to sing with William. Or rather he has to sing with her, the poor boy! This must not happen.
6. If Michelle wins I won't buy anything Pop Idol-related and that would just be too weird for comprehension.
7. He looks like Enrique Iglesias...allegedly.
8. He can do impressions and his Scottish is spot on Snedhead, although this may not be intentional.
9. Michelle is mean and her parents are unpleasant.
10. He's going to sing She's Like The Wind which he does perfectly.
Not scraping the barrel at all. No way. Click
here
to read 9 more reasons thanks to Droo. I can't believe the final is tomorrow - how did this happen? Will is on it, singing Your Game (his new single) or possibly something else that is likely to be Out Of My Mind, but I think and hope he'll do Your Game, but yay for either cos he has sung neither on TV before. Hooray!
8th Most Poptastic Single Of 2003
Justin Timberlake - Cry Me A River
This is such a classic! I've heard it so many times but I still think it's great. It's catchy, cool and unusual all at once and it makes a great phone ringtone.
9th Most Poptastic Single Of 2003
I am slightly worried that I am on no.9 when Xmas is only a week away. One day will have to be a double bill...
Girls Aloud - No Good Advice
Before I heard this track, shockingly, I did not like Girls Aloud at all. For a while it was a guilty pleasure, but when the album came out I gave in and bought it the day it was released. I still haven't used my free stickers though.
Hmm...
Looks like we're going to need a lot of Will power on the 25th.
Click
UK: The home boy Will Young sang 'Light My Fire' and received great applause from the Brits in the audience. He went down the same performance street as Kelly Clarkson, but even if you like that kind of vocal callisthenics, he wasn't nearly as enjoyable. I think his performance was, for him, decidedly lacklustre and several of the judges picked up on that. 'If I were related to Jim Morrison, I would sue you' said the Polish Judge, 'You need to work on your technique' said the Pan-Arab one. 'The Polish judge is a moron' said Simon Cowell. Will looked decidely taken aback by the harsh comments, and though he did his usual thankful humility routine, it didn't ring true. Again I heard afterwards that Will hadn't wanted to do the contest at all, and that plans for the 11 Idols to make a charity record together had to be shelved when Will refused point blank to be any part of it. Will left the stage and went directly to the bar and demanded that it be opened to give him the drink that he needed after the experience.
Another moment I seriously cannot wait for, as long as it's not edited out, is when scary Peter from Belgium says to Simon Cowell "Who are you to call me phoney?" Hoooooray!
As I Wasn't Excited Enough Already...
From an Aussie article about World Idol (Thanks go to
Alyson
)
The insults flew from the start, when German Idol Alexander, who sang the 1980s song Maniac, was panned as "a cross between an aerobics instructor and a porn star" by the Canadian judge.

South Africa's entrant, Heinz, was savaged by the Polish critic.

"The only thing that's keeping me here is gravitational force and the fact that my flight doesn't leave until tomorrow," he said....

Guy Sebastian's biggest threats appear to be Clarkson and possibly Norwegian Kurt Nilsen -- particularly after Cowell called him ugly.
I'm also particularly excited that Alex (boy) is singing Maniac as it is all incredibly fantastically brilliant. Just you wait! The again, if you're anything like me, you won't be able to. I may explode.
Ooh, Look! A Pop Idol Photo Story!
by Mark Rhodes age 22
This is me doing the conga round London. We caused quite a stir and the guy in front of me kept getting distracted, the silly flourescent loon.
I got a bit fed up of people taking photos of me all day so I decided to give them a taste of their own medecine. Haha!
See, my fanbase isn't just made up of over 80s. (Girls - I'll pay you later)
My bus has a portable puppet show attached. Beat that Michelle!
I love you all! Vote for me on Saturday!
From Mark xx
10th Most Poptastic Single Of 2003
Beyonce - Crazy In Love
At first I said this was "Can't Nobody with trumpets" and although I liked it, I never imagined that about 6 months later it would still be one of my top tunes. It's a pity none of her album lives up to this brilliant track.
Will said he was going to have a laugh...
I just love that picture! I haven't quite finished my guide yet (2 more girls to go), but left to right: Peter, Guy, Alex, Alicja (sometimes known as Alex too), Jamai, Will (duh!), Kelly, Kurt, Ryan, Diana, Heinz. How tiny is Alicja? She looks like fun, I like her clothes. Jamai and Kurt seem to have tamed their ugliness, though no such luck with Peter! Male Alex and Heinz (who is wearing the only clothes he appears to own) look quite alike, but Heinz is more smiley. He is probably my 2nd fave, I may even vote for him.Maybe Will will find himself a nice foreign boyfriend, there's gotta b esome gayers in there somewhere! According to
Heinz's official site
he has become good friends with male Alex and Guy. It's so lovely, all my little Idols playing together in London! And now I sound like Simon Fuller...oops!
11th Most Poptastic Single Of 2003
Sinead Quinn - What You Need Is
One of the most disappointing chart placings of the year, this deserved to be no.1 not 19! It annoys me when people say she didn't do enough promo, because this wasn't her fault at all - big shows like CD:UK wouldn't let her go on and radio stations ignored her singles as she was a reality TV star, despite being quite happy to play Darius, Liberty X and Gareth at every chance.