A feeling higher than high, this is the music I like...
Some of the songs I am currently obsessing over and playing on repeat:
Robot Boy & Will You Remember Me Tomorrow by Margaret Berger
I haven't procured the entire Margaret Berger album yet but I can safely say it will be amazing if these two tracks are anything to go by, and they already had a lot to live up to with the first single Samantha and the fabulous album title, Pretty Scary Silver Fairy. The album is available on iTunes for those of you who don't prefer your apples green and juicy.
Happy Ending by Mika
You'd think it would be pretty hard to beat Relax (Take It Easy) or Grace Kelly, but I personally think he's managed it with this acetastic gospelly track currently available for free download from he of excellent taste,
Arjan Writes
. Mika deserves to be a huge star and I'm very much looking forward to being able to say I was a fan from the beginning.
I Think We're Alone Now by Girls Aloud
A strange sense of the cyclicality of the pop world as the Aloud cover Tiffany, who did of course cover (rather unpleasantly as well) one of their tracks on Hit Me Baby One More Time. I hope this means their next release will be Comin' Atcha by Cleopatra! Anyway, it's not a bad version, certainly could be much worse, but a bit too much of an obvious choice of a track to cover. Still, a great band and a great song, I'm not complaining.
News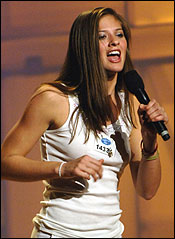 Remember Ayla from this year's American Idol? Well, probably not, but I suspect a few more of you remember the late 90s girlband Hepburn, and their single
I Quit
, which Ayla has
borrowed
to release as her own debut, along with 2 Ruby Amanfu songs, Sugah and Know You Better. I'm sure Hepburn would be flattered that their song was still considered hit-worthy so many years later, even if it is very unlikely to be a success this time around.
The brilliant Canadian duo Dragonette are finally getting some recognition in the UK, as Tina's (sadly not widely credited) song with Basement Jaxx, Take Me Back To Your House, is out today and on the Radio 1 b-list, and they recently played a very well-received concert in London (which I annoyingly only found out about just after it happened) with two more planned next month.
Speaking of ace pop lady singers appearing on dance tracks, Luciana from 90's girl group Crush (also featuring Donna Air) and 00's dance-rock-pop act Portobella is having quite a hit at the moment as the singer of Bodyrox's new single Yeah Yeah. I just don't understand why this song is a hit when Covered In Punk, Portobella's amazing debut single, got nowhere at all!
Top 3 Videos of the Moment
A slightly unimaginative post subject I know, but it's better than the nothing I have rather sadly been providing you with of late. If you've read Paradise Lost you'll understand.
Darin - Perfect
Yay! Darin returns with yet another new style, although it's still great commercial pop music which is so far superior to anything male artists are producing in the UK or USA - why is Darin not world famous and adored as he deserves to be? I can't wait for his new album, as his first 2 were both fantastic pop CDs so I'm confident that he won't let us down.
Misty's Big Adventure - Fashion Parade
Sometimes bands like this get carried away with their quirkiness and forget to make good music, but this lot have some catchy and very amusing songs to go with their highly amusing videos. See them live if you get the chance, it's great fun. Look out for the parodies of Franz Ferdinand and Kaiser Chiefs and the blue man at the end who is the star of their stage show.
Bertine Zetlitz - Midnight
This kind of 'get some normal people in to sing along' video concept is not that original but I still quite like it, and of course the song is fab - I could imagine it having a much more inventive video though (as we are used to from Bertine), or one more connected to the song's lyrics and style.
A mystery solved!
Around the turn of the century a boyband existed called Northern Line. One of the members was called Andy, and a couple of years later he reappeared as a top 30 contestant on the first series of Pop Idol, going on to join the cast of We Will Rock You, and I even spotted him performing with the cast on the Royal Jubilee a few years ago - no-one knew his name but he still did pretty well out of that Pop Idol appearance. Now onto the mystery: a couple of years after my last sighting, I noticed that the X Factor theme tune was written by someone called Andy Love. I presumed it would be another person, because it just seemed too random for him to turn up yet again, but now he's making yet another small-scale comeback as he has been mentioned on a few pop blogs with a MySpace and some sadly quite useless songs. Never mind, as the popstar with nine lives I'm sure he'll get to the top eventually, even if he is in his 60s by that point.
What's going on?
McFly are no.1 in the midweeks, which is shocking for 2 reasons: 1. It's supposed to be Girls Aloud! and 2. I haven't even heard the song yet, how can it be released?
In less shocking but much more amusing news, I recommend everyone watches this hilarious
video
. Look out for the blue man at the end, he's the star of their live shows and actually quite scary in real life.
Calling all Swedophiles
If you're in the Brighton area this weekend you should come along to this:
I've already bargained with the DJ for some Robyn and Melody Club, so if we can ignore all the indie music it should be quite acetastic.
The Xtremely Late Factor
I know it's a whole week since the first X Factor live show but I only just saw it and I wouldn't like to deprive you of my opinions...

Robert
I didn't think it was possible for jolliness to be a bad thing, but here is the proof - Robert is a pretty good singer but throughly annoying, reminding me of two of the most painful past contestants, Andy and Chico. I have therefore renamed him Robandico.
He will sing: I Believe I Can Fly by R.Kelly
He should sing: Brian McKnight - Back At One

Ben
Although he seems like a nice man, I was unimpressed by Ben in the previous rounds as he got through just by shouting and having long hair, and we never really saw him sing. I have no idea why this was because he's actually a great singer and I predict that he is going to stick around for a long time - perhaps even win.
He will sing: Maggie May by Rod Stewart
He should sing: The Origin of Love by Rufus Wainwright

Dionne
I was surprised to see Dionne in the bottom two, but it was actually difficult to predict who would be as all the acts had reasons to be popular. She has obviously got a good voice but I can't se her engaging with the public - she lacks the 'likeability factor'.
She will sing: One Moment In Time by Whitney Houston
She should sing: Do You Know Where You're Going To by Diana Ross

Kerry
I'm really glad Simon pointed out that this was boring and entirely forgettable, because I wasn't expecting even him to be brave enough. Sharon is ridiculously patronising to the weaker contestants (be it due to disability or age) and there's just no point - it won't help her in the long run, but media coverage and sympathy will get her far enough.
She will sing: Fields Of Gold by Eva Cassidy/Sting
She should sing: Nothing (too boring)

Nikitta
I didn't know Miquita could sing! Oh wait, she's Scottish and a real, non-ironic chav, but those are the only difference, except for a few letters in her name, from the real Miquita. She can sing but the song, although I like it normally, didn't suit her voice and her clothes were perhaps even worse than the real Miquita's!
She will sing: Beautiful by Christina Aguilera
She should sing: Buffalo Stance by Neneh Cherry

Raymond
Does anyone else remember him being in a Christmas advert standing on a book to kiss a little girl? It was on for a few years about 7 years ago, and he looked remarkably like a young Robbie Williams at the time, if it was Raymond that is. Anyway, I hate him. Teenage boys should be into fun music, modern music, not the stuff their grandparents loved. His slicked back hair makes me want to throw up.
He will sing: Mack The Knife by some old bloke
He should sing: Nothing (too annoying)

Ashley
In past performances his voice has seemed wrong for his body but either I've got used to it or he's toned it down a bit cos it was a huge improvement. This boy is going to do very well on the show, and he is perhaps the first ever genuine cool person they've had. Can he make cardigans cool for boys?
He will sing: Lately by Stevie Wonder
He should sing: Earthbound by Conner Reeves

Leona
Good voice, popstar looks, but absolutely no sign of personality. She could never be the British Christina or Beyoncé because she has simply nowhere near their talent or charisma. She couldn't even be a younger Jamelia. I think Simon is going to be disappointed with how far she gets in the competition.
She will sing: Hero by Mariah Carey
She should sing: A Little Bit by Rosie Ribbons

Eton Road
Aren't they a bit young to resemble Take That as they are now? Still, they sang really well and it's nice to have a boyband getting praise and not bandwagon-jumping degradation usually dispatched to any young boys in a band. The anorexic one looks healthier and sang lead very well on this song.
They will sing: Back For Good by Take That
The should sing: To The Moon & Back by Savage Garden

The McDonald Brothers
These two are so adorably cute I really wanted to like them (watching X Factor is when my granny mentality comes out) but their performance was sickly sweet, I was put off. I still love the one that looks like Brian Littrell though and if they just sing and smile like they did this week they'll get far, whatever the judges might say.
They will sing: Mrs Robinson by Simon & Garfunkel
The should sing: Affirmation by Savage Garden

The Unconventionals
In theory a group made up of people the average X factor could imagine being friends with should be a winning combination, but in practice they were just too amateur for the live stage of the compeition and resembled that bit of Children In Need when the newsreaders get up to do a song i.e. the reason I never watch Children In Need.
They would have sung: The Circle of Life by Elton John
The should have sung: Love Ain't Gonna Wait by S Club

4Sure
Look, it's Chico, Andy, Nicholas and erm... some other bloke! Worst band name ever but a surprisingly enjoyable performance, if only for their jolly, friendly atmosphere. It was like four brothers getting up to sing at a wedding, but it was quite fun and tuneful enough. Not winners though or anything like it.
They will sing: Celebration by Kool & the Gang
The should sing: I Don't Feel Like Dancing by Scissor Sisters
News
Although we're far more interested in the Greatest Hits of Girls Aloud and the Sugababes, there are others on their way for the Xmas period, including that of Moby who has used this as an excuse to make his first proper pop song, with an
ace video
and vocals from Debbie Harry, no less!
I love the current no.1 on Norway's Radio 1 Topp 30, Supergirl by Minor Majority. If you're a fan of Erik Faber, Espen Lind and other similar Norwegian male artists, you should definitely give this one a try - it has that dreamy quality that makes Norwegian bloke-ballads so much nicer than anything James Blunt could come up with.
Speaking of Erik Faber, the singer of epic pieces of loveliness Century, Yesterday's Call etc. is back with a brand new single,
Not Over
, and album, Passages. Also, across the border in Sweden pop fans today can celebrate the release of Darin's new single Perfect, the first from his new album Break The News.
New Pop On The Block
Justin Timberlake - My Love
(
Video
)
This was my favourite on the new JT album, until I saw the video remix version and suddenly I was rather less fond of it. When is JC's video going to be revealed? If Justin can make songs as ace as Until Yesterday, why would he give them away, when he has such a mediocre current album himself? There really is something wrong with that boy, and I am less sure by the day that he deserves to be Britney's one true love (although it's going to take a lot of days until I prefer K-Fed). Justin's outfit in the video is very Will Young-esque, and it kind of looks like a Gap advert, so I'm not too disgusted with it in general - just the mid-song rap by some non-aesthetically pleasing bloke, and the remix at the beginning which may not actually be used when it's played on TV. I'll be optimistic!
78% Poptastic!
Anna Ternheim - Girl Laying Down
(
Video
)
The music I've previously heard by Anna is pretty depressing and definitely in need of an injection of jolliness, but although this new single is not really any jollier, it's definitely an improvement. I wouldn't call it catchy but it is quite dramatic and memorable, at least if me waking up singing it in the middle of the night is anything to go by. If you like the Cardigans' latest album (as I very much do), I think you'd like this too. It's a big grower, and I think it's appeal is a lasting one, even if it is much darker than the music I usually condone listening to. The video is scary but compelling, so a good representation of the song.
82% Poptastic!
Linda Sundblad - Oh Father
(
Video
)
I've posted about this single before but I had to bring it up again now it has a video, because the video really is quite superb! Of course this was not unexpected, as Linda is supremely ace, but it's great to see that the styling and marketing of her first solo release (as a wonderful mix of Robyn, Gwen, early Madonna and Marie Serneholt) is taking her in exactly the right direction. Linda is surely a legend in waiting.
96% Poptastic!
CherryBlackStone - Kushti
(
Video
)
Is that Jade Jones, former Damage member, The Games entrant and boyfriend to Emma Bunton? Yes, it is! And I didn't know they were still dating either so maybe Wikipedia is wrong, but it's quite nice to think that one of the pop relationships from my days of Smash Hits reading is still going strong. This new band features Jade as well as Andrez, another ex-Damage member, and various other musical types, the end result of which is a kind of more soulful Black Eyed Peas or a British Fugees. Whether they'll have anywhere near that amount of success I have to say I'm doubtful, but I will keep my fingers crossed for them nonetheless cos I do like a good pop comeback! They could at least be the new slightly cooler Big Brovaz?
63% Poptastic!
A Strange Discovery
Curiosity aroused by
DSTP
's mention, I went to look at the details of the new
Ultra
album which was quite randomly released this week. This was a surprise enough, but even more so when I found that some of the songs were Alistair Griffin standards (songs he wrote pre-Fame Academy and appeared on his album) - in fact he even appears on one of them. Of course it is a little known fact that Alistair used to be a member of Ultra, although not when they were slightly popular (as was James Fox, but not at the same time so they never met pre-FA) so this is kind of unsurprising in a rather nice circular sort of way. It is funny to hear the Ultra singer on one of Alistair's songs (the other Alistair sings lead on himself) but I actually like his version. You can listen to the songs in full at http://www.indiestore.com/ultra/tracks - In Your Smile and Feeling Alive are Alistair's songs.
New Pop On The Block
James Morrison - Wonderful World
(
Video
- a special Dirrrty Pop one too!)
This was the song which interested me in James Morrison when I saw him performing on MTV a few months ago. It reminded me of Gavin DeGraw, and although James didn't turn out to have as much ace music as Mr DeGraw (whose album is amazing, in case you didn't know) I do still like this track. The video is a bit random, with a woman writhing around in a colourful dressing gown-esque outfit, so if you can work out how it's related to the song it would be nice to know.
Sugababes - Easy
(
Video
)
I can't decide what I think of this song. Parts of it I love, while other parts I strongly dislike. If it was as good all the way through as it is in certain parts, then I would be a fan, but as it is it's just another 'quite good' Sugababes single. It's weird how used to Amelle I am already, when this is only the 3rd single she's been in and the last one was a disaster. My favourite is still Siobhan of course, as it always has been.
A million apologies later...
I may have been too busy pursuing ridiculously wholesome French film students, escaping the clutches of long-haired jazz enthusiasts and not doing any work whatsover, but I have not forgotten about Dirrrty Pop or pop music in general. Here are some of the best songs that have soundtracked my last two weeks:

Siobhan Donaghy - Ghosts
I would love to know what this says when played backwards, as I presume that's how it was created. Managing to make such a beautiful song backwards just shows how amazingly talented Siobhan and the people she works with must be. I can't wait to hear her new album. If it's half as good as this or her previous one, I know I'll love it.

Everything High School Musical
The film and its soundtrack are far from new to me, but have been having quite a revival on my mp3 player as the phenomenon has taken hold in the UK. The songs don't seem that amazing on first listen but give them a chance and you may find, like me, that they make you feel all warm and jolly inside.

Jamelia - Get Up, Get Out
I don't know why, or if my opinion agrees with anyone else's (although I don't really care anymore - I like my new solipsistic approach to music reviewing), but this is the track on Walk With Me that I've found myself repeating. With its fierce sweary chorus, Robyn would be proud and so am I.

Beyoncé - Irreplaceable
I doubt I'll ever be shouting from the rooftops about a Beyoncé track (except Crazy In Love of course) but I was very pleasantly surprised by this new single. I didn't really get the appeal of Ring The Alarm, unless it was "B" going bonkers, but this I can certainly get on board with.

Regina Spektor - Fidelity
I saw this once on TV and liked it, then a few days later I was in a shop and it played and it just brightened up my day so much I've loved the song ever since. It's the only one of Regina's songs I've listened to more than once, so I'm promising myself to delve a bit deeper soon. Any recommendations?
New Pop On The Block
Basement Jaxx - Take Me Back To Your House
I liked this when I saw it on TV and even more so when I heard that the lady singer is actually her from Dragonette, a really ace Canadian band. Since the Basement Jaxx album also stars Robyn, they've definitely done well on the collaboration front. The song is catchy and gets very much stuck in your head, but I still like the Dragonette songs better. I would suggest this collaboration could lead to big things for them, but since it didn't seem to help Kele Le Roc or JC Chasez much, maybe not.
79% Poptastic!
JC Chasez - Until Yesterday
This is a great comeback single for JC, but of course I'm not suggesting it will be a big hit or anything like that. Still, it deserves to be, especially now that Justin isn't making very ace music. Before, JT's success could be justified (pun not even intended) by Like I Love You and Cry Me A River, but without those the superiority of JC is clearer than ever.
93% Poptastic!
Upper Street - The One
Due to being in the land of no TV (let alone Sky Digital), I haven't been able to watch any of Totally Boyband since the first episode, but thanks to the wonder of YouTube I have seen their debut video. I must say although it's not going to be up there with the highlights of S Club or 911's careers, I still like it better than anything Another Level released. I was expecting worse - namely something involving guitars, so the poppy r'n'b approach is not too bad. I doubt it's going to make them huge but a top 10 hit isn't impossible.
82% Poptastic!
Top of the Poptastic!
A slightly belated top 20 of September:
1. Pay TV - Work Your Body (Sweden)
2. Jamelia - Beware of the Dog (UK)
3. Mika - Relax Take It Easy (UK)
4. Linda Sundblad - Oh Father (Sweden)
5. Girls Aloud - Something Kinda Ooh (UK)
6. JC Chasez - Until Yesterday (USA)
7. Melody Club - Destiny Calling (Sweden)
8. Infernal - Self Control (UK)
9. All Saints - Rocksteady
10. Pet Shop Boys - Numb (UK)
11. Guillemots - Trains To Brazil (UK)
12. Amy Diamond - Big Guns (Sweden)
13. James Morrison - Wonderful World (UK)
14. Justin Timberlake - My Love (USA)
15. Eskiimo - Jack and Jill (UK)
16. Alesha - Knockdown (UK)
17. Vanilla Ninja - Rockstarz (Germany)
18. SuperJupiter - You Know (UK)
19. The Kooks - Ooh La (UK)
20. Mareva Galanter - Pourquoi pas Moi? (France)
And how, you might ask, does this affect my top 20 of the year so far?
It doesn't. So
go here
to see the top 20 of 2006.
Sorry dear blog readers
I don't mean to neglect you, but life is still a bit crazy at the moment. I have been at uni for a week and a half now so it is getting to be more normal and I hopefully will have more to write about soon. Without music channels or much Internet time it is hard to keep up with the latest pop stuff. As for Single Wars, I half managed last week's, so here is what Carrie and I wrote about the Pipettes and September respectively...

First is Carrie, who previously appeared as a Muse fan and has now cleverly changed her allegiance to the wonderful Pipettes:

"This week is so much a walkover it's almost unfair, but it is my very happy duty to draw your attention to the work of genius that is the Pipettes' new single, Judy.

It's a cliche to hand any group the mantle of "saviours of pop", but these girls are a welcome breath of fresh air to a stultifying music scene, bringing Sixties-style close harmonies and fashion back to the charts with a very 21st-century edge. Their spiritual godmothers - the Supremes, the Shangri-Las, the Shirelles, the Ronettes, the Crystals and the Chiffons, and the rest - will be delighted at this latest slice of perfect pop, which defies any right-hearing listener not to love it instantly.

If you've not got the album, get this single. If you've already got the album, get this single too, just to emphasise how fantastic the Pipettes are - and how much we love them."

This week my support goes to super Swede September and her pleasingly alliterative single Satellites, which may or may not be released this week but I have to write about it some time:

When an artist says their favourite musicians are Kylie, Annie and Britney, you know they're going to be pretty amazing and September does not disappoint! I've been playing this song for a long time now (and when I first heard it I had to play it on repeat for hours, I was so in love) but it's managed to continue sounding as brilliant as it did on that first listen. She has an album full of fantastic pop songs but still this is the best.

Sadly there is no sign of this in either my local HMV or Virgin Megastore, so it seems rather unlikely that September will be even entering the UK chart, but this is no reason why it should not be our single of the week or why you should not bother to buy it off the Internet to fund her future Sweden-only masterpieces.