Sorry Paris!
Video Killed The Radio Star
Kylie Minogue - Giving You Up
Kylie's meeting with Xenomania finally gets a release and already I'm forseeing disaster. This video is the weirdest, most unflattering thing I've ever seen! Kylie is walking around a town, getting taller and taller (which makes her bum look gigantic) and scarier and scarier. I guess it's meant to be a joke about her being so small but it's really goign to ruin any classy or cool image she ever had.
85% Poptastic!

Garbage - Why Do You Love Me
I really liked the singles off Garbage's last album but after hearing that the new one was more like their original 90s sound, I didn't have too high hopes for it. However, I am pleased to announce that Why Do You Love Me is absolutely brilliant! It's feisty girl power indie-rock as you would expect, but also really catchy.
94% Poptastic!

Groovecutters - We Close Our Eyes
This is the latest in the sampling an old song with a slutty video trend, and although the song (a cover of Go West's one top 10 hit) is in fact quite ace, the video is a total disaster. They seem to be aiming for a mixture of the videos for Britney & Madonna's Me Against The Music (girls snogging) and Stupidisco by Junior Jack (girls fighting) but it's so amateur it's not even funny.
76% Poptastic!
Oh my god, I can't believe it...
I may have spoke too soon yesterday when I wondered if any of the brilliant songs out this week would invade the top 5, as both Kaiser Chiefs and Girls Aloud have succeeded, continuing GA's flawless top 5 chart run. We'll just ignore the fact that they are behind Elvis, Nelly and Jennifer Lopez. Also galavanting into the top 10 are Idlewild, despite my only ever hearing their (brilliant) song on the radio once, and the Futureheads who I forgot to mention yesterday but are also quite ace. On the less cheery side, Verbalicious and Charlotte Hatherley stall undeservedly at 14 and 21 respectively. But the best news of all is that Usher has missed the top 10 too! His reign is over! Well, maybe that's slightly wishful thinking.
Video Killed The Radio Star...On Holiday!
It's time for another special edition of VKTRS and we are (metaphysically) travelling to Norway.
Bertine Zetliz - Ah-Ah
This is my favourite song by Bertine so I'm glad she's releasing it, even if it's just in her homeland. You may have heard of Bertine as the quirky Norwegian poppet who has worked with Richard X on the song Girl Like Me. If you like Annie, you will almost certainly love this fellow Norwegian's brand of sweet yet feisty electro-pop music. This song would also fit in very well on Gwen Stefani's LAMB album, with songs such as Rich Girl and Hollaback Girl. It's more than good enough despite Bertine not being known outside Norway.
91% Poptastic!
Fountainheads - Perfect
No, not the Futureheads, the Fountainheads! The female lead singer is clearly Natasha Bedingfield's Scadinavian indie/rock cousin while the song is more depressing than Daniel Bedingfield's attempts to beatbox. The video is quite disturbing as the girl has a run-in with an ambulance yet keeps singing at the top of her voice throughout, even when she is supposed to be dead.
67% Poptastic!
A Very Expensive Week For Single Releases!
All of these are out today:
The future of pop is looking up! But will any of them even reach the top 5?
Video Killed The Radio Star
Hanson - Lost Without Each Other
Who would have thought the new Hanson album could hold an even better song than Penny & Me? But it does and this is it. It's a very upbeat, rock'n'roll singalong track, that should confirm to any doubters that Hanson are as ace as ever and remind all the old skool fans why they liked them in the first place. The video is not very exciting as it is in black and white, doesn't have anyone out of the OC in it and you can hardly even see the Hanson boys with all the close-ups, blurry long-shots and fast movingness in general.
94% Poptastic!

Sara Jorge - Shock To The System
I was expecting this to be another pointless dance track for some reason, but Sara Jorge turns out to be a brand new, highly tarty bottle blonde pop girl. The song is a bit messy but the chorus is really quite catchy. The video is a bit like Phixx's first two videos, which would be a good thing if this one actually had Phixx in it. I knew with a few seconds of this song that it would have a cheesy rap somewhere along the line, and sure enough, I was right!
74% Poptastic!

Alsou - Always On My Mind
Miss "everyone loves me in Russia!" Alsou is back on planet pop with this new single, far less poptastic than her previous excellent semi-hit Before You Love Me (recently cheapened with a Kelly Llorenna cover) or her ace Eurovision entry Solo, but not entirely terrible - and at least it's pop music, something severely lacking in the charts of late. It's a bit slow, verging on r'n'b and far too occupied with trying desperately to be sexy, but the song is a grower. The chances of it being a hit are smaller than Kylie's hotpants, but it's nice to see a familiar face from the dumper making a return, and just in time for Eurovision too!
67% Poptastic!
10 Brilliant Videos Not Seen In The UK
If you're a bit bored at any point this half-term, why not click on the titles below and check out some of these utterly genius music videos!
1. Jason Mraz - You And I Both
Not only is this one of my favourite songs but it also has a really ace video. Disco dancing in a bank! The manager and even the police are soon joining in. It's like Weapon Of Choice meets Saturday Night Fever! The most amusing thing is this song is essentially a ballad so you would expect some lovey dovey video, but no, he appears to be robbing a bank.
2. Vanessa Carlton - White Houses
There are 2 Vanessas in this video - one playing the piano while the other dances around the room in a rather Kate Bush-esque way. It's also her best song by far, in my opinion, with great lyrics.
3. Christian Walz - Maybe Not
Instead of people dancing in this video, it's everything in Christian's house, from the saucepan to the paintings on the wall! He also looks very very lovely in this video.
4. Alcazar - Shine On
You may think Crying At The Discotheque was Alcazar's debut single, but in Sweden it was in fact this "bombastique ballad" as their very interesting
discography
calls it. Also very worth seeing if you haven't already is the absolutely hilarious Crying At The Discotheque video with dancers in rather fetching animal costumes! Also look out for Alexander Bard's cameo as the cameraman.
5. Pay TV - Trendy Discotheque
Readers of Popjustice.com (which should be all of you!) will already have seen the video for this genius Swedish girl group's Melodifestivalen entry/new single, Refrain Refrain. Trendy Discotheque was their brilliant electro-pop debut, with a video just as ace. They have an album planned for May which I seriously cannot wait to hear.
6. A-teens - Dancing Queen
Not their best single by any means, but the video is so old-skool poptastic, you have to love it. It was clearly the influence for both S Club Jnrs' One Step Closer and Amy Studt's Misfit. The unrealistic-ness of the teacher not hearing them makes it all the acer. The boys also look worryingly buff for 15-yr-olds or whatever they were at the time.
7. Ace Of Base - Travel To Romantis
This was one of my favourites from their excellent 1998 Flowers album but didn't get a UK release despite it's brilliance. Note: Sitting on plane runways is for Swedish pop stars only. Don't try this at home!
8. ATC - New York City
They think they're Alcazar, and they're not but they're not entirely rubbish either. Plus, the boys are buff (although one of them is a cross between Darren Hayes and Keith Duffy) and one of the girls looks a bit like Kimberley GA (sometimes), although more like Lisa Scott-Lee. I love Joe (the buff boy)'s quote on their
official site
: "Being a prat of "A Touch Of Class" is truly a dream come true! I love it!"
9. The Donnas - Too Bad About Your Girl
It's got Adam Brody in it! What more do you need to know?!
10. Maria Solheim - The Snow Has Killed
This has to be the cutest song and video I've ever seen/heard, although it is way too sunny to be Christmas in Norway.
Other discoveries on my travels of the world wide web:
1. Samaire Armstrong is two-timing Hanson with some bloke named
Daniel Powter
. What would Seth say?
2. Don't listen to the new Arash song unless you want to be singing "take a take a cardy" for the rest of your life.
The Obligatory Love Songs For Valentine's Day Post
Here are some great songs with the word love in their titles being released in the next few weeks:

Idlewild - Love Steals Us From Loneliness
I had never really taken any notice of Idlewild before and listening back to some of their old stuff I was probably right to do so, but even my mum recognises the loveliness of this new single so they must be doing something right.

Futureheads - Hounds Of Love
This is taking it's place as the 2nd best Kate Bush cover I've heard (right after Within Temptation's ace Running Up That Hill) and the singer's Northern accent makes it very good indeed.

Mario - Let Me Love You
You should all know by now the extent of my r&b hatred, but this song has taken me by surprise. It's not so much the fact that I like an r&b song, but more that something I like has been at no.1 for 6 weeks in America that is such a shock! It reminds me of the songs from the Save The Last Dance soundtrack, particularly the K-Ci and Jojo track. Perhaps it'll make the (probably non-existent) sequel!
Fit February
14. Jimmy Jansson
For my final buff hottie of Fit February, we travel to my spiritual home of Sweden, which is also home to this lovely ex-Fame Factory contestant and Melodifestivalen entrant.
He first caught my attention on the cover of Okej magazine when I arrived in Sweden and a few days later when I attented the Okej Dagen pop concert in Grona Lund amusement park, Stockholm, he was the main attraction. The park was filled with young teenage girls desperate for a glimpse of their pop idol and when he finally took to the stage the cries of "Yimmy!" (that's how his name is pronounced) were deafening! And who can blame them?
Slightly Calvinate-esque in that one I think!
Hooray!
Maroon 5 won a Grammy! I thought from this picture they had won 5 and got a bit overexcited, but it turns out they give them 1 each straight away, just to confuse us.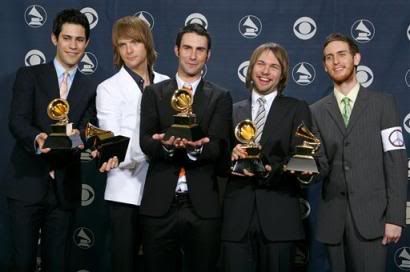 Apparently they opened the show too with a medley of songs, but Ryan was not drumming, which is sad. He's missing out on so much! Also sad is that the Scissor Sisters didn't get the Best Dance award, but it did go to Britney so all is well. Toxic is a better song than Comfortably Numb I think, even if the SS album overall is much better than In The Zone (although it has it's great moments).
5 Things You NEED To Know About The Kaiser Chiefs
Their Popworld interview this morning revealed them to be much acer than anyone could have ever imagined. So here is a quick guide:
1. It has finally come to me who lead singer Ricky reminds me of - Alistair Griffin! Not in looks obviously but in personality and sense of humour, he's like his indie older brother.
2. They are fattist. The
t-shirts
on their website come in "medium" (size 10) and "large" (size 12). Considering the average size for women in the UK is 16, they are not going to sell many t-shirts! Then again, dancing to the Kaiser Chiefs is quite a good way to lose weight.
3. They are fast overtaking Snow Patrol as the best "indie" act (aka pop band that NME spotted first) EVA!! but it does concern me a little that I have a favourite indie band at all.
4. Their new single Oh My God features the greatest lyric of 2005 so far, "Come back stronger than a powered-up pacman".
5. Ricky has a girlfriend called Fleur who got an uninvited massage from Daniel Bedingfield at CD:UK while he wasn't there to ward Bedders off. So she either works at CD:UK or is 2-timing Ricky with some other pop star (hopefully not Daniel Bedingfield!).
Fit February
13. Erik Faber
Erik is a Norwegian singer who has had a few hits in Scandinavia, including the epic Century, one of my favourite songs of last year.
He does appear to be getting on a bit now, but he's still very pretty.
Fit February
12. Christian Walz
If you're a fan of Tyler James you should definitely check out his brilliant and lovely Swedish equivalent, Christian Walz.
His 2004 hit single Wonderchild (which I did once post on
Into The Groove
) was incredibly ace and his brand new single Never Be Afraid Again is a gorgeous ballad. Surprisingly his album Paint By Numbers is available on CD Wow for
only £8.75
so now there's no excuse not to have it!
You can be an Alcastar!
I have just heard what with a lot of luck will be this year's Eurovision winner. It is of course Alcastar by Alcazar! It sounds exactly how I expected it to, but as anyone who is familiar with this band will know, that is just too perfect for Eurovision. Click
here
to hear all the songs in the first semi-final of Sweden's Melodifestivalen. I also recommend the dizzying 80s-esque Refrain Refrain by 2nd time entrants, the fabulous 3-piece girl group Pay TV. Shirley Clamp and Linda Bengtzing's Swedish disco stormers are also well worth listens. On the pop-rock side The Wallstones aren't very Swedish sounding but really good fun. Only the tracks by Cecilia Vennersten, Nordman and Papa Dee are not worthy of people's votes.
Video Killed The Radio Star
McFly - All About You
What's the best thing about this video? The fact that Simon Amstell is in it. Obviously! I mean... it's all about him! Luckily the song is not as bad as my jokes but it's nowhere near their best (Room On The 3rd Floor!). Still it will inevitably sell heaps cos it's for Comic Relief and I guess whatever they release is gonna be huge so it might as well go to a good cause! There's also a video for the b-side, a cover of You've Got A Friend, which shows the boys on their trip to Africa to see the suffering children who benefit from Comic Relief.
65% Poptastic!

Beverley Knight - Keep This Fire Burning
Bev's Robyn cover finally becomes a single and it's about time cos it's just as good as Robyn's version. The video is a bit like George Michael's Amazing with cool-looking people dancing around a house, which Beverley is walking through and more and more of these cool dancer types follow her until they're all doing the dance routine together. So the video is a bit cheesy but it is a brilliant song which really deserves to do well.
87% Poptastic!

VS - If You Leave Me Now
Good news! I don't fancy Marvin anymore. This video is really bland and even less original than the one for Love You Like Mad. Even hot tubs in the middle of nowhere (aka a London studio) or sharing a motorbike with a supposedly famous action movie star would be better than this. The song however is not too bad. It's a cover of the Chicago song which if you don't know in it's original form you may recognise from that weird advert with the little Chinese girls and singing fruit in it.
75% Poptastic!
Fit February
11. Tyler James
It's hard to decide if Tyler is a buff hottie or a bit odd looking, but his new single Foolish gets better with every listen and if his album The Unlikely Lad doesn't get released I shall be very upset indeed! This picture is quite lovely:
Fit February
10. Will Young
Will was looking very dapper at the Brits this week, a big improvement on some of his recent fashions disasters. He was also sporting a very fetching stubbly beard thing:
And he won an award for best single (Your Game) so hooray for that! Now hurry back with a new single please William!
Fit February
9. Brendan Benson
I haven't even heard his single (I think it's called Spit It Out?) in full but from the minute of his video I saw on MTV today I have decided he is a buff hottie of the highest order. Here he is looking liek a grown-up Chad Michael Murray (well, he's got the hair at least):
And here is another very nice picture:
Which on second thought makes him look like a serial killer. Oh well, maybe he is! But he did tour with Keane recently so maybe that explains the troubled expression.
Apparently he is friends with Jack White, but who cares? He's hot! And isn't that what Fit February is all about?
Fit February
8. Martin Rolinski
The lead singer of
Bodies Without Organs
and ex-Swedish Popstars contestant, 22-year-old Martin is one of the leading buff hotties in one of the topsest bands in Swedish pop today. Here he is in the Living In A Fantasy video:
Top 20 Songs Of The Year So Far
To celebrate Pancake Day, or Shrove Tuesday as it is known to The Very Posh, here are the top 20 songs of the year so far, as chosen, as always, by me.

1. Head Automatica - Beating Heart Baby
2. Baxendale - I Built This City
3. Girls Aloud - Wake Me Up
4. Kaiser Chiefs - Oh My God
5. Portobella - Vive La Difference
6. Annie - Heartbeat
7. Charlotte Hatherley - Bastardo
8. Hanson - Penny & Me
9. The Killers - Somebody Told Me
10. Mario - Let Me Love You
11. Idlewild - Love Steals Us From Loneliness
12. The Bravery - Honest Mistake
13. Basement Jaxx - Oh My Gosh
14. Phixx - Strange Love
15. Le Tigre - TKO
16. Jentina - Mysterious
17. The Faders - No Sleep Tonight
18. Tyler James - Foolish
19. Adam Green - Emily
20. Futureheads - Hounds Of Love

In fact, this has inspired me to make a CD of those exact songs - how exciting!
Fit February
7. Adam Green
Not only does he have a brilliant new single out today (I think!) called Emily (buy it!) but he has also revealed that he is going to be joining fellow Jewish Buff Hottie Called Adam With The Hair, Adam Brody in The OC for a special appearance. In fact he is following in the footsteps of former Buff Hottie Of The Day, Brandon Flowers of the Killers. I wonder if he's Jewish? I must Google it! But first, a picture of a rather yellow-tinted Adam on one of the many covers for his previous album, Friends Of Mine, which must be good cos it has a song (which is definitely good - I have heard it) called Jessica!
Fit February
6. Ryan Dusick
(Maroon 5)
Most people seem to fancy Adam Levine, but I am a lifelong fan of the Dusick. He was Ryan
Du
sick for most of last year, but remained my dear favourite throughout. Here he is with some of his bandmates, but look! Jesse is missing! And hooray because he is rubbish. Perhaps they've sacked him. We can only dream.
He's so cool, he has a
fanlisting in Poland
, where everyone appears to have a blue or purple glow. Here he is letting out some pent up anger at having to spend so much time with Jesse while Mickey rocks the Kings Of Leon look and finds the whole thing utterly hilarious:
Fit February
5. Ben Jelen
I first wrote about Ben here about a year ago, expecting him to be the next big thing. Surely his prettiness and English roots would ensure his success? But sadly he never really made much of a mark on the music business, apart from his single appearing on One Tree Hill which is an achievement not to be undervalued since it was in the company of Gavin Degraw's beautiful music. Here are 2 pretty pics of Ben:
Aww! So cute!
Fit February
4. All of V
This is just an excuse to show you their new haircuts:
Apart from Ant who now looks like a particularly thuggish Mike Skinner, I think the new looks are a success! Now all they need is an equally ace new single.
Fit February
3. Dan Miller
(Ex-O-Town)
A forgotten hero of Dirrrty Pop. I hadn't realised quite how much like a scary vampire he looks in photos, but he's still today's buff hotty because frankly I'm running out already! I think I may just go up to the 14th.
Sadly O-Town split up last year but seeing as Dan was by far the best one in the band, I think we should demand a solo career.
See, not entirely lacking in hotness!
Video Killed The Radio Star (US Special!)
Gwen Stefani ft. Eve - Rich Girl
On any other album this would be my favourite track but the impeccably high standard of LAMB means it has to make do with being one of my many favourites. It's a great choice for the follow-up single to WYWF as it's just as mad, busy and poptastic with the r'n'b flava which is (unfortunately in most cases) so helpful in gaining hit singles these days. The video begin with Gwen's fave Japanese girls playing with Barbie dolls, then we see Gwen herself on a TV screen, followed by Eve (who has an eye patch and long hair/extensions) and the video's pirate theme is revealed! Gwen dances with a sword and a parrot, on a table in a tavern and then swings on an anchor! She also has hair extensions which make her look oddly like Faye out of Steps.
97% Poptastic!
Aly & AJ - Do You Believe In Magic?
Aly & AJ are a teenage girl duo singing catchy country-pop, like a younger, poppier Dixie Chicks. They alternate between electric and normal (classical?) guitars. I can't decide if they're sweet or annoying but I think the one who is wearing trousers' hair decides for me, they are annoying. And they snog a dog in the video (literally a puppy dog, not an ugly human). Thei singing expressions are also pretty tedious. Very Disney, Christian and parent-friendly, but I somehow don't think many kids will be persuaded to buy this over Eminem, even if it will be less painful to their little uneducated ears and rhymes the words "groovy" and "movie"!
65% Poptastic!
Aslyn - Be The Girl
Aslyn is a new red-head rock chick with a piano. There's nothing special about her voice or this song, although I was interested to read that most of her album was made with Brit Guy Chambers. The video is set in what I guess is supposed to be a room in her house (with rather fetching lime green walls), then she and her band are transported magically to a recording studio. She's perfectly likeable and I do love her name, but this is the least original song and video I've seen in a long time. However, I'm tempted to let her off after seeing the utterly acetastic graphics on her
official site
. Perhaps its a grower!
56% Poptastic!
B5 - All I Do
B5 are best described as the black r'n'b version of generally forgotten 90s US boyband Take 5. They are, at a guess, between the ages of 12 and 15, and go by the names of Kelly, Carnell, Dustin, Bryan and Patrick. Most of them look like Jade from Damage, so they'll have a good chance with Baby Spice's future baby (if she has one). The song is so dull it's almost impressive and it's such an overdone format that they have absolutely no chance of success unless they get a really good song to release next. Ignore these and instead go for B3, the American-but-big-in-Germany Beegees covers band (no, that wasn't just Boyzone). Now they are a true example of ace!
32% Poptastic!
Carbon Leaf - A Life Less Ordinary
This band sound like John Mayer merged with the Barenaked Ladies, but the lead singer is a bit of a buff hottie with a nice line in bounces to accompany the chorus and carries off his green t-shirt well, so I'll try to like them. The video also involves a hay bale that mysteriously moves - a trick not seen since Alistair's days in the Fame Academy house. The chorus is quite jaunty with the old lady-esque line, "it shook the bones of me!" and did I mention the singer is quite buff?
69% Poptastic!
Fit February
2. Brandon Flowers
(of the Killers)
His best look is the Mr Brightside video look, which was much like this
This is also a particularly pretty photo:
Shiny shirts galore! I am also incredibly excited about the band's forthcoming appearance on The OC, although if Brandon and Seth are on screen at the same time I may not be able to cope!
Fit February
In an act of blatent title theiving from
Life Itself
and in conjunction with the much dreaded (by most) Valentines Day, I am pronouncing this month Fit February, which means every day I am generously presenting a new buff hottie for your admiration. And today you're getting 4 for the price of 1!
1. The Whole Of Bloc Party
This is Gordon:
This is Matt:
This is Russell:
This is Kele:
A note of caution: Don't bother listening to their music. This band's only purpose is to be looked at.
ps. Don't search for Bloc Party on
Google Image Search
if you are easily disturbed.