The latest craze in celebrity reality TV blogging!
I'm sure you've all seen the Sudoku puzzle that's currently sweeping the nation. I'm quite addicted to the computer game myself! You can play it with numbers, letters and coloured patches, so why not celebrities? Well now you can play with them too! (Oh dear, that sounds a bit wrong!). Click
here
to read how to play, then click on the picture below, which you can print out and cut out all the pieces or save and cut and paste them on, or if you can't be botherd with that, you could just print it and write in the initials of each pop star (or just marvel at my geniosity, that would be fine!). You'll notice that they're all pop stars who now reside in the dumper just like you get on reality TV shows. The first people to work out who they all are or to show me the completed puzzle each win 3 free mp3s of their choice (so long as I have them or can find them). Good luck!
International Scandinavian Video Challenge
Representing Norway: Anneli Drecker - You Don't Have To Change
I haven't heard of Anneli before but I hope to be hearing much more of her. This is dance music, but not the cheesy pop kind - Anneli is classy and very cool - think
Juliet
or Annie's dancier side. She is known as the queen of the Norwegian electronic music scene and comparisons include "a more feminine Annie Lennox". She's been singing since 1987 but this is just her second solo album - she is most known for her work with the trio Bel Canto. This new single is lovely and deserves lots more recognition from people outside of Scandinavia.
Representing Finland: Jori Hulkkonen - Lo Fiction
Finland aren't exactly the best country for producing quality pop music, but here is a fine example. From the video it's hard to tell if Jori is channelling Interpol or Eiffel 65, but whichever it is, he's doing a pretty good job of it. The video is great and the song, although it couldn't quite be described as catchy or groundbreaking, is really nice to listen to.
Representing Sweden: Darin - Why Does It Rain?
I can never decide if Darin is a buff hotty or not. Sometimes he is but other times he looks like any of the geeky boys from my school maths and science groups. It's quite confusing! However, he is a pretty good pop star and this is a fairly good pop ballad. It is a bit Blue-esque which isn't much of a compliment but it's quite likeable anyway. Not as good as Money For Nothing, though!
Hanson: The Movie!
Click
here
to watch the trailer.
First Listen: Rachel, Bananarama & Ben Adams
Here's a brand new feature I've come up with where I listen to new pop songs and tell you what I think. How original!

Rachel Stevens - So Good
"So good" is not strong enough praise for this song. It's amazing! It has a very full sound and there are no boring bits. It's simply non-stop brilliance. It may not be quite as excitingly original as Sweet Dreams was, but the quality of this song is absolutely top notch, with Rachel showing some personality at last. If you liked Some Girls and Negotiate With Love, you'll definitely like this. I really can't wait for the album now, it's going to be amazing!

Bananarama - Move In My Direction
This is fabulous! Very sassy and up-to-date without sounding at all desperate, which old-skool pop stars making a comeback can often be. It's nice to see they haven't lost any of their aceness and I hope this does well, although it is a bit too background music-y for huge success, I think.

Bananarama - Love Bite
This isn't the single (Move In My Direction is) but I like it more. I don't know if it would work as well on the radio but I think either of the Minogues or Rachel Stevens would be very happy to record this.

Ben Adams - Destination Rendezvous
This is a lot like Sorry in style, although a bit more of a Cry Me A River wannabe. I'm not sure if it's better than Sorry or even not as good. It's quite hard to say.

Ben Adams - I Don't Wanna Stay
Here's Ben's big ballad, and rather good it is too. The Darren Hayes-esque high bits are the highlight. It's not the most amazing thing ever and I wouldn't advise him to release it as a single, but it's nice and gets better as it goes along.

Ben Adams - Get Off My Girl (Feat. Har Mar Superstar)
This is fun and highlarious as we've come to expect from anything involving Har Mar, but it has one big problem - it sounds just like Abs! It is really good though and would be the best choice for his next single, I think.

Ben Adams - Don't Tread On My Toes
This is interesting! Ben seems to be rapping! He really has turned into Abs. It's great fun though. The chorus is a bit harsh sounding, but good enough for an album track.
Dirrrty Pop Review: Eurovision 2005!
You can watch the show again in full at
http://www.nrk.no/programmer/tv/eurosong
.
The show begins with large drums, something we're going to be seeing a lot of tonight. Lots of dancing about with green lights. It's Ruslana! Hey! Hey! Wild dancing! But it's not "Wild Dances", it's some other song. Look! A flamethrower! This is what Eurovision is all about. Ruslana was supposed to be presenting the show but then they remembered her disasterous past attempts at speaking English and gave the job to a duo named Masha and Pasha. They're actually not too bad compared to some of the hosts we've had in recent years. Masha likes to shout at us and dresses like a scary Barbie doll, while Pasha is probably the youngest male presenter we've had since Ronan in 1997 (8 years ago, can you believe it?).
Still it's not time for the first song. There are some clips from behind the scenes of the semi-final, including that Irish boy looking as daft as ever and yaaay it's Vanilla Ninja!
Hungary
Nox - Forogj Világ
Every time I see their flag I think Ireland is back in. However I'd much rather have Hungary as their song is ACE. They cleverly borrow from two Eurovision success stories from the past, Ruslana and Riverdance, to create one of this year's best entries (and my mum's firm favourite). I'm also loving the half trousers/half shorts look of the lead singer. These guys are going to be hard to beat in the dancing stakes.
UK
Javine - Touch My Fire
Poor Javine! She is, without doubt, the unluckiest girl in pop. She missed out on being in the best girl group of the 21st century, her pop career dried up after a few (mostly very good) singles, she had to record a song for the
Garfield
soundtrack and then she's finally about to get her big break on Eurovision and she gets a sore throat! I would normally say she was making excuses but you can really tell she's having trouble, which I think is a huge shame cos we know she can sing and it's out best song in years. In other news, the drums are back!
Malta
Chiara - Angel
This is a real power ballad, Celine Dion style, borrowing from several of her hits. I know Malta are really crazy about Eurovision and they usually come up with good songs. Their reluctance to move towards the ethnic styles that are so popular in the contest these days actually works in their favour as they stand out with one of the strongest ballads this year.
Romania
Luminita Anghel & Sistem - Let Me Try
I am quite mystified at how this won the semi-final. It's got an optimistic 'let's all work together in harmony' kind of vibe which goes down well at Eurovision (and the biggest drums of the night) but the song itself doesn't stand out to me at all. It's not bad but neither is it anywhere near a favourite.
Norway
Wig Wam - In My Dreams
Amazingly, we have found a 'comedy' rock band frontman more annoying than Justin Hawkins. I thought Norwegians were supposed to be sweet and lovely! They do put on a good show and against my better judgement I really like the song. Definitely a big contender.
Turkey
Gülseren - Rimi Rimi Ley
Turkey seem to have got so carried away with being ethnic that they've forgotten to be pop. Although technically there is no reason why Eurovision songs have to be pure pop, they need to be pretty amazing if they're not and still want to do well, and this is not (but it still did better than us!). However, they have gone one better on the drum front by dressing theirs in skirts to match the dancers'. I also liked the cry of "yeee-haa!" from the singer - it's about as American as this show is going to get.
Moldova
Zdob si Zdub - Boonika Bate Toba (Grandmamma Beats The Drumm-A)
"Chilli Peppers meets Rednex" according to the ace & all-knowing Mike - an extremely accurate comparison in my opinion and certainly one that'll send you off searching for the video if you haven't seen this. It's utterly insane! It was probably better seen for the first time but it's still brilliant and hilarious and they too have a new take on the drum gimmick - they have a drum-playing Grandma!
Albania
Ledina Celo - Tomorrow I Go
This is so boring that the only way I'll remember it is precisely as the most boring song of the night. And Albania were so good last year as well - what went wrong?
Cyprus
Constantinos Christoforou - Ela Ela (Come Baby)
Failure to win Making Your Mind Up didn't mean Andy Scott-Lee would just give up. He is a Scott-Lee after all! So he took his initiative and a few months' supply of black vests to Cyprus (stopping at the gym on the way) where he presented himself as Constantinos Christoforou and with a song Peter Andre (well, he was the only famous Cypriot he could think of!) would be proud of, he won the nation's hearts and now he has achieved his goal of appearing at Eurovision! Obviously a few people sussed him out as the UK were one of only 7 countries to give him any points at all.
Spain
Son De Sol - Brujería
'The Ketchup Song''s younger sibling accompanied by 3 men even scarier than the Norwegians makes an absolutely rubbish song.
Israel
Shiri Maymon - The Silence That Remains
This is my favourite of the ballads, although it doesn't really get good until the final section where she sings in English. It's not
because
she sings in English, that bit is just loads better! She has a good voice and an extremely lovely dress as well.
Serbia & Montenegro
No Name - Zauvijek Moja (Forever Mine)
This lot are certainly not the only boyband rejects to appear tonight, but they must be the weirdest! I can't even work out which of them is in the group and which are backing dancers/singers. All of them? None of them? Who knows?! The apparent lead singers prove that mixing in every boyband member in two boys does not make perfection...far from it.
We're halfway through so it's time for a quick break to promote the new Eurovision book and show a few confusing behind the scenes clips from rehearsals.
Denmark
Jakob Sveistrup - Talking To You
You're all going to laugh at me now, but I LOVE this song! It's Ronan Keating on a particularly jolly day
and
he looks like Sean, The Gay off Coronation St, and still I'm not put off. it seems he has got all his mates from the pub to do the bobbing from side to side thing he calls dancing. It's so,
so
cheesy, but mums Europe-wide will be falling in love with this bloke (and he's a teacher as well - a sure-fire mum hit!).
Sweden
Martin Stenmarck - Las Vegas
Did he just sing "You're like a turd"? It really sounded like it - how rude! That's no way to win over an audience. However, he's Swedish so I'll let him off. It's a very catchy song but I still wish Alcazar or Pay TV had been entered instead. I think they'd do better and they simple
are
better!
FYR Macedonia
Martin Vucic - Make My Day
This guy has to be the weirdest yet. His head is too small for his body and he dances like a puppet. He might be quite good-looking if you ignored from the neck down, as he looks like the wrongly buff Calin S Club 8 mixed with another Coronation St character, Warren the footballer. If Coronation St isn't on this week, you'll know why - all the characters have flown off to Kiev!
Ukraine
Greenjolly - Razom Nas Bahato, Nas Nye Podolaty
If the rest of Europe is anything like our family they'll all miss most of this while one of the family members (in our house this job somehow belonged to me) explains the Orange Revolution and the youngest sibling makes rubbish jokes about Orange phones. Why wasn't it the Vodafone Revolution? The future's bright, the future's Orange!
Germany
Gracia - Run & Hide
Gracia came 5th in the German version of Pop Idol, making her their Hayley Evetts. However, she has done a bit better than Hayley as she has managed a fairly successful pop career. Sadly the other singles of hers I've heard were much better than this and I don't think many people are going to remember her from this performance. Perfectly competent but perfectly boring.
Croatia
Boris Novkovic Feat. Lado Members - Vukovi Umiro Sami
I have christened this guy Neil Borissey due to his extreme resemblance to
Bob the Builder
Neil Morissey. What is it with this show and UK TV look-alikes? Borissey doesn't even bother to actually hit the drums, just kind of throws himself at them. Very bizarre.
Greece
Elena Paparizou - My Number One
Hooray! This is my highest scorer yet on my nifty BBC scorecard. I love Elena's band Antique (who incidentally came 2nd a few years ago with 'Die For You') and it's nice to see a Swede succeed, even if it's not for Sweden exactly. The fantastic braces trick should also be noted down now for every 'best of Eurovision' montage ever from now on and I love her use of the word "capricious".
Russia
Natalia Podolskaya - Nobody Hurt No One
She looks rather different than in her video, much less scary. This is slightly better than Gracia's similar song but again nothing interesting or unusual. If they pulled a trick like last year's colourfully painted dancers I may take more notice.
Bosnia & Herzegovina
Feminnem - Call Me
Excellent news: Femminem have nothing to do with Eminem - in fact they couldn't be further from from him! Blonde girls parodying Abba and singing about being "United in the song, that's all it takes, Fifty candles on the forty cakes" - I bet they were really cross when Lebanon dropped out leaving only 39 cakes! The song is still brilliant and has the best lyrics of the competition. Bonus points for being the only ones to celebrate 50 years of Eurovision.
Switzerland
Vanilla Ninja - Cool Vibes
Vanilla Ninja are one of the best girl bands currently in Europe and so popular that they've been poached by Switzerland to save them from further embarrassment (last year they came 22nd in the semi-final!) and their home country of Estonia created a new version of them to compete this year in the form of the rather ace Suntribe. If only Vanilla Ninja had been able to re-enter their original entry which for some reason wasn't picked to represent Estonia a few years ago, Club Kung Fu, they may well have been ruling the world (or at least Europe) at this very moment. This song is also good but much rockier and not half as fun as their usual output, plus it involves them asking to be killed, which is not exactly the most positive message for our lovely Euro viewers.
Latvia
Walters And Kazha - The War Is Not Over
Is this the Latvian answer to Sam & Mark? It has to be! They even sing "Sam was the loser (of Pop Idol), Sam was the winner" (cos he gets parodied on Eurovision - an honour in my book!). They are extremely sweet but the song is so utterly feeble that you can't imagine any wars would even consider stopping for them. I do kind of like it though, and the sign language at the end is heart-meltingly cute.
France
Ortal - Chacun Pense Á Soi
The French are rubbish at pop, but luckily this girl is part Israeli so it's not too bad.
Some boxing brothers hit a chime thing (probably the most delicate thing they've ever hit) and the voting begins! Then there's a recap which makes me realise what a great year this is for entries. There are so many good ones! Then the voting ends and it's time for an interval act with, guess what! More drums! Then a kind of acrobat/gymnast thing which I have to say is very impressive. I think we should get him as our entry next year - do the rules say we need singing? Then after some more frantic drumming, Ruslana is back with a really great song. The only one of hers I've heard thats as good as Wild Dances. It has "hey!"s
and
"nanana"s!
I won't guide you through the voting as with 39 countries to get through it inveitably went on a bit. An interesting fact is that Andorra, Albania and Monaco had to use a jury vote, which means they must have had less than 100 votes! I know they are small countries but that is still quite shocking.
I will take this chance to give you my own points, using the Eurovision system:
1 - Norway
2 - Latvia
3 - Israel
4 - Moldova
5 - Denmark
6 - Switzerland
7 - Sweden
8 - UK
9 - Hungary
10 - Bosnia
12 - Greece
After a slow start, Greece pick up a strong lead about halfway though and end up points ahead of second-placed Malta. So the final results are:
1. Greece - 230 points
2. Malta - 192
3. Romania - 158
4. Israel - 154
5. Latvia - 153
6. Moldova - 148
7. Serbia & Montenegro - 137
8. Switzerland - 128
9= Denmark - 125
9= Norway - 125
She's a bit aggressive this Greek girl isn't she, pushing people out of the way! But of course she is extremely ace and well deserving of her win.
I Predict A Riot!
Here is my prediction for tonight's top 10:

1. Moldova
2. Norway
3. Greece
4. Malta
5. Hungary
6. Ukraine
7. Bosnia-Herzegovina
8. Switzerland
9. Israel
10. Russia

And my favourites of the whole contest:

1. UK
2. Estonia
3. Bosnia-Herzegovina
4. Greece
5. Sweden
6. Switzerland
7. Israel
8. Moldova
9. Iceland
10. Germany

Of course these are all after only seeing videos of most performances so expect my views to change drastically in the next few hours! Now I'm going to print off my scorecard, get extremely over-excited and enjoy the show!
First Listen: Daniel Powter - Daniel Powter
Daniel Powter
is a Canadian singer who now lives in California but got his big break in France where he's quite a star and never off the radio. He's not particularly pretty but neither is Gavin Degraw and I still *heart* him. His single, Bad Day, is out in the UK soon and already a hit in Europe, and he has an album out this summer, which I am listening to for the first time today.
You can listen to this album yourself
here
.
1. Song 6
How odd to call a song Song 6 and not make in track 6 on the album. It sounds like something Gavin Degraw would do, most along the lines of Chariot, mixed with Christian Walz. A really nice relaxing summery song. 7/10
2. Fruit Free Loop
This is a great mid-tempo song. I can't help but sway to it and I can imagine with more listens I will be singing along. I just need to work out what on Earth he is singing first! 8/10
3. Bad Day
This is Daniel's current hit single. It's quite catchy but very unoriginal. You would never guess from this how high-pitched he usually sings. The video is worth seeing if you're a fan of The OC as Samaire Armstrong who played Anna is in it. 7/10
4. Suspect
Daniel goes rock. It's a bit horrible. 4/10
5. Lie To Me
Back to Christian Walz style, yay! It has piano and dramatic drums. The chorus is quite rocky, a little like Rooster on helium. 6/10
6. Jimmy Gets High
A slow song that starts off very basically, has a really nice, classic-sounding chorus with lovely violins. It may be improved with less of a stark contrast between the high and normal-pitch parts, but it works better the more you hear. 8/10
7. Styrofoam
What a weird song title! The song is a bit indie, strangely. I do like the rhythm of it, but it doesn't have much of a hook. 6/10
8. Hollywood
This is very Gavin Degraw. It manages to be quite positive but quite moody-sounding at the same time. The bridge is the best bit. 7/10
9. Lost On The Stoop
It's David Sneddon! That boy turns up everywhere. It really does sound like some of the darker songs on the Snedders album. 7/10
10. Give Me Life
Not really special but I like the bubbly sound of the bridge, for some reason! He could do with something a bit more exciting to end with, although it does sound a bit like Maroon 5 which is of course a plus. Daniel Powter is Maroon 5 on a Bad Day! 6/10
Oh my God, they're back again!
You may have been wondering about all the excitement about the Backstreet Boys on Dirrrty Pop lately. Surely they're just an old ballad-singing boyband? Well yes they are, but they're also pretty special and if their almost non-stop play on at least one of the music channels today seems to suggest I'm not the only one who's missed them.

The main reason for my Backstreet Boys fandom is that they have released some of the best pop songs of the last decade. They make ballads that couldn't be further from boring (Westlife, please take note) and can also carry off catchy upbeat songs like Larger Than Life (my all-time fave song for a year or so) and The Call. I Want It That Way and Larger Than Life will always be two of my favourite songs, and Quit Playing Games and Everybody (Backstreet's Back) also hold special places in my heart (which sounds like a BSBs song itself!).

The second big reason why I still *heart* the Backstreet Boys is because they were my first favourite band that I chose to love all for myself. I'd had several favourite bands before them but they'd always been groups I'd loved because everyone else did - there were the Spice Girls and Aqua, All Saints and Steps, B*Witched and S Club 7 - I got through them like a bag of pick'n'mix, but the Backstreet Boys were the first band to really stick, and the first band I chose to love despite no-one else I knew liking them. In fact, my best friend at the time despised them and I had to hide my Backstreet fandom from her for years! Their music also reminds me of so many good times - I listened to them so much and was so excited when they had new albums out, that when I think of them now I automatically smile. And you know you really love a band when you start saying things as cheesy as that!
Eurevision (Part 2)
Precious - Say It Again
Country: UK
Year: 1999
Best bit: "Say it say it say it say it say it say it"
Place: 12th
Fact: We all know what happened to Jenny next but Anja and Sophie are also still around as a model/Duncan from Blue's (ex?)girlfriend and a CBBC presenter respectively.
Anjeza Shahini - The Image Of You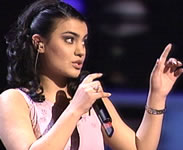 Country: Albania
Year: 2004
Best bit: "I'm queen of the world of make-believe!"
Place: 7th
Fact: Watch
this video
and try not to die of laughter. You'll be pleased to hear the final version was much more professional, but not half as amusing.
Lena Philipsson - It Hurts/Det Gor Ont
Country: Sweden
Year: 2004 (joint fave song of the year with the above)
Best bit: "I wish I could be stronger, no longer afraid"
Place: 5th
Fact: Lena's current album is called 'Det gör ont en stund på natten, men inget på dan'...perhaps we'll just stick with 'Det gör ont'.
Eurevision
No, I haven't forgotten how to spell the Europop event of the year. This post is not about Eurovision. It's about Eurevision - Eurovision from the past ie. revision! Here are a few of my favourite Eurovision entries from the past:
Gina G - Ooh Aah, Just A Little Bit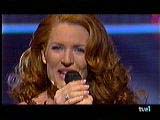 Country: UK
Year: 1996
Best bit: "Just a little bit! Just! A little bit more!"
Place: 7th
Fact: Gina is releasing a new album soon through her web site and it actually sounds very good!
Antique - I Would Die For You
Country: Greece
Year: 2001
Best bit: "No-one else could ever love you like the way I do!"
Place: 3rd
Fact: Antique singer Helena Paparizou is back this year representing Greece again with the song No.1.
Abba - Waterloo
Country: Sweden
Year: 1974
Best bit: "Woah-woah-woah-woah-Waterloo!"
Place: 1st!
Fact: I'm going to see Mamma Mia (for the 2nd time!) soon. Sad but true!
More Euro-aceness to come!
International Video Challenge
Representing USA: Backstreet Boys - Incomplete
I've finally found a good quality version of this (it was on UK MTV last week but I only caught the end and Alex Zane laughing - don't like him anymore!) so I can review it at last. Of course I have known the song for ages now and of course it is great! It is maybe more towards the All I Have To Give level of great than the I Want It That Way level, but that is no insult in itself. The only thing that could be an insult regarding the Backstreet Boys and coming from me is telling you that you look like one of them. Although, they're all looking alright at the moment. Nick could do with cutting down on the donuts (as usual) and Kevin really needs to shave off his facial hair and start again, but no-one looks totally horrific and at least they look sober (I'm talking to you Brian! hahaha! Laughing at my own joke, that is sad). The video is full of highlarious dramatic moments but my favourites have to be AJ's slow-motion fall to the knees and Nick deciding he hates his hands. (Since I posted this they have appeared on CD:UK and showed the video - hurrah!)
Representing Norway: Espen Lind - Unloved
I've included this now (it's been on the music channels a while, but you'll be lucky if you've seen it) because I suddenly realised yesterday how much it reminds me of a less-dramatic (but almost as good, which is quite a triumph considering he is not the Backstreet Boys) version of Incomplete. They sing "iiincooompleeete", he sings "uuunloooved" - it's practically the same! But I am not actually being sarcastic, it is a good song and we always need more Norwegians in pop, so it's nice to see one releasing in the UK. Next, Venke Knutson, please!
Representing the UK: Poker Pets - Lovin' You
This is no better than any of the songs it parodies, but the video is hilarious! It has plasticine animals acting out various recent dance videos including Out Of Touch by Uniting Nations, Satisfaction by Benny Benassi and Call On Me by Erik Prydz. The singer of the track is Nate James who released a fairly good r'n'b single a few months ago, so it's a strange place for him to turn up.
First Listen: Robyn - Robyn
The first thing I notice after Robyn's scary black false nails on the cover is the glossiness of the booklet - if it was any glossier it would be wet! Apart from that it's a bit of a rubbish booklet as all it has is pictures of Robyn in exactly the same outfit and position, just with different expressions on her face. One of them looks so unlike her, I swear it is actually a stand in - perhaps she got bored of standing in that same pose so long. The pictures are alternated with plain black pages and there is no writing - all the credits are squashed onto the CD. I guess it's kind of clever in a subversive way but it seems more like a waste of space that she could use to show off how fun she clearly is. Anyway, on with the music:
1. Curriculum Vitae (ft. Swingfly)
This is basically an intro with bizarre but absolutely hilarious talky bits. However, the funniest bit is probably unintentional - when Swingfly says "excape", clearly meaning "escape". I don't think I've ever heard a Swede slip up on their English pronunciation before so this is a bit of a victory - they're not perfect after all! If you're wondering who Swingfly actually is, you may recognise his voice from the song Hey Boy by ace Swedish hip-poppers Teddybears Sthlm, whose member Klas Ahlund produced most of this album (he has also worked with the Caesars, who I have recently discovered to share a few members with Teedybears Sthlm). I love Hey Boy, but even better is their song Hiphopper which is undoubtedly the best hip-hop song I've ever heard. In this song Swingfly introduces Robyn, taking up more of the song than she does. Read the lyrics on
her site
cos they really are hilarious!
2. Who's That Girl
I already knew that The Knife (aka Karin and Olof Dreijer) worked on this album but as soon as I heard the first few seconds of this song, I knew this must be their track, so I checked (annoyingly I had to take the CD out of the computer to do so) and I was right. If you haven't heard any of their songs, download Heartbeats now - it's very ace. They have their own unique brand of very cool, very Swedish Europop and this is one of the best songs Robyn has done. If you only know Robyn from Show Me Love, listen to this to see quite how far she's come and how brilliantly she has done since then. This surely has to be a single at some point?
3. Handle Me
This is a little more like Robyn's last album, Don't Stop The Music - it's a mixture of the sensational Blow My Mind or her attitude-fuelled original version of Keep This Fire Burning. This is just what I love about Robyn. She manages to seem like the sweetest girl on the planet and at the same time the fiercest. This is one strong woman, but she's not alienating in it - really extremely endearing.
4. Robotboy
This is the ballad I mentioned in an earlier post about this album. Not many pop stars would do a love song about a robot. It's still full-on electronic but really extremely sweet and lovely too. How manay ballads have you heard with line, "let your x-ray shine". Robyn is certainly not following the rules of your regular pop star, not even the ace Swedish kind - she is different and with her utter adorableness, she totally pulls it off.
5. Be Mine!
I didn't add the !, that's actually the title. A bit like Boom! except they were rubbish. This is of course Robyn's most recent single and we all know it is supremely excellent. It fits in perfectly with the songs around it, which singles, particularly ones I've played a lot, can sometimes fail to do. I think a sign of a good album is when the single doesn't stand out, not because it's so rubbish but because the album is so consistent. It was the perfect choice for the first single off this album, shown by the success of the single and the album (a no.1 hit in Sweden, well done Robyn!).
6. Bionic Woman (Interlude)
This is only 16 seconds - over before you hardly know it's began. It might as well be the start of the next track, but then we wouldn't have a track called Bionic Woman, so we'd all be losing out!
7. Crash & Burn Girl
More of the electro-r&b-pop Robyn is best at, this is very cool sounding. I can actually imagine this being a massive dance hit if it was released under a pseudonym. Not that it being by Robyn would really effect it as she's barely known in the UK, but it would be really interesting to see if she could get a hit if the song was marketed to an entirely different audience. I wonder how many of Robyn's fans would like it if they thought it was by a faceless dance act?
8. Tomteverkstan (Interlude)
I wonder what that means - something in Swedish obviously. It's 30 seconds long and is just Robyn discussing the next track eg. "yeah, then the snare" and "pick that up!"
9. Konichiwa Bitches
...are much better than Harajuku Girls! Although that is one the weakest tracks on LAMB. This song is full of feisty lyrics and weird sound effects. Robyn is actually rapping! The most genius part of all is at the very end, when Robyn raps "tape you up good put you in the trunk", then you hear the sound of the trunk (ie. car boot) closing and the last line ("see you next tuesday, you is a punk") is all muffled. Just try and tell me that's not genius at
work
play! It just goes to show that if Eminem had got a cool girl like Robyn to sing on Stan instead of Dido it would have been him in the "trunk", and then he wouldn't have been able to crucify Toy Soldiers and we'd all be much happier.
10. Bum Like You
If you had to guess which songs on this album were love songs from the titles, you'd be mad to pick this one. But you'd also be right! It has to be by far the loveliest song about bums, although I can't actually think of any more so it slightly empty praise, but really this
is
a lovely song!
11. Eclipse
I can't believe this was produced by the man behind lyrics such as...well, I'd rather not type them out! It's a proper ballad and a beautiful one too. Robyn continues to amaze me with her versatility, to go from the girl who shuts people in "trunk"s to this sensitive, gentle thing, where the words are at times barely audible (or maybe I've just listened to too much loud music!).
12. Should Have Known
This is a track from Don't Stop The Music, presumably a radio edit or something but it does sound the same to me so I'm not quite sure why it's here. It is a great song though - one of the first (that I heard) to show her angel/devil act with all the swearing in the chorus. Perhaps Klas chose it?
13. Anytime You Like
Another slow one. I'd prefer something more excing to close the CD as this is not as good as the other ballads on the CD, in my opinion. I was also a little disappointed that there wasn't an extra track tagged onto the end of this one as there was a lovely bonus track, which I believe was a cover of a Swedish classic hit, on DSTM.
To buy 'Robyn' (not Robyn herself, sadly - I'd like to have her following me round all day, it would certainly make life more interesting) click
here
.
For more info, full lyrics and clips, visit her official site
here
.
Happy birthday to you..
Darren Hayes!
Some recent Darren news is that the Savage Garden song Chained To You has been covered as a dance track and bizarrely has apparently been playing on the UK music channel U, which last time I looked was an Urban channel. You can hear a clip of it
here
- it actually is a garage remix! Very very weird. What a lovely birthday present...
Get a pen and paper, right down their name...
Everyone must go and vote for Cleopatra on Hit Me Baby now cos they were sooooooo ACE! They sang
Cleopatra's Theme
and for their cover did one of the very best pop songs of the last few years, GA's No Good Advice! They all looked fabulous (even Yonah!!) and sounded even better. They managed to make No Good Advice sound quite possibly even better than the Aloud and Cleopatra's Them didn't even seem cheesy. They had so much stage presence, star quality, personality and just worked perfectly as a group - they have to win so they can get a new record deal and bring back the era of pop stars who deserve to be called 'pop stars', because they really do it so much better. They're more fun the Sugababes, a million times better singers than Atomic Kitten and apart from GA who else is there in the girl band pool? Cookie?
The International Video Challenge
Representing the Netherlands: Ashley Jade - Let Me Be Your Fantasy
You may think one of Atomic Kitten or perhaps Blue's cover versions would be the worst of all time. Well, think again! This young lady (not that she appears particularly ladylike in the video) has managed to ruin one of my favourite mindless dance tunes from the 90s, Baby D's Let Me Be Your Fantasy. She is possibly the worst singer I've ever heard and the video is the trashiest I've ever seen (and I have Sky Digital!) including not just plenty of slutty underwear but a cow print stetson!
No globes!Representing the USA: Gavin Degraw - I Don't Want To Be
This has of course been around for ages (I first heard it in Autumn 2003!) and finally the best male solo act of the moment is releasing a single in the UK, and really there was no other choice. I think the first time I watched this was a different (cheaper looking but quite similar) video, but I've seen the one I saw today on The Box several times already as well. It features Marissa from the OC and Nathan and Brooke from One Tree Hill - well, lookalikes. The Marissa likeness is particularly astonishing. I can't say how great this song is - it's beyond greatness, as is Gavin and everything else he does. A top song and top bloke!
Representing Denmark: Swan Lee - Love Will Keep You Warm
Denmark isn't one of the strongest Euro countries for producing great pop music, but they do come up with some gems and this is definitely one of them. The only singer I can think of who sounds at all like the lead singer Pernille is Andrea Corr, but this band really aren't like The Corrs at all. I would place them somewhere between Kylie and the Subways which basically means I can't describe them. The song is very lovely, as is her singing voice, and a visit to their
web site
reveals that they have lots of good music on offer - these guys are definitely ones to watch.