My Euro Top 10 Of The Moment
1. SheMale - Étre Une Femme French 'girl' group, extremely catchy, sounds like SC8 singing French.
2. September - We Can Do It/September All Over Dancey pop, vocals a mix of Jo and Rachel ex-S Club.
3. Hitchhike - Travel Girl Amazing spoken disco-y track from Greece (in English).
4. Natasha Thomas - It's All Over Ace Of Base protégé.
5. Lisa Miskovsky - Lady Stardust Slightly MOR catchy pop, singer could be Fleetwood Mac.
6. Kim-Lian - Teenage Superstar Energetic teen pop with surf guitars.
7. Bosson - A Little More Time Cheesy and cheerful dancey pop.
8. Lene - Here We Go Ace Moonbaby cover.
9. Sahlene - House Fab German pop, sounds a bit like Loveshack.
10. Sita - Popstar A Robyn-penned track by my fave pop rock chick.
Buy Britney, Bye Kylie, Andre etc.
This piece of pure pop excellence is out tomorrow. You know what to do.
Never Forget: 90s Boyband Week
Boyzone
Career: 94-99
Best song: All That I Need
Fact: All members have released singles since Boyzone: Ronan, Stephen and Mikey as soloists and Keith and Shane as a (terrible) duo.
Hanson
Career: 97-00
Best song: I Will Come To You
Fact: Hanson are still around and releasing new material in America.
Next Of Kin
Career: Feb-June 99
Best song: 24 Hours From You
Fact: Next Of Kin were the UK's answer to Hanson.
Happy Happy Happy!
I am so pleased that James won Making Your Mind Up. He might not have been my favourite on Fame Academy (although he does live with him and appear on his album), but the fact that he was on that show and isn't Barry makes him a deserving winner. Any victory for FA-ers is great at the moment. Lemar won a Brit and now James is off to Eurovision!
The best song of the night was Hyrise's Leading Me On which grew on me on each listen. However, I did notice their freakish similarity to early Blue. Maxwell is Duncan, Ant is Ant, Ben is Lee and the black boy who looked more like Hayden than Hayden is Simon. Very interesting.
l-r: Antony, Simon, Duncan, Lee.
Never Forget: 90s Boyband Week
It's 90s Boybands Week on Dirrrty Pop, which means 3 bands a day for a whole week! Pay attention as there'll be a quiz on Friday.
Take That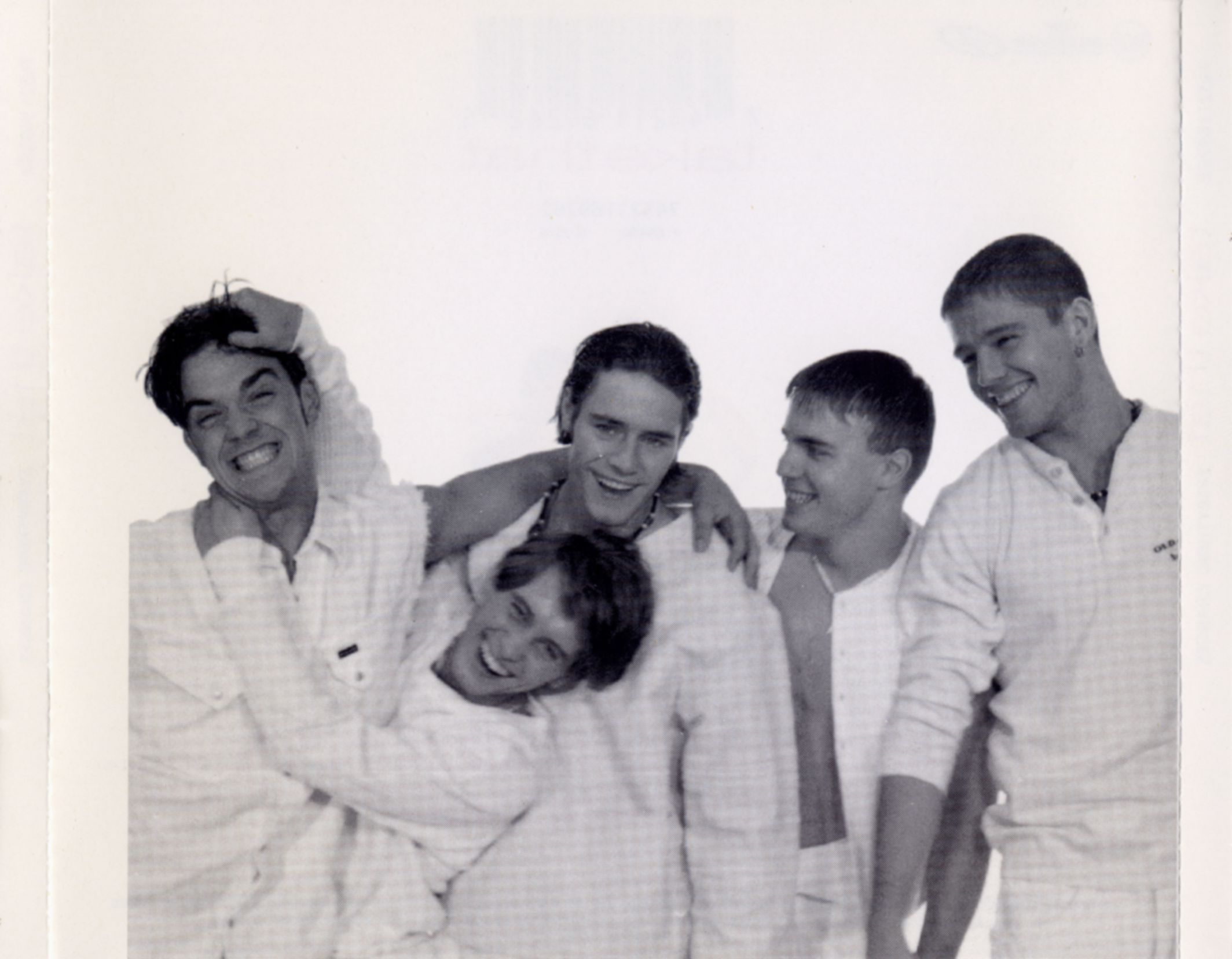 Career: 91-96
Best song: Never Forget
Fact: By 1996 they had sold 9m albums and 10m singles.
a1
Career: 99-02
Best song: Caught In The Middle
Fact: Christian has released solo singles in Norway and Ben is threatening to return in 2004.
OTT
I can't find any pictures of this band!
Career: 97-98
Best song: The Story Of Love
Fact: OTT never had a top 10 hit, but they did have 2 11s and a 12.
I've Made My Mind Up!
Vote James because:
He's from Fame Academy 2.
He's Alistair's flatmate.
There's no-one else worth voting for.
Dougie Update
Turns out that Dougie McFly
is
older than me and Aaron SC8, but only by a few weeks. He's even older than the original Aaron of pop, forgotten before he turned 12, Aaron Carter. Anyway, I read Dougie's
profile
on McFly's fan site and I am still undecided about whether he is worth liking. Let's work out the pros and cons:
Pros:
He's not younger than me.
He admits going to a Wet Wet Wet concert (Not afraid to be mocked).
He doesn't like cars.
He admits to spying on bandmate Harry at night - interesting!
He looks like this:
Cons:
He's in McFly.
He loves Blink 182.
He likes Evanescence.
His favourite TV shows are MTV (Cribs etc.)
His favourite actress is Hilary Duff.
He doesn't know what a motto is, unless his is "What's a motto?"
He eats other people's dead skin.
He names his poos.
He is inspired by Gareth Gates - surely a joke!
Total
Pros: 5
Cons: 9
Pretty as he is, he likes Blink 182 and therefore is a no go zone. For now I will just have to ponder why all 16 year olds aren't that cute.
Video Killed The Radio Star
Keisha White - Whatcha Gonna Do
This girl was hyped at the start of the year as the next big thing but I could tell as soon as I heard this and saw the video that she's goign to be very disappointed. I'm sure she's very talented, but this song is nothing new and her dancing in the video is frankly embarrassing. She was dancing twice as fast as the song!
Maroon 5 - This Love
I first saw this video a few months ago and was impressed to say the least. The song was an instant favourite on the album and a great choice for the second single, being one of several even better than Harder To Breathe. This deserves a top ten entry at the very least, but if not it should help the album along and get them a fantastic reputation. The video is also a must see full of nakedness and other good things which I didn't notice because of the nakedness. Go the 5!
Bellefire - Say Something Anyway
Bellefire could release catchy pop songs, maybe be the new B*Witched, but instead my dear enemy Louis has given them yet another mediocre pop tune that goes absolutely nowhere. It does get vaguely interesting with a few modern sounding noises in the middle 8, but apart from that this is uninspiring as ever. And they have lost a member - when did that happen?
Blaque - I'm Good
This song has the potential to be really great in an early Destiny's Child or a TLC way, but the lead singer ruins it with her annoying voice. I can't quite put my finger on what's annoying about it but it's definitely there. Blaque have been around since the late 90s and have been largely ignored, so if they don't take off this time they are going to have to give up. Still, catchy song so it has a chance.
Weekly American Idol Rant
This week was a huge imporvement on the first two, as there were several fantastic singers. LaToya was obviously amazing and will be hard to beat. She did a bit of a Will on us, as I could barely remember her and then she really outshone everyone. Amy was pretty good too and seems like a fun person, although it's a pity Bulgarian Leah, the only contestant with fashion sense (Americans have very little!), couldn't also go through. I'm sure she'll be back for Wildcard, along with maybe Jon-Peter who is lovely despite his strange singing voice.

Next week should be pretty good too as Susan is very strong and John has a good track record too, although the Sinatra imitation isn't really for me. Hopefully there'll be some more LaToya-esque surprises as well. As usual, I can't wait!
Oh dear!
I think I fancy one of McFly. This would not be terribly worrying, except it is the 15-yr-old one. He's younger than me! He's even younger than Aaron SC8! This is not good at all.
You've Got To Download It!
My favourite song of this week is the fantastic Travel Girl by Hitchhike. I downloaded the
mp3
from
Enthusiastic But Mediocre
who seem to know little more than I do about the song. It's a hit in the Greek charts right now and is basically an American girl talking about hitchhiking over a beat that Girls Aloud would be immensely proud of. Some of my favourite lines are:
"I wake up and the dude driving has his pants down. Huh? What the fuck?"
"Woah! That guy was whacked out!"
"And even worse, he kept chattering about electric cars - what? What? Never mind"
And the chorus:
"I am the travel girl, I travel round the world, the only friend I have is the one that picks me next"
So I urge everyone to
hear
this piece of excellence immediately!
The new 888!
Mr PJ
has been raving about new boyband V recently so I did a little research and found their
official site
. There you can hear clips of their single, the excitingly named Blood, Sweat And Tears and another track named First Time. Their current claim to fame is supporting Busted on their forthcoming UK arena tour and the video to their single is already made so I guess it'll be appearing on the music channels anytime now, unless they make the wise move of waiting until everyone realise how rubbish McFly are (if Busted are anything to go by this may take years). Anyway, let's meet V!
This is Mark, obviously the buff hottie of the group. He's from Newcastle and aged 20.
Next is Leon, who is Welsh, again aged 20 (his birthday is Xmas day, just like Dido and Jesus) and has a nice face.
Kevin seems to be the pikey of the band, although not too ugly considering. He looks like the male model who sang to Paula on AI3. He's 19 and from Newcastle.
Antony also has pikey taste in necklaces. He is the oldest at 21 years and hails from Leicester.
Aaron is the David 888 wannabe of the band. He's 20 and from London.
From the sound of their single, they're not going to be the biggest boyband ever, but with the clever Busted management they could be in with a chance anyway.
Will's Games
In honour of Will's fantastic new single, Your Game, here are Will's top 5 board games:
1. Cluedo
Will says: "Apparently this is a middle/upper class game, so I must like it!"
2. Ludo
Will says: "This is very easy so I can even play it when I'm drunk."
3. Mouse Trap
Will says: "What a crazy fun game! My nephews love it."
4. Scrabble
Will says: "I play this with my brother, we're very competitive."
5. Monopoly
Will says: "My dad always wins at this, I think he cheats!"
And his least favourite?
Snakes And Ladders
Will says: "The snakes remind me of Simon Cowell!"
Video Killed The Radio Star
McFly - 5 Colours In Her Hair
I'm note sure that there is an original line in this song, let alone an original scene in the video. I love Pleasantville and The Brady Bunch, and The Monkees and Beach Boys were childhood faves, but I don't need to see a bunch of not even pretty boys trying to make a hit out of it. Go away please!
Sugababes - In The Middle
I seem to have an on-off relationship with the 'Babes. I liked them when Siobhan was around although I wasn't botherd with the album and never liked Overload, and since Heidi joined I have liked some songs and been entirely underwhelmed by others. Sadly this is one of the latter and as I've heard some other tracks from Three I have no idea why they are releasing it. I guess because it's upbeat and their last single was a ballad, but this is just rubbish and the video ios hardly groundbreaking either.
Blue - Breathe Easy
I'm not really a fan of Blue but I quite liked the song Guilty, for my sins, so as I was told that this was similar I thought I would like it. No such luck! Breathe Easy is terribly boring, repetitive and has nothing catchy or memorable about it at all. The most interesting thing about Blue is their idiocy but even that is wearing thin now.
Best No.1s Of The Past 16 Years - Unfinished Business!
I remembered this morning that I only got to 1998, so here are the rest of my 16 years. I'd better hurry up or it'll be 17!
1999
Backstreet Boys - I Want It That Way
Runners Up: Britney - ...Baby One More Time, S Club 7 - Bring It All Back
Worst No.1: Chef - Chocolate Salty Balls (PS I Love You)
2000
Madison Avenue - Don't Call Me Baby
Runners Up: Britney Spears - Oops!...I Did It Again, Fragma - Toca's Miracle
Worst No.1: Oasis - Go Let It Out
2001
Kylie - Can't Get You Out Of My Head
Runners Up: Destiny's Child - Survivor, Daniel Bedingfield - Gotta Get Thru This
Worst No.1: Afroman - Because I Got High
2002
Will Young - Light My Fire
Runners Up: Will Young - Evergreen/Anything Is Possible, Xtina - Dirrrty
Worst No.1: Gareth Gates - Unchained Melody
2003
Will Young - Leave Right Now
Runners Up: Beyoncé - Crazy In Love, Gary Jules - Mad World
In conclusion, most of the best songs do not get to no.1!
And Now For An Answer
A few weeks ago my dear enemies Busted posed the question, Who's David? Now that the song of the same name is poised to enter the charts at numero uno (selling less than Sam And Mark, I'll have you know!) I've decided to reveal the results of the poll. It's time to reveal David!
In at 5th place with a measley 1 vote is...David Cassidy!
Just in front with 5 votes is...David from Scooch!
3rd place goes to the one and only...David Hasselhoff!
Marginally missing out with 11 votes is...David Gray!
So, the winner of Who's David 2004 is................
SNEDHEAD!!!!!
(Can you believe that a search for 'Snedhead' comes up with this very site! What a triumph!)
3 naked Davids! Sorry if I scared you there.
Questions Of Pop
1. Why do all NSync's albums have to have at least two ballads which all sound exactly the same? This I Promise You, Selfish, God Must Have Spent, Someone Like You...can you tell the difference?

2. What exactly is the point of brackets in songs? No-one, not even OTV themselves, ever called Shakespeare's (Way With) Words just Shakespeare's Words for short. C'est ridicule!

3. Why are Maroon 5 and Phixx not mega-famous best-selling artists?

4. Why are Westlife and Peter Andre going to beat Lemar in the charts next week?

5. Why on Earth are the Sugababes releasing the horrible In The Middle as their new single? Do they want their careers to die on the spot?
My United States Of Whatever
American was mostly very bad last night. Who would have thought that Jesus Roman could be worse than his brother! There were three very good people though, redhead Lisa, Hawaiian Camile and football player Matt. Lisa was my favourite as she seemed like a great person and sang best on the night, but Matt and Camile were the two that got through. It's good because they need some boys as only girls went through on the first week. Next week should be good cos Amy Adams who has been v. good in the past is on as well as Eric Yoder who seemed nice and Leah LaBelle who is Bulgarian and pretty good in past rounds. Can't wait!
Will's New Look Pt 2094894
From the latest Time Out:
Your first album featured love songs about girls, They arent gendered on Fridays Child?

"I think that you can write songs where you play a role but I do think that there might not be as much belief in those songs- Im gay so why would I be singing about girls?"

Does it matter?

"Maybe, Funnily enough I remember writing with a songwriter in America. - I wont say who- who didnt know me and didnt know that I was gay. And his lyrics kept saying "Girl"- they were quite personal. I was saying to him ...hmmm maybe we should do something else? And I didnt want to embarrass him because he was a lovely person. I didnt want to say "Well actually Im gay" because he might feel stupid. And I thought maybe if I just act a bit camper he may pick up on the fact .. maybe one day I should just come in wearing pink"
Click here to read the rest
Will Woz Robbed!
Yay for:
Lemar winning an award
No-one laughing at Avid Merrion
Will being on TV, even when it was meant to be Bedders' moment of glory
Justin (the only Justin worth mentioning) winning 2 awards
The spectacularly cute and ace Jamie Cullum and Katie Melua who should get married and have lots of babies right now even though they don't look old enough to legally do either
The White Stripes being quite funny actually
Honourable mentions: Basement Jaxx, Outkast, Beyoncé (What kind of duet involves two people not even on the same stage? Still they were good separately)

Boo for:
Gwen & friends being disappointing
My Dad telling me Will had won when he hadn't
Will not winning
BRITs judges being total naughty words
Everything else, especially the Darkness (2 songs?!), 50 Cent, BEPs, Duran Duran (200 songs?!), Busted...

Edit: HEY! What happened to Mad World? Gary J & TFF were meant to be singing it and possibly being good. Grr!
Body Life vs. American Language
I finally got to hear the latest albums by surrogate Britons, Kylie and Madonna today, so half a year after everyone else, let's compare and contrast and find out who, if either, has kept up their pop icon standards in their new 'cool' styles.

Kylie Minogue - Body Language

Style: nonchalant dancey pop, some r'n'b influences
Best single: Reb Blooded Woman
Best unreleased tracks: Chocolate, Secret (Take You Home)
Worst track: I Feel For You
Collaborators: Who didn't contribute to this album? Not Ms Dynamite, Karen Poole, Alexis Strum, Emiliana Torrini, Kurtis Mantronix or Biff & Jules of 'worked with Will' fame, that's for sure.
Any good? Yes actually!

Madonna - American Life

Style: Acoustic with bleeps, lots of mentions of Jesus Christ and how artificial the world is.
Best single: American Life (mainly for the bizarre "Fuck it, fuck it, fuck it" that was edited out the radio edit) and Hollywood is good because it makes me want to dance around like a drunken robot.
Best unreleased tracks: Mother And Father, Nothing Fails
Worst track: I'm So Stupid
Collaborators: Mirwais
Any good? Not really...
It's Time For....A Will Young Photo Story!
Hello there my poptastic pals! Long time no see! I suppose you're wondering what I've been up to in the first 6 weeks of 2004? I have in fact been very busy indeed. I joined the cast of Saturday Night Fever:
Then I was asked to join US rock band Train and we had to recreate their Drops Of Jupiter
video
:
I sang in a church:
I was rather shocked when my foot caught on fire at the disco:
And I topped it all of with a trip to the fairground:
Happy Valentine's Day!
Lots of love, Will xx