Dirrrty Pop: No.1 For...
5 Ace Singles Out This Week!
JC Chasez - Plug It In
This piece of mega-aceness is one of two JC releases in the next few weeks (the other being a double a-side of Blowin' Me Up and Some Girls (Dance With Women)), but I'm guessing you all know that by now by the amount of times I've written it recently. Anyway, if you like Basement Jaxx or JC or both, you are bound to like this. It's electropop at it's best and even manages to top the Jaxx's previous single Good Luck which was also fantastic. Look out for JC performing this live on TV as the TOTP performance last Friday was truly amazing.

Alicia Keys - If I Ain't Got You
Considering that Alicia was touted as The Next Big Thing by very many music know-it-alls on the release of her debut album, it wouldn't be unreasonable to expect her follow up to be slightly less exciting. I never really got into Songs In A Minor but I liked all the singles and I can say the same about the releases so far from Diary Of Alicia Keys. This is a great r'n'b track, very soulful and sticks in your head, plus her voice sounds brilliant.

Pet Shop Boys - Flamboyant
I've never been a big fan of the PSBs but I love this song and it seems to be doing well, getting lots of play on The Box which is quite surprising considering the average age of a Box viewer is a quarter of that of Neil Tennant. Not that Neil is that old (I actually don't know how old he is) but The Box viewers or at least people stupid enough to spens £1 voting for a video are very young. So this ace Japanese video and very catchy song seem to have struck a chord with the young'uns, which has to be good news for the PSBs!

Scissor Sisters - Take Your Mama Out
I've just ordered the Scissors' album so I'm hoping that it is good and from what I've heard it will be. They are a really fun and fairly quirky band without being too alternative for my tastes and this song is probably their most commercial - it's very poppy. The video is quite ace too and makes me want a necklace with scissors on like Jake's. I bet Argos sells them!

Surferosa - Lucky Lipstick
This one might be quite difficult to track down, seeing as they aren't very famous yet. I discovered them on Enthusiastic But Mediocre (3 cheers for the ace Edward O!) and then was very excited to notice their video on the Kerrang TV playlist. How I managed that I have no idea because I never ever watch Kerrang, for fear of being contaminated. Anyway, don't let that put you off the band, they're seriously poptastic and desperately need to be rescued from that horrid channel. They do rock but the songs are catchy, high-pitched, include synthesizers and dance breaks, have titles like Saturday Night, Disco Love and Elastic Diamonds and are sung by a very ace-sounding girl, therefore undeserving of the rock music fate. So buy this now!

Edit: Just found out that Surferosa isn't out til next week. Still it's ace and should be bought regardless.
Double Pop!
I hadn't lost my pop in the first place but I seem to have found it (again) anyway. Today I listened to:

Ace Of Base - Flowers (fantastic)
Gina G - Fresh (brilliant)
a1 - Here We Come (ace in places)

So I'm feeling utterly poptastic now. There's nothing that can cheer a person up better than some really happy pop music.
Top Of The Uh-Ohs Results
5. Eamon
4. The Rasmus
3. Liberty X
2. Shampoo

Was there ever any doubt?

1. Beyoncé!
Darren Hayes News!
I just found out that the new album is going to be called The Tension And The Spark, which is a very good sign because it means the CD is going to be weird and therefore not the same old mum stuff. Hooray!
Video Killed The Radio Star
Alex Cartana - Hey Papi
This is a hip-pop girl anthem by the girl who sang on Lee Cabrera's hit from last summer, Shake it (Move A Little Closer). I can't find any info at all about the girl other than that, but she's very European looking which is always a good sign. I really like this song, hope it does well.
Katy Rose - Overdrive
I'd already heard a bit about Katy and some of her songs before and nothing really stood out, and although I still can't see this being a huge hit, I love the video and being a 16-year-old LA rock chick, she seems just like my kind of artist. There's even bits of the video that remind me of an edgier Amy Studt - it's just a pity that the song isn't quite up to her ace standards.
Victory!
After much stress and confusion, I've finally got my hands on tickets for Will Young at Oxford's New Theatre on May 24th! I wanted to go to the Royal Festival Hall gig as it was in half term, but it has worked out pretty well as Oxford is local, it was a little cheaper and I've got very good tickets. I'll only be a few metres away from Will, which is easily close enough to kidnap him. Or at least get a very good view.
In celebration, I demand you all to listen to Hey Ya (if you haven't already)
HERE
Mr JC - Whatcha Got For Me?
As you may have noticed, last week's Dirrrty Pop Reviews Week was stalled due to a delay in recieving the CDs I planned to review, but they're here now so, one week late, let's get on with the show! First up is the debut album by 'N Sync's JC Chasez, Schizophrenic.

It's interesting that JC has got away with calling the CD Schizophrenic as Geri Halliwell had to change her own debut album's title from the same to Schizophonic. I'm wondering if JC is a little obsessed with mental illness as the cover photo shows him in a straightjacket, a look he and his bandmates also wore in their video for I Drive Myself Crazy. Inside the Schizophrenic booklet there are a few pages of pictures, but no lyrics. One photo is of JC sitting by an expanse of water with the words "beauty is in the ear of the beholder" and I couldn't have put it better myself. This is certainly not the conventional boyband member solo album, and at first I wasn't sure if I loved it or hated it but by track 7 (The fantastic If You Were My Girl) I had decided definitely the former. You can definitely hear how he influenced 'N Sync's music and with writing credits on all tracks except Shake It, he's obviously a very talented young man.

1. Some Girls (Dance With Women)
The first single (along with Blowin' Me Up), I disliked this at first but in the context of the album it's one of many great tracks. Could be written about tATu or Madonna/Britney/Xtina!
2. She Got Me
This is a good opener for the unreleased songs on the album because it gives a very good idea of the style of the rest of the CD. It's quite poppy - one of the lighter tracks. I love the chorus ("She was driving through space and time") and the "oohoohooh"s. I think this is what a 4th NSync album would sound like as it's got plenty of r'n'b-ness and even a Jacko-esque bit at the end for JT but still rules in JC's own special way.
3. 100 Ways
The guitars in this are fantastic (bring back the old TOTP theme tune now!) and the lyrics are typically rude too. The highlight is "I'll be your Superman and you my Lois Lane" and there seems to be at least 3 JCs speaking their minds at all times. Going to be difficult to perform live!
4. Mercy
This seems to be one of those songs with one long chorus throughout the song. At least half the lines are "I need mercy" (said "mercay"). The hook gets catchier the more times you hear it and I do like the lyrics in the chorus ("It's the insanity eating up the man in me"). There's that insanity obsession again!
5. Build My World
This is the first JC solo song I heard apart from Blowin' Me Up and it's a sweet and not too Westlifey ballad, but as with 'N Sync the slow songs are not his strong point and this is a bit dull and too sentimental.
6. Something Special
A very interesting track. It's cheery acoustic-pop whilst stickign with the sexy urban sound of the rest of the record, until suddenly JC gets bored of that and starts whistling, then there a few seconds of handclaps followed by the rest of the song, which is mainly "na na na"s. Another George Michael - Faithesque track as there seem to be so many of at the moment (See Scissor Sisters and V).
7. If You Were My Girl
I decided on first listen that this was my favourite track. The backing music is fantastic and the bridge is full of momentum, just as I like them. The chorus is a little bit of an anticlimax then but still ace. This middle section of the album is certainly the peak.
8. Shake It
In return for providing vocals on their single Plug It In, Basement Jaxx produced this track for JC and it's a pretty fair trade as although this isn't quite as tremendous as PII it's electro-fabulous. Would have fit well on Kish Kash but is great here too.
9. All Day Long I Dream About Sex
This is, as the title suggests, very rude yet it's rudeness makes it memorable. It sounds like an 80s version of the Bloodhound Gang's catchy and equallly dirty hit The Bad Touch. Any track tha tbegins with the words "So you wanna be a rock star" gets the thumbs up from me. You might have seen JC perform that on Wade Robson's Dance Project. Hopefully your mother wasn't in the room!
10. One Night Stand
This samples Donna Summer's I Feel Love and although it's pretty good it so far doesn't stand out to me. Then again I'm usually too busy getting over the excitement of the previous track to pay much attention to this one. There are talky bits with a girl which are good fun. Girl: "Yeah, cos you're so smooth" JC: "I know!" Comes complete with sound effects appropriate to the title.
11. Come To Me
This has some pretty rude lines in it (surprise) but apart from that isn't quite as poptastically ace or memorable as the other tracks. Sounds like the type to be a grower though as it is slightly hypnotic. It is one of the darker, dancier tracks on the record and I love the way he says "catastrophe" as though it end with an é, although that probably wasn't the aim.
12. Dear Goodbye
The 2nd of the 3 ballads on the album and probably the best. Still not very exciting, but there are a few big shouty bits where JC gets to show that he can really sing. He does sound a bit like Lee Ryan though...
13. Everything You Want
I was surprised to find that this has a sort of reggae style and even more surprised to find that I love it, as I can't stand reggae music usually. Different to the other tracks but still sounding similar enough to fit and his voice sounds fantastic. I love the line "What's love and who needs it anyway?"
14. Lose Myself
The 3rd and final ballad, this one is similar to the other 2 but very pretty sounding. A nicer sound than Dear Goodbye but not terribly exciting. Similar to the solemn, souly tracks that collected around the end of Celebrity and could actually be a Justified album track in disguise.
15. Right Here (By Your Side)
I keep forgetting how this song goes, but I think that is due to the amount of excellent tracks here rather than it being rubbish, which it isn't. It's kind of mid-tempo and fairly sweet and innocent for JC's standards.
16. Blowin' Me Up (With Her Love)
Anyway, this is the other half of a double a-side with Some Girls (Dance With Women to be released soon, and it's already doing pretty well on the music channels. The video stars JC's girlfriend at the time, film star Tara Reid and was actually on the soundtrack to the movie Drumline about a boy who plays drums in a marching band. There's a great bit where the song slows down and goes all twinkly, and "disco lights on a friday night" is the best way to describe the object of your affections in a long time.
17. Some Girls (Dance With Women) ft. Dirt McGirt
It's bracket-tastic around this bit of the album! Same as track one but with added pointless rap. *skip*

I've just realised this post is very long. I was wondering why I felt like I'd written an essay. So to anyone not interested in JC (if they exist), I apologise.
Video Killed The Radio Star
Pet Shop Boys - Flamboyant
I've never been a particular fan of the PSBs although I feel that I should be seeing as their cover of Elvis' Always On My Mind was no.1 the day I was born. However, the more I hear this song the more I like and I absolutely love the video. Good work! It's a bit Lost In Translation which may be a good or bad thing, as I still haven't decided what I thought of that movie. I can't stop singing Flamboyant at the moment, although I am quite puzzled by one of the lyrics which my brain keeps trying to replace with 'clairvoyant'.
JC Chasez - Some Girls (Dance With Women)
I wasn't keen on this song when I first heard it, but with the video it is far more impressive. My copy of Schizophonic is due to arrive this evening, so I will soon be able to confirm or deny the claim that he kicks Justin's behind. By the sound of this unusual track, I think I'll be confirming! The video is a sexier answer to Britney's Slave 4 U, featuring unsurprisingly plenty of girls dancing with women. JC also looks very cool in it, leaving his slightly geeky 'the musical one' image in NSync far behind him, whilst still being the musical one.
Beyoncé - Naughty Girl
Crazy In love was easily one of the best songs of 2003, but each of her releases since has got more and more tragically dull and samey. The Donna Summer sample in this track at least distinguishes it from the other singles, but I couldn't possibly say how the rest of the track goes because its so forgettable. The video is also nothing to shout about.
*Squeals Of Excitement*
Not only is Will being lovely on TOTP this week but he is set to be joined by the one and only JC Chasez! For those who don't know, JC is the acest NSync member and is releasing a duet with Basment Jaxx (Which he'll be performing) and a very cool and sexy double a-side in the next few weeks. The fact that he is on TOTP already (and at all) is very exciting indeed. I really hope he does well here. It would be unrealistic to expect as much as Justin cos JC is less commercial but he has a really unusual sound and has gone down a much less obvious route music-wise so basically he rocks, buy his album, good night!
Ooh I Want You
I don't know if I need you but ooh I'd die to find out...
But I have already got 3 CDs arriving on Wednesday and 2 more in a fortnight, so I guess I could ask for SS for Easter and Ben doesn't come out til the end of the month so I'll think about that then. I may have trouble persuading my Mum to let me order from the US again since my last purchase turned up with import tax of nearly £10!
Is Russia the gayest country in the world?
Whilst I am slightly worried that I will get hatemail for that title, I must state my case:
Listening to
Europa Plus
this evening, I have heard:
Alizée - Moi Lolita
Bosson - A Little More Time
Kylie - Love At First Sight
Madonna - Love Profusion
Darren Hayes - Insatiable
September - La La La (twice!)
T-Spoon - Tom's Party
Many more Euro lovelies you probably won't have heard of and numerous Russian acts that I don't even know. Not that I actually know any non-tATu Russian acts in the first place.
This isn't a bad thing though, as a station that plays Darren hayes can never be bad, even if they continue to force feed me BEPs. I have also noticed that 90% of Russian words feature a "nia" (or "nja") sound. Except for the one that's on now which just said "Fame Academy" or something that sounded like it. Even the Europa Plus jingles are ace. I want to learn Russian!
Move Over Soundic Radio!
There's a new radio station in town.
Click here
for Europa Plus, a very fab Russian station. They've only played one Western song in half an hour but unluckily it was the BEPS. You may think UK (Or Australian or wherever you're from) stations play too much of the Peas, but a listen to Swedish radio will make you feel very sorry for those poor Swedes. I have no idea what any of this music is, but it all sounds very poptastic. They were the first commercial station in Russia, broadcasting since 1990 and covers over 700 cities in 10 different countries including one (Kyrgyzia) that I've never heard of. The website is also amusing for it's spellings of pop acts, for example Vanessa May, Joe Coker and Bonnie Tylor. Unless of course they are the Russian versions! Their chart is also quite ace, with In The Shadows, Toxic, The Magic Key, Not In Love and a September song that I've never heard of but must hear immediately cos she rules! There are also not one but two Bosson songs in the top 40, of which I certainly approve. They did just sort of ruin it by playing Dido though - grr! But then they followed it by a very ace dance-pop song from a couple of years ago that I can't remember the name ("ooh lala comme ci comme ci comme ca, one day I feel it's love but then it's not not enough"). And now a Gareth song I've never heard before. It's rubbish. Where's Will?!
Listen to Europa Plus in real-time
here
and "EuroHit Top 40", Europa Plus' official chart, can be found
here
.
Top Of The Uh-Ohs
It's time for a poll on Dirrrty Pop! The trend in pop music of filling songs with "uh-oh"s is growing constantly, so I decided to ask you which is your favourite "uh-oh" song of all time:

Beyoncé - Crazy In Love
"Uh-oh uh-oh uh-oh oh nono"
The Rasmus - In The Shadows
"Uh-oh x4 in the shadows for all time"
Shampoo - Trouble
"Uh-oh we're in trouble"
Eamon - F*** It (Don't Want You Back)
"Uh-oh uh-oh aha yeah"
Liberty X - Jumpin'
"Everybody say uh-oh (uh-oh!)"





Reviews Week On Dirrrty Pop!
My review for today is, unsurprisingly, the Maroon 5 concert that I went to last night in Birmingham. I'm pleased to say that this post still applies, because they were fantastic! They began with I'm Not Coming Home and sang most of the songs from their album Songs About Jane as well as a new song called Wasted Years and the last song was a cover of Oasis' Don't Look Back In Anger, which actually sounds good when not sung by Liam Gallagher or, even worse, Peter Brame. The boys looked lovely as usual although I did notice that guitarist James (who I was very near to) looks a lot like an equally beautiful boy in our 6th form. Adam (lead singer) talked to the crowd a lot, mostly about the subjects of the songs, which included cursing girls in general and the infamous Jane, and some toys (including an apparently Jewish octopus!), notes and a rose that were thrown on stage. I was sad not to get a good view of my favourite member, the lovely Ryan. The support act were a US rock band I've never heard of called Kane. They could have been worse but they could have been a lot better too, although I guess it's hard to find a band that all Maroon 5 fans would like as there aren't many around that are similar to them. I will post up some photos if I find any.
Reviews Week On Dirrrty Pop!
As you've probably guessed from the title, this week is Reviews Week which means every day I review something. Doesn't sound very exciting when I put it like that but never mind.

First up is Will Young's CD single for Your Game. There are 2 CDs available - CD1 which costs £3.99 and includes Your Game, Take Control, Down and the YG video, and CD2 which is cheaper at £1.99 and contains Your Game and Your Game Acoustic Gospel Version.

Take Control
This is Will's song about domestic violence, which he wrote after recieving a letter from a lady who had experienced it. Some people have shown concern that the song might be considered patronising, but I think it is a lovely slow song whatever the subject and Will's heart is in the right place.

Down
This song shows of Will's vocal well and could possibly a route he'll take musically in the future but it is also one of the least poppy songs he's done so far. It is mid-tempo, sort of jazzy...I'm rubbish at describing songs, but this is good but not brilliant. Still I've only heard it once and had no idea what to expect at the time so I'll be giving it a bit more thought later tonight.

Your Game Acoustic Gospel Version
This is a little slower than the original Your Game, but actually sounds just as good and it is refreshing to hear the song sounding a bit different as I've heard it so many times now. There is a great section near the end where he goes "My time, your time" and I'm half expecting him to turn into Alesha from Mis-teeq! Well he is the all new blingin' Will Young after all (See last Sunday's Popworld for further evidence).
BUY THIS TOMORROW!
Or in fact any day this week would be fine. Just buy it!
When they say Limited Edition they do actually mean it as I never managed to get a copy of the last limited edition single he did. My collection is incomplete and it's very upsetting.
The Name Of The Game
Did you know that certain names are several times more likely to belong to a buff hottie than a duff nottie? Today I will pit against each other two of the names most common among buff hotties: Adam and Will!
Buff Hottie Adams:
The Brody:
The Levine (centre):
The Garcia:
Buff Hottie Wills:
The Idol:
The Young American:
The...erm...Big Fish?:
Which name wins? You decide - post your fave name in the comment boxes!
I had a whole long post written out about American Idol but then my computer crashed and I lost it so I am just going to post some pictures of sparkly-eyed Matthew Metzger instead.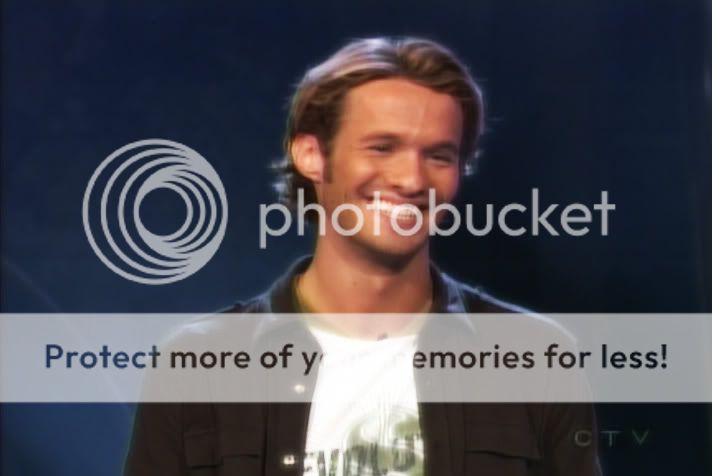 Poptastic Fantastic!
If you search for
poptastic
at technorati.com, 2 of the 3 are results are Dirrrty Pop! I'm so proud.
Video Killed The Radio Star
JC Chasez - Blowin' Me Up
Apparently this is a double a-side with Some Girls (Dance With Women) and with Plug It In coming out around the same time the music channels are going to be filled with JC aceness. For anyone who doesn't know, he's the member of NSync with long dark hair and this song is from the
Drumline
soundtrack. It's an unusual urban pop song in which you can hear his NSync roots as well as a new JC sound. The video features JC's ex-girlfriend Tara Reid and the best bit is when it all slows down for the lovely middle 8, "There's just something about you baby..."
Alicia Keys - If I Ain't Got You
I've liked all of Alicia's singles so far, but I was quite disappointed with the debut album which I can't listen to the whole way through because I just find myself bored. This is yet another big, sweet, catchy track in the same vein as her previous hits and should hopefully sell a few more copies of her second CD from which this was taken. The video is a bit confusing though - why does the guy get arrested and why does Alicia start throwing things around her room?
Sharlene Hector - I Wish
You probably wouldn't guess from the title but you will definitely recognise this song. It is the cover of Nina Simone's song that goes: "I wish I knew how it would feel to be free" from the soft drink adverts airing currently, and the Sharlene is the talented lady who features in them. However, she was nowhere near the most interesting part of the video for me as I spotted an FA2 contestant! OK, so it was hardly Alistair or Alex but the lovely Simone is part of the gospel choir backing the song and she is shown nearly as much as the main singer. She's even doing better than Carolynne and Peter so far seeing as they haven't appeared on any singles since leaving the Academy.
Eamon - F*** It (Don't Want You Back)
I was very surprised when I saw this video as I'd heard the song on the radio a few times and expected an older black singer. Eamon turns out to be a 19-year-old white boy who wouldn't look out of place in Blazin' Squad, and this song is growing on me by the minute. The swearing is unnecessary but it gets attention which is undoubtedly the aim. What I don't get is why it's called F*** It when that isn't even the same profanity as in the chorus.
1 Week
They're also doing a performance and signing in HMV on the day which I hopefully will go to. I might meet Ryan! *girly scream* I'm just off to skip around the house...la la la...
A Momentous Day For Pop
Today it has been rumoured that not only is Bryan leaving Westlife (perhaps he and Kerry are going to be the new Renée and Renata, or more likely the new Richard and Judy) but the Sugababes are also about to split. After last month's brilliant Atomic Kitten news, the pop world will soon be devoid of all annoyances and ready for the arrival of the next generation of poptastic aceness. If only it would really happen that way. As much as I dislike these bands (although the 'Babes have done some good songs) their disappearance does worry me a little - what if we don't get any new major pop bands to replace them? What if all we get is more novelty rock bands and gangsta rap? What an upsetting thought!
Answers To 90s Boyband Quiz
1. Which ex-boybander has worked with Basement Jaxx?
JC Chasez
2. Which US group has covered Xtina's Dirrrty?
Hanson
3. Which member of Damage dated Emma Bunton?
Jade Jones
4. What was Backstreet Boys last single?
Drowning
5. Which A1 member has released singles in Norway?
Christian
6. What is the name of Keith Duffy's Coronation St character?
Ciaran
7. What was Sean 5ive's surname?
Conlon
8. Which 2 boyband members have appeared on Celebrity Big Brother?
Keith Duffy and Mark Owen
9. Which 911 member released a solo single, Turn Around?
Lee Brennen
10. Who had the best name in the world ever?
Bobak (apparently)

Congratulations Smudge who got all the answers right (except technically the last one but complimenting Savage Garden can't ever be wrong) and well done also to Jude for taking part!
10 Reasons Why AGSFB are the coolest girls on the planet!
1. They're the All Girl Summer Fun Band
2. The songs are cute without being too sweet or annoying
3. They have songs called Grizzly Bear and Samantha Secret Agent
4. They design their own
clothes
and
bags
5. They rock without being angry at the world
6. They're 'real girl' sized
7. They have a Theme Song
8. Stylus magazine called them: "'60s Inspired, girl-rocking, poptastic fun!"
9. Their website features a Mumbleboy animation, whatever that means.
10. They are acetastic!
Top 5 Worst Stylists In Pop
1. Javine
2. Summer Matthews
3. Lisa Scott-Lee
4. Mutya Buena
5. Jenny Frost