New Pop On The Block
The Kooks - Ooh La
(
Video
)
After the brilliance of their last single, I had high hopes for this one but it seems they are back to the old ways of their 'quite good but not brilliant' breakthrough single Naive. Their distinctive sound is just too restrictive for them to have more than one great song, it seems.
74% Poptastic!
Kelis - Blindfold Me
(
Video
)
Beginning with a weird baby voice, this is quite similar to SexyBack but of course not as good (was Kelis in *N Sync? I think not). In fact I really don't like this song. She just tries too hard to be sexy sometimes and it's not pleasant to those of us who aren't slobbering heterosexual males. Have some class, Mrs - you are married after all!
45% Poptastic!
Teddy Geiger - These Walls
(
Video
)
Teddy still sings exactly like John Mayer but he's much cuter (looks like he should be in a US teen sci-fi show like Smallville or Supernatural) and his songs are a little better. This is rockier than For You I Will and has a sort of Gavin Degraw vibe, but not as good as him. Very average, but not at all unpleasant - it's growing on me actually.
77% Poptastic!
Infernal - Self-Control
I still don't see the logic of releasing a new cover version that is not as good as any of their European singles, but clearly the Danes are as crazy as Aqua and the Cartoons suggest. I've only seen it once on the music channels so far, but hopefully it will pick up with time. Of course there is no sign of it on Radio 1. Why didn't they just do as I said and release Cheap Trick Kinda Girl? I think Infernal are sadly headed for one hit wonder status.
90% Poptastic!
Last Night A Delay Saved My Life
Well, not really, but they certainly improved it greatly! I had the pleasure of seeing Southampton's finest (only?) electro-pop-rock group the Delays live in a venue only 20 minutes from my house. It was the quickest journey to a gig I'd ever had.
When I entered the club (Reading's Fez Club) all I could see was rows and rows of people and I couldn't see the stage, so I walked around the side and then suddenly I was at the front! So of course I decided to stand still and not move, even though I was right next to the speakers so that when the music started the floor and I were shaking so much I worried that my entire body was about to turn inside out. Luckily I still seem to be the right way up, but I was quite concerned!
I had cleverly skipped the support band, a group called Apartment, whose MySpace I'd been on beforehand and wasn't impressed, but sadly I still had the worst bit of the night to come: a DJ from XFM called something like Eddie Temple-Morris, who began with Valentine which of course was very nice of him, but merged it into such horrors as U2, Blur and the Arctic Monkeys. There was also a song everyone seemed to know that involved screaming "hello!" so in my boredom I screamed "goodbye!" back and did get some funny looks, but I didn't succeed in getting him to go away.
At last at about 10 o'clock the band came on stage. I had been excited before the show, having noticed I was the closest person to one of the microphones, but sadly it turned out to belong to the band's resident ugly person, Colin. Have you ever met an attractive Colin? I know I haven't. However, as expected the singer Greg Gilbert made up for it very well with his shining beauty. He is a strange case because it's hard to say why he is attractive (he looks a little scruffy and was wearing a tracksuit top) but he really has something compelling about him, a dreaminess that matches his heart-fluttering voice.
The show began with first album hit Long Time Coming, which was a great sing-along track, and was followed by 2nd album tracks Sink Like A Stone and Lillian. Other tracks played from You See Colours included Out Of Nowhere and Waste of Space, while Hey Girl, Wanderlust and Nearer Than Hevaen were the tracks chosen from Faded Seaside Glamour, and they played a new song which sounded great too. Nearer Than Heaven is quite significant for me, as it was the first song I heard by the band, and I heard it at the same time I first heard of them, which, unusually for me, was when they had entered the top 40. I even remember where I was: in the car just driving into the village where I used to live. I didn't pay them much attention until they released Lost In A Melody, and then I was a fan for life.
The Delays are an interesting band because they have loads of very good songs and many great ones, but there are 4 songs that they have released which are just phenomenally, mindblowingly fantastic. These are Hideaway, Lost In A Melody, Valentine and You & Me. Hideaway was played amongst the 1st album tracks, and announced by Greg as their 'glam rock song' which I had never thought of it as personally, but I guess it kind of is. I just see it as their jolly pop song. They played LIAM and Valentine in succession which was almost too much for my little heart, especially with all the vibration and heat as well - Greg said it was the hottest gig they'd ever played! Valentine was especially great cos it was the track everyone had to sing along to, even boring people, and with it's 'love song you can dance to' qualities it couldn't be more perfect for a gig.
Then for the encore it was their cover of Give Peace A Chance (in which I learned that I know 4 John Lennon songs, not 3, because I remembered this one) and then the most beautiful of all Delays songs (and a recent posting on Into The Groove), You And Me. It was great to hear this last and therefore have it's brilliance acknowledged. Everyone sang along and it was one of those euphoric gig moments that you very occasionally find and never want to end.
The Delays are a band impossible to explain or classify. I can say they have electro sounds with guitars and drums and high-pitched vocals but this would not convey their utterly unique style and sound. Their music to me is not like music - each song is an overwhelming feeling and there are so many moments in the songs, particularly the 4 special ones, where you feel like your heart is whooshing up into your head and making you feel utterly amazing. All I can do is recommend you go and listen for yourself, and give them a few listens because it does take a few to get used to them but once you do I have no doubt you'll be as obsessed as I am!
Another Case Of Life Imitating Art
While buff blonde teenager Boyd Hoyland got hitched to his idiotic underage girlfriend Janae Timmons in today's episode of Neighbours, it seems that he has a real life counterpart in Aaron Carter who, despite only being 12 years old on last count, proposed on stage to his girlfriend. He did this without informing his parents, who heard about it next morning when the media started calling them for comments, and the girl in question is an ex-Miss Teen USA whose title was taken from her when she posed nude in Playboy magazine. Not only that but she is the ex-girlfriend of Aaron's older brother, Backstreet Boy Nick! Who in their right mind would marry their older brother's ex??
Look, he's so ickle! He cannot legally be getting married! He was so much cuter in those days too. I quite fancied him when he and I were both 10 and had a poster of him on my wall. I wasn't normally allowed posters on the wall but it was the only way to cover up the spot where I had projectile vomited - lovely, I know! It was a one-off occurence, I promise. But clearly he meant a lot to me if his was the one poster that I could put on my wall, although admittedly there wasn't an inch of door or cupboard visible for the sake of Spice Girls and Backstreet Boys. And now he is ugly and hasn't done anything useful in years. Look:
I did find one fantastic photo from 2002 though: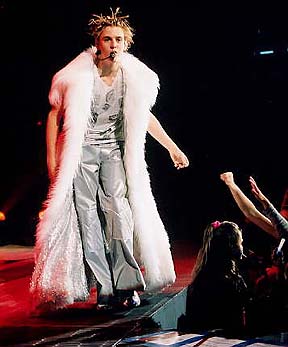 I just don't know what to say!
Thoughts of the Day
1. Why is Robbie turning himself into a half-rate George Michael? Maybe he is jealous of Mr Panayiotou's forthcoming duet with Mutya.
2. Elusive by Scott Matthews seems much less lovely when you hear his Wolverhampton accent. He sounds like Mark out of Sam & Mark's dad.
Fantasy Cover Versions
If I had the power to rearrange the world of pop, I would make the following artists sing the following songs:
Lordi ft. Rachel Stevens - Sweetest Poison (Nu Pagadi)
It already sounds like a mash-up of Hard Rock Hallelujah and Some Girls.
Jamelia - Handle Me (Robyn)
Her new album is great but this would be even better.
Darren Hayes ft. Annie - 7 Ways (Abs)
A gorgeous song by a rubbish artist - let's give it some ace people instead!
Robyn ft. Darin - Hot Romance (Winta ft. Anton Gordon)
I'd love to hear Robyn and Darin team up, and this would be perfect.
Kylie & Dannii Minogue - Time (Therese)
If the Minogue sisters ever do a duet, there would be no song better than this.
I will post all the originals on the music box in the sidebar so you can imagine how it would sound and see if you agree that the covers would be amazing.
I know, right?
The Scissor Sisters seem to have sold out, and in realising this I also noted that they are just like Cady in Mean Girls. They arrive on the scene, unknown and unpopular but of course much acer than all the popular kids. At first the popular kids hate them, cos they are, like, soooo uncool. Then they release a cover of a Pink Floyd song, which is approved by the popular kids cos Pink Floyd are a proper band with real instruments and everything!!! The single brain-celled tyrannists of the music industry (headed by Jo Whiley, with her sidekicks the NME and XFM) take them under their wing and at first the band play along as a bit of a joke, reporting back to their ace crew how sad and ridiculous the popular kids actually are. However, our Sisterly friends begin to be brainwashed and soon they too believe that every song must have a guitar and rock is the only true form of music. The result of this is Ta-Dah.

Let's just hope the ending is like the film and the Scissor Sisters realise how silly they have been and return to their old poptastic ways of winning maths contests making amazing electro-pop!
Single Wars!
This week Singles Wars is cancelled, because there is nothing out and we are boycotting pop music. This does not mean I can't buy Ta-Dah and I recommend you do the same, if only just to pass the time.
News
Some over-enthusiastic shoppers may have cost them their major label record deal, but The Modern won't be kept away for long. They're back as a 3-piece with a new name, Matinee Club, and plans to release their old track Discotheque Francais which can be heard on their
MySpace
.
Linda Sundblad of Lambretta is finally releasing her solo material and although it's neither the full-blast pop/rock of her band or the 80s-style electro we were led to expect, I still thoroughly approve. It seems like a sweet song but
listen
to the lyrics and Linda's true cheeky personality is revealed.
After the quiet departure of BSBs member Kevin a few months ago, a trend seems to have begun as my favourite Maroon 5 member Ryan has left the band! Of course this is no suprise as he has missed loads of performances since the band's rise to fame due to injuries which made drumming very painful. The videos for their next album (which I remember in 2003 thinking I couldn't possibly wait til 2005 for, and here in 2006 there is still no sign) will be distinctly less pretty without him.
Top 3 Things I Refuse To Believe Until I See It On The Box...
Because We Have Been Misled Too Many Times:

1. Spice Girls reunion
2. Robyn back in the UK
3. Robbie Williams becoming a good popstar
Recommendations
Radio: I may have missed most of Scissor Sisters Day today on Radio 1 but I did manage to catch some of their take-over of the Essential Selection dance music show, in which they played such retro aceness as Vibeology by Paula Abdul and What Is Love? by Deee-Lite. You can listen again at
Radio 1 Online
.
TV: Friday night is the night to stay in if you're a fan of cheesy boybands, and especially if you watched Making The Band in the olden days. The cute but whiney one, Ashley Parker Angel, is back on UK TV screens every Friday at 7pm on TMF, straight after German boyband show Big In America which follows the ridiculous US5 as they get arrested in Russia and turn up in the UK to be greeted not with the screaming fans they bizarrely expect, but by a burly taxi driver holding a sign saying "4US" - comedy gold. Now bring on Totally Boyband, which starts this Sunday and promises to be even funnier!
Live: I haven't mentioned them for a while as they seem to have completely forgotten about releasing singles, despite having one of the best songs of the year (You And Me) on their album, but I would like to recommend that everyone pops along to see the Delays this month on their current UK tour. Their album is fantastic and I'm very much looking forward to seeing how it translates into a live show. The cute lead singer isn't putting me off either!
Single Wars
Last week was a landslide for the almighty Scissor Sisters, who have a whole day of Radio 1 devoted to them tomorrow... and this is the day when I get an urgent call to do an extra day of work. Disaster! Now, to take my mind of that terrifying ordeal, here's this weeks contributors saying why their favourite single should be voted this week's Single of the Week...
First up this week is Callum who is a big fan of Nerina Pallot and her new single
Sophia
:
"Considering that the very lovely Nerina Pallot released the reissue of the Fires album in April, with slightly more peppy production than last year's incarnation, it seems an odd decision for her to completely rerecord the title track in a more radio-friendly style. Gentle drums, pulsating synths and a swirling string section put some meat on the bones of the formerly stark, intimate ballad. As ever, one of this lady's greatest strengths are her pristine vocals which she also gets to air on the single's B-side, a rendition of Kylie's Confide In Me backed by a string quartet.
Nerina's pop sensibility is a lot stronger than many of her confessional singer-songwriter kin, and this slower single is every bit as hook-laden as the previous one, Everybody's Gone To War. Like that song, Sophia has a striking video - in this case, Ms. Pallot plays a flaming piano in a desert as the sun rises. Ignore the fact that she supported James Blunt on tour; Nerina's the real deal, and she's come to show the Sandi Thoms of the poposphere how it should be done."
Next up is Michael who thinks we should all be buying
London Bridge
by Fergie this week:
"This time last year, the very thought of the Black Eyed Peas' only (and only just) female member unleashing her solo incarnation and Mad Auntie vocals upon the world would have filled my little world with dread.
However, mercifully - for anyone who's ever had the misfortune of witnessing the car crash that is Fergie's live vocal prowess - Fergie doesn't insist upon inflicting her whiney, hard-edged singing voice on the unsuspecting public in this, her debut solo single; rather, she shouts. Over a looped backing track that sounds as if it was knocked up during the improbably-named producer Polow Da Don's tea break, her royal greyness barks such insights as, 'I'm wishin' that I didn't wear these shoes (I hate heels)' and 'I'm such a lady but I'm dancin' like a ho'.
It shouldn't work. But it does.
There's a fine line between genius and insanity, and Fergie Ferg wriggles her entirely unsavoury booty all over it. In heels. In a world where pop is only acceptable if it's performed by po-faced indie ironists, someone as bat shit insane as the divine Ms Pea is what we've been missing. The truly unique are those who are remembered, and I only wish that there was still a pop media around to cover her ascent to pop royalty."
Third to state his case is Swedish pop blogger
Chris
, who loves Jamelia's new single,
Something About You
:
"Jamelia has really understood what's hot in the pop world at the moment. While her upcoming single "Beware Of The Dog" is a raw R&B club hit in the style of "Maneater", a style that really has gotten big this year. "Something About You" is belonging to another genre that is really hot right now; girlrock a la Kelly Clarkson. They are also two types of songs I can see Jamelia getting a hit with in the United States, and I have a feeling the producers had that in mind. I definitely think she should give it a go, she has more potential of getting big than most (if not all!) other British pop singers at the moment.
While I personally prefer "Beware Of The Dog" I still think choosing "Something About You" as the first single was a good choice. It is very easy to like, and radio friendly of course, but is also representing the content of her new album better. And while we're on the subject, I want to add that I can't quite understand the hype of the album, besides the singles I only like one song (and that's "Ain't A Love")!
Another reason why "Something About You" should win this week's Single Wars is because there is a remix by Linus Loves of it which I really like. You have to check it out. Excellent stuff."
I wanted to give my support to Swedish September's single Satellites (ooh, alliteration!) this week but then I realised it's not out for another two weeks (as has Sophia but lets not mention that), having been pushed back in the release schedule until Radio 1 and The Box start playing it on repeat, as is necessary for it to even break the top 40. Instead I've gone for an act who are lovely in an entirely different way - Guillemots with
Trains To Brazil
:
It took me a while to fully embrace the Guillemots, as when I first came across them they hadn't even released a proper album and most of the tracks available were demos or live recording which weren't exactly brilliant. However, there were a few gems, so I stuck with them and eventually they released their rather good album and two really excellent singles - the previous minor hit Made Up Love Song #43 and this more upbeat and highly addictive single which has been played quite frequently on the radio (B list on Radio 1, but strangely nowhere to be found on Radio 2), although a top 10 entry still seems to have eluded them.
Guillemots are interesting in that there is no easy way to classify them. Their music is a mix of many things, but no single genre fits them perfectly. They definitely have plenty of pop tendencies however, and this is what makes them great despite being Mercury-nominated and loved by Jo Whiley. So ignore all that and give them a chance - you might just discover your new favourite band!
If I Wasn't A Celebrity...
In the style of Heat's celebrity spotting section, here are some sightings I have made of decidedly un-famous ex-residents of Planet Pop trying to find their way back to the top spots they never really had...
Jamie Tinkler (ex-member of Pop! who also entered Pop Idol 2003 and Song For Europe 2002) spotted as part of boyband Avenue singing Leave Right Now on the X Factor, and sailing through to boot camp but it seems Jamie and pals are back to square one after being disqualified for already having a management deal and Jamie having already been signed to SonyBMG, the company which signs X Factor winners.
Was that the drummer from the Faders drumming for everyone's new pop obsession Mika at a recent London gig? The video has now been removed from YouTube for copywright reasons... or maybe this is just a cover-up cos they don't want anyone to know that a girlband member can genuinely play an instrument!
If you've made any non-celebrity spottings, e-mail them in to me at poptasticuk@hotmail.com and I will post the best ones up here.
News
Girls Aloud's new single Something Kinda Ooh premiered on Radio 1 this morning and I am very much in favour of the track on first listen. It's probably their danciest track yet, most comparable to You Freak Me Out and Wake Me Up out of their past recordings, but even more brilliantly catchy and absolutely bursting with energy - I love it!
Little has been heard of Gavin Degraw, my choice of the American singer-songwriter types, in recent months but a recent bulletin from his MySpace informs fans that he is recording new music and where better to do so than in Stockholm, Sweden? This probably doesn't mean he's working with Max Martin but you never know - stranger things have happened...
Cosmos (Outer MySpace)
Here are few more recommended pages from the world of MySpace:
Lambretta
Of course I've been a fan of Lambretta and lovely Linda Sundblad for years, but I only just found their MySpace and it has 4 tracks to download for free so I thought it would be worth bringing this ace Swedish pop-rock group to the attention of those of you who haven't been reading my blogs for long. Kill Me and Bimbo are the ones most worth downloading, especially the latter which was perhaps the earliest example of Max Martin's current rock-pop sound. Lambretta are no more but singer Linda is recording a solo album which I can't wait to hear as it's said to be similar to Gwen Stefani's sound.
Hellogoodbye
This was in fact the first ever MySpace music profile I visited (in July 2005, and I subsequently posted a track on ITG), and the whole idea seemed a bit alien and pointless to me but now of course it couldn't be much more familar and it does kind of have a point, in helping me navigate the endless supply of new acts available in the digital age! Hellogoodbye are one of the few US rock acts who aren't completely boring - in fact they are great fun and their profile showcases 2 of their best and most poptastic songs, Touchdown Turnaround and latest single Here In Your Arms.
Kerli
A couple of years ago an Estonian singer named Kerli released a great song called Beautiful Inside, but I had never heard anything of her since then... until now, when I hear she is signed to Island Def Jam, recording with Guy Sigsworth (famous for his work with Madonna and with Imogen Heap as part of Frou Frou) and hoping to become a more mainstream version of Bjork. The music on her MySpace isn't blowing me away at present and her doll wallpaper is kind of scary, but it will be fun to have an Estonian attempting worldwide fame and I hope, if only for that novelty, she achieves it.
News
With motherhood and designing clothes and other products, Gwen Stefani hasn't had much time for releasing music lately, but I'll forgive her since her latest venture is
these
super-cute little dolls of herself in outfits from the What You Waiting For, Hollaback Girl and Cool videos (and there are 5 more available). Definitely a better present for your kids than a Pussycat Doll!
Fans of the Pipettes may be interested in what could be called the French version of their 60s-style pop, Pourquoi Pas Moi by actress/model Mareva Galanter. This very catchy tune has a fab
video
and a typically French sense of humour.
Finally, a big well done goes out to Girls Aloud who once again took home the Popjustice £20 Music Prize, this time for Biology. Personally I was rooting for Rachel or Will, but it is a well deserved win, unlike that other music prize where the only good band nominated (
Guillemots
) were cruelly robbed of their victory.
New Pop On The Block
Mika - Billy Brown/Relax Take It Easy
I have to jump on
Gaypop
's bandwagon here and proclaim the brilliance of new male solo singer
Mika
. He's just released a double a-side download single (is it possible for a download single to have 2 sides?) which combines the jolly Scissor Sisters-esque Relax Take It Easy, which is apparently a response to the events in London last July, and a slightly less pitched but no less jolly tale of Billy Brown, who lived an "ordinary life" until he "fell in love with another man". I've only seen a few photos and heard 3 songs but I'm already head over heels in love with this new singer and definitely going to be buying his album. Relax Take It Easy will be available on various sized records (but not CDs) from the 18th of this month, so pop down to your local HMV and join the Mika fan club before everyone else does.
85% Poptastic!
Jamelia - Beware of the Dog
I'm a big fan of Jamelia as a pop star and a person, but I do wonder if the current crazy loving of her new songs may be a little overboard. This is indeed a great single but from the excitement it has caused in many other listeners, I had expected something truly extraordinary and that I didn't get. There is nothing at all to dislike, but real brilliance has something extra that on first listen is a complete shock to the system and makes you want to listen to it over and over again, even though you fear you'll wear it out if you do. I had that feeling with I Said Never Again, Biology and Hung Up and I was hoping to have it with this so I was a bit disappointed that I didn't. Still, it did have high praise to live up to and I still love Jamelia and this song - she'll just have to go one step further before she finds herself in my top 10 of 2006.
94% Poptastic!
Nelly Furtado - No Hay Igual
It was an interesting tactic of Nelly's to effectively release 3 singles at once, as she released Maneater in the UK while releasing Promiscuous in the USA as well as this track No Hay Igual, presumably to appeal to yet another demographic. Whether this tactic is the reason for her new album's huge success I don't know, but I'm sure it contributed and it will be interesting to see if other large-scale artists try the same with future releases. I'm not sure when she plans to release No Hay Igual as she already has a single on the go in the UK and the USA, but a video has been made so I guess it will be the 3rd release from the album in all the countries she's popular, which seems to be pretty much the entire world! This isn't as poptastic as Maneater or Promiscuous (my surprise fave of the two, considering it's more r'n'b - must be the JT video appearance!) but it definitely gets stuck in my brain, even if I can never remember more than the title line and "what it is", which is of course the only bit in English. It's great that she's likely to have a big hit in Spanish, it's not something we see often and I love to see foreign-language tracks doing well in the UK where record-buyers do tend to stick to what they know. Go Nelly for representing her cultural identity, even if she has sold out to be cool these days!
67% Poptastic!
Single Wars!
Yes, Single Wars is BACK! This is the feature where fans of the acts releasing singles this week tell us why their song should be pronounced Dirrrty Pop's single of the week. First up is Chris (aka
Klee
) who wrote about the Yeah Yeah Yeahs and their new single
Cheated Hearts
:
"The first time I ever heard the Yeah Yeah Yeahs I thought "Ooh, Chrissie Hynde's remembered how to write songs again". They might be noisier and cooler than The Pretenders, but both bands share a lot in the spiky guitar rockpop stakes.
Cheated Hearts is more of the same: angular guitars, Karen O's yelp and a bassline they seemed to have nicked from Virginia Plain by Roxy Music. It builds slowly from the bassline to a screaming crescendo via a Karen O vocal which could be summed up as "I'm cooler than you all and have the hair and shoes to prove it".
It's good, but not great - a first rather than second album song in that it covers less emotional ground than other tracks on 'Show Your Bones'. A nice indie disco punt though, and it fills the gap between now and them re-releasing Turn Into and taking over the world."
Our second contributor is
Carrie
, whose favourite single out this week is
Starlight
by Muse:
"Binoculars to the fore! Avast me hearties! Who is that we spy looking brooding in the midst of that fine blue ocean? Why, it's Muse! Get out the black eyeliner, gang, and begin tapping your toes and nodding your head backwards and forwards. Don't go into full-on mosh mode, mind – this ain't a hardcore thumper of old-school Muse misery.
No, this is Matt Bellamy's soaring vocals over a keyboard-heavy accompaniment – this is what Placebo would sound like if they were joined by Dave Bryan from Bon Jovi. There's the usual crashing chords across the bridge, and close harmony backing comes in at the end as the guitars ease up and leave Bellamy's plaintive cries exposed.
There's something really sinister – in a heart-rending way - about this track, for all its upbeat, singalong piano riffing. Maybe it's because it's a tortured tale of lost love, beginning, "Far away, the ship has taken me far away", so it's fairly easy to guess where their director derived the idea for the water-based video. If such literal lyric interpretation doesn't grab your vote for single of the week, you must be an incredibly difficult customer to please."
Next is Mike, a big Kelis fan who loves her new single
Bossy
:
"This infuriatingly catchy song is the first single off her brilliant new album Kelis Was Here, and OF COURSE it should win single of the week. She's one of the best popstars ever (even without her paintball-fight-in-a-stuffed-toy-factory hair), she references past hits in her lyrics (as pioneered by Britney on her landmark 2000 single Stronger), she 'rides the beat like a bicycle', she's 'icy cold' and promises to 'keep it pumpin' while the 808 is jumpin''. We're not 100% clear on what an 808 actually is, but we're prepared to sit here all night making sure it stays jumpin'. Because Kelis said so, and she's a BOSS.
You know it makes sense."
And last but hopefully not least is my own personal favourite,
I Don't Feel Like Dancing
by the Scissor Sisters:
Proving that you don't have to be original to stand out from the crowd, the Scissor Sisters have great taste in songs to rip off, creating an end product which could be mistaken for the Beegees except surely if they'd done a song this ace we'd have heard it at least as much as Night Fever and Stayin' Alive? If they let Ana sing more on the next one (I have noticed that despite being the acest member and not having any instruments to play except the tambourine, she has almost no lead vocals) perhaps we'll get ABBA as well.
The Scissor Sisters represent everything that is missing from today's music scene - a sense of fun, a reckless disregard of what is considered cool and a look so colourful you almost have to shield you eyes. If they were Swedish, they might even overtake BWO as my perfect 21st century band. Best of all, being at no.4 in the charts on downloads alone, it looks like this is going to be a humungous success and I am very excited!
Now it's time to vote for your favourite:
DP:UK
Margaret Berger - Samantha
One of the absolute best songs I've discovered recently is this wonderful electro-pop single by Norwegian Idol star Margaret. She previously released a pretty good song called Lifetime Guarantee but this outdoes it by a million, it's just fantastic! I love her voice and the jolly yet sophisticated style of the song, and at last YouTube has provided us with a video starring Miss Berger looking fabulous with her newly blonde hair.
LMNT - Hey Juliet
They were kind of the American answer to Phixx, a 4-piece boyband made-up of rejects from early reality pop show Making The Band (as well as another random guy called Jonas), but they didn't even have as much success as the Popstars rejects, as this seems to be their only single although they did release an album (listen to clips
here
). Juliet is a brilliant song however, written by Swedes and much more poptastic than anything O-Town produced.
Marit Bergman - No Party
The queen of Swedish indie-pop is back with a new single from her new album, I Think It's A Rainbow which is out this week and if it's as good as its title and this single suggest then it'll be brilliant. Marit is quirky and fun and makes me wish there were more British indie-pop stars who made music like this rather than the boring almost-pop (too self-conscious to be properly pop) music they usually come out with.
JC Chasez - All Day Long I Dream About Sex
Justin is very much back on the scene and some have said his new direction is a poor copy of that of bandmate JC's solo debut. I would say that Justin's style remains far more r'n'b and his new album is nowhere near as good as JC's CD, Schizophrenic, but you can judge for yourself by watching the video for his most infamous single. Just make sure your mum's out of the room first!
OK Go - Here I Go Again
I'm not a particular fan of popular American rock band OK Go but their performances are totally brilliant, flying in the face of the ordinary singing and playing live set-up. They mime to their songs and perform complicated and usually hilarious dance routines, and in their VMA performance a few days ago they took this to a new level with an inspired dance routine performed on treadmills! There are no instruments on stage and I can't even tell if the guys are bothering to mime along to the song - they're certainly not singing live. This is just great fun and should be taken as inspiration for all award show performances from now on.
This week's top 5:
=3. Justin Timberlake - SexyBack
=3. JoJo - Too Little Too Late
=3. Madonna - Jump
2. Nelly Furtado - Promiscuous
1. Scissor Sisters - I Don't Feel Like Dancing
This has turned out to quite possibly be the most popular song in DP:UK's (admittedly rather short) history, and very much deserved too. From Monday I'm starting a new weekly feature so I'll be giving DP:UK a break for a while but rest assured it will be back at some time in the not too distant future. So long, farewell etc.!