And The Rest
To make sure my top 25 was as accurate as possible and because I have trouble stopping once I get started with anything involving pop music and lists, I extended it to a top 100 and seeing as I am lovely and generous,
here it is
!
Dirrrty Pop Review: Gwen Stefani - Love Angel Music Baby
After hearing that this album was a bit disappointing overall I approached without the high expectations I'd usually have for a Gwen Stefani project, but even if I had listened to LAMB with those high expectations they would have been surpassed, because this in my opinion is an excellent album. Some of the songs are similar to her usual sound with No Doubt, while others incorporate all sorts of new styles. There's r'n'b, electropop and even some which could easily be called pop ballads! This is a great pop album which Gwen should be proud of.
1. What You Waiting For
What better way to begin an album than with one of the best singles of 2004? It's insane but genius, and exactly how modern pop music should sound. 10/10
2. Rich Girl
I was never keen on Let Me Blow Your Mind, so didn't expect too much from this but it's not the r'n'b disaster it could be - in fact it's rather good! 7/10
3. Hollaback Girl
Gwen is almost rapping on this track that lands somewhere between Utada Hikaru, Fannypack and Destiny's Child's current style. I didn't know quite what to make of this one on first listen but now it's a big favourite. 10/10
4. Cool
I'm not a fan of the word "cool" or many things described as it, as they're usually far from it, but this songs turns out to be a lovely mid-tempo rock/pop number, showing off Gwen's singing talent. It is very short, though. 7/10
5. Bubble Pop Electric
Continuing the tradition of Pop and Pop!ular, the word 'Pop' in this song's title automatically makes it brilliant. If Aqua had been a ska band this is how solo Lene would have sounded. This is the cool version of Barbie Girl and as all proper pop fans know that only spells yay! 10/10
6. Luxurious
Sampling an Isley Brothers classic, this is a laid-back sexy song and therefore not really my 'thing' but it is nice to listen to in a relaxing mood and is growing on me with each listen. 7/10
7. Hajaruku Girls
Gwen's homage to the fashionable girls of Tokyo's Hajaruku district with the Japanese girls themselves joining in throughout the song in both English and Japanese. The lyrics read more like a slightly one-sided coversation than a song and she throws in plenty of advertisement for her clothing line. 7/10
8. Crash
Very Salt'n'Pepa! It's like Push It for the '00s, with a touch of Republica and again Fannypack. This was actually produced by Gwen's No Doubt bandmate Tony Kanal which is surprising to me as it's one of the tracks least like their usual style. 9/10
9. The Real Thing
Gwen goes all soppy on us but only in the finest electro way - in fact there's a surprising touch of PSBs about it. Very pretty and sweet but not sickly in the slightest. 8/10
10. Serious
The classical beginning always excites me as so many fabulous songs have them, and this very 80s number is no let-down. Funnily enough the chorus is not as different from Pop!'s single of the same name as you might expect! But twice the fun and ten times the cool. 9/10
11. Danger Zone
Like WYWF, this is rather Surferosa-esque (ie. Euro thrahs pop, look them up!) which never fails in my books but it could probably do with a stronger chorus and lyrics to keep up with the rest of this song and the others around it. 7/10
12. Long Way To Go
Apart from Hey Ya, the genius of which cannot be denied, Outkast have pretty much passed me by and I'm presuming this track was only included because of Andre 3000's appearance cos it's nothing special. Andre clearly can't be botherd to adapt to other people's styles as this sounds just like his own album and nothing like the rest of Gwen's. It did make my Dad come rushing upstairs to find out what it was though!5/10
13. The Real Thing (Wendy and Lisa Slow Jam Mix)
I love how this was mixed by Wendy and Lisa - no fancy pseudonyms or trendy/tacky American names, in fact they sound more like someone's Mum and Aunt! This is as you will guess, a slow ballad version of The Real Thing and very nice but lacking the electro aceness of the original. 6/10
14. What You Waiting For? (Elevator)
An amusing and weird but quite pointless extra track which I doubt I will listen to very much at all, although it is the best piece of elevator music I've heard recently! 4/10
Pop Victories Of 2004
Christmas is a time for celebrating so lets forget the Darkness and Blue and instead remember 10 of the most brilliant things that happened in this year of pop...

1. Britney Spears had her most successful year yet with 2 huge no.1 hits and a Greatest Hits album.

2. Girls Aloud released their second album as well as 2 utterly fabulous singles, covered Moonbaby and had their second no.1.

3. Two of my favourite bands of all time, Maroon 5 and Scissor Sisters, were 2 of the biggest success stories of the year.

4. The Mercury Music Prize was won by someone Quite Good Actually (Franz Ferdinand) and the poptastic Jamelia managed to get herself nominated.

5. Indie music channel The Amp saw sense by playlisting Tyler James, JC Chasez, Rooster and even Freefaller, Ollie out of Point Break's new band!

6. Annie, V, Surferosa, Gwen Stefani, Portobella and Freeform Five all bounced poptastically onto the music scene.

7. Darren Hayes, Alcazar and Dannii Minogue all made triumphant (in excellence if not success) comebacks.

8. Kylie forgot about being too cool to be good and worked with Xenomania and the Scissor Sisters.

9. One of the biggest summer hits was by a Moldovan boyband singing about a Linden tree...whatever that is!

10. Eminem sampled Martika's Toy Soldiers, hopefully meaning there will be more than 3 people celebrating Martika Day 2005. Remember May 15th!

Hello pop chums!
I hope you all had a lovely Christmas and got everything you could ever possibly want, without reason. Now it is back to business (or as businesslike as it ever gets round here) and first on the agenda is the very sad news that Mr Aceness Himself (aka Edward O) is sadly closing down his brilliant site Enthusiastic But Mediocre. He is definitely one of the best pop writers I've ever come across and has introduced me to many of my favourite songs - without him I wouldn't be half as Euro-obsessed or half as knowledgeable about Europop. So 3 cheers for Mr O and lets hope he's not away too long!
And Finally: THE MOST POPTASTIC SINGLE OF 2004 IS...
Alcazar - This Is The World We Live In
Released: 20th September
Fun fact: Alcazar's latest CD single in Sweden for Here I Am held 7 different versions of the song including a Christmas version with sleigh-bells and French and Spanish versions!
Best bits: 1. Doesn't matter who you are when you're moving up with Alcazar
2. This is the world we live in (ohohoh) and these are the hands we're given (oh-oh)
3. So come on make it right, tonight, gotta get in the light
2nd Most Poptastic Single Of 2004!
Annie - Chewing Gum
Released: 13th September
Fun fact: Annie's next single is the gorgeous Heartbeat, out in February.
Best bits: 1. Oh no! Oh no! You've got it all wrong
2. I don't wanna settle down, I just wanna chew gum
3. Hey Annie, well look at you, is that a new boy stuck on your shoe?
The Ones That Got Away
As you may have noticed, the songs in my most poptastic countdown are all singles released in the UK this year, which means that some of the most phenomenally brilliant songs of 2004 were not included. Here are 20 of the top songs not released in the UK this year:

United States of Electronica - Emerald City
One of the few good American groups of 2004 created this, the euphoric feel-good party anthem of the year.

Robyn - Blow My Mind
A mixture of Britney and Annie and ten times as ace - I didn't know that was possible until I heard this!

Hitch Hike - Travel Girl
Greece's answer to No Good Advice or What You Waiting For features an American girl wittily describing her hitch-hiking escapades over the backing track of the century.

Alcazar - Physical
The follow-up to TITWWLI and equally fantabulous. Alcazar are exactly what pop stars need to be in 2005 and every year to infinity.

E-Type - Olympia
This song leaves even me feeling competitive and I'm neither Swedish nor any good at sports whatsoever. You may feel slightly ridiculous singing along but you won't care at all.

Erik Faber - Century
Proving that Scandinavians do everything better, this is a singer-songwriter ballad and yet it is absolutely brilliant. It's very emotional and beuatifully sung and makes me certain that my next holiday has to be to Norway.

Bodies Without Organs - Conquering America
From the makers of Alcazar come this strangely named but unsurprisingly excellent new act, who should be conquering not just America but the whole universe in 2005.

Within Temptation - Running Up That Hill
An excellent band covers and excellent song, and of course the result is more than excellent. Could this be even more over-dramatic than the original?

Gavin Degraw - I Don't Wanna Be
The theme to One Tree Hill but that snippet doesn't do this song justice in any way. Sounds like Hanson meets Elton John and even better. Buy his album now or miss out in a big way!

Christian Walz - Wonderchild
This may have been a slow-burning hit in Sveden but it won my heart immediately - one of my songs of the summer, and still sounds impossibly ace now.

Venke Knutson - Scared
One of the prettiest songs and singers of the year and another ace Norwegian with a suitably brilliant name.

September - We Can Do It
This should be Jo O'Meara's debut solo single, or even better a perfect S Club comeback, and that is a compliment of extreme proportions.

Da Buzz - How Could You Leave Me?
The first song I heard on real-life Swedish radio and although I tend to find Da Buzz a bit overrated among Euro fans, this one deserves all the praise in the world.

Paps'n'Skar - Mirage (La Luna)
A cross between Dragostea Din Tei and the Maltese Eurovision entry, this is a little-known Euro-hit from an Italian duo.

Surferosa - Saturday Night
More wonderful Norwegians, this time letting their hair (whatever colour it might be dyed this week) down with a rocking "thrash-pop" party anthem.

The Knife - Heartbeats
Swedish electro-pop with a reggae influence, it shouldn't work, but of course it does and massively so. Like the cool version of Ace of Base, but don't ask me what she's singing.

Bosson - A Little More Time
The silliest voice in pop since Christian Walz, but that only adds to this fabulous song. You might remember his song One In A Million from Miss Congeniality.

Hanson - Penny & Me
The Hanson brothers are back and better than ever! Well maybe not quite beating I Will Come To You but they're certainly not lacking in aceness in any way. Check out the video with the boys looking rather handsome and the lovely Samaire Armstrong making an appearance.

Ben Jelen - Come On
Not only is Ben a very pretty face, and not to mention his very pretty hair, but he makes very pretty music too, and this one has a wonderful things jumping out of pianos video to go with it.

Nadiya - Et C'est Parti
I have to say I'm not a huge fan of French music, it's usually far too elegant for me, but this fun, catchy party track shows they can be just as ace as their neighbours (but probably never as ace as Neighbours).
3rd Most Poptastic Single Of 2004!
Maroon 5 - This Love
Released: 19th April
Fun fact: All 4 of Maroon 5's singles of 2004 are in my top 100.
Best bits: 1. Kept playing love like it was just a game, pretending to feel the same
2. I'll fix these broken things, repair your broken wings, and make sure everything's alright
3. I was so high I did not recognize the fire burning in her eyes
4th Most Poptastic Single Of 2004!
Darren Hayes - Pop!ular
Released: 30th August
Fun fact: The Darren concert I saw last month was my fave gig of 2004, which means a lot when you consider the competition; Scissor Sisters, Will Young and Maroon 5!
Best bits: 1. Play my video, hear me on the radio
2. I'm willing to sleep my way to the top, I wanna be pop...ular
3. I Just Sold My Soul
5th Most Poptastic Single Of 2004!
Will Young - Your Game
Released: 15th March
Fun fact: I was beginning to think Bridget Jones 2 was a bit of a let-down until I heard Will's lovely voice on the soundtrack right near the end of the film and suddenly my opinion was incredibly favourable!
Best bits: 1. Coz I'm mystified yeah, and you know I've tried
2. I can't keep wasting my time on your game
3. I've seen this all before, time and time, no way
6th Most Poptastic Single Of 2004!
Britney Spears - Toxic
Released: 26th May
Fun fact: As Test The Nation reminded us tonight, Britney's wedding to the fabulously hillbilly Jason Alexander earlier this year lasted only 55 hours.
Best bits: 1. I'm addicted to you, don't you know that you're toxic
2. Too high, can't come down, It's in the air and it's all around
3. Intoxicate me now, with your lovin' now, I think I'm ready now
7th Most Poptastic Single Of 2004!
Gwen Stefani - What You Waiting For?
Released: 15th November
Fun fact: I'm getting Love Angel Music Baby for Christmas - hooray!
Best bits: 1. Take a chance you stupid ho!
2. Tick tock tick tock tick tock
3. Damn you've got some wicked styyyyle
8th Most Poptastic Single Of 2004!
Maroon 5 - Sunday Morning
Released: 6th December
Fun fact: A year and a half later, Jesse is still the rubbishest member of Maroon 5 and one look at his current facial hair nightmare proves me absolutely correct.
Best bits: 1. Things just get so crazy, living life gets hard to do
2. Driving slow, driving slow, oh yeah yeah, yeah yeah
3. Back and forth we sway like branches in a storm, change the weather still together when it ends
9th Most Poptastic Single Of 2004!
V - You Stood Up
Released: 8th November
Fun fact: This should have been Christmas no.1.
Best bits: 1. And as for what was me, I remember letting go...
2. Give it all back, give it all back etc.
3. Babyyy stooole it from me
10th Most Poptastic Single Of 2004!
Maroon 5 - Harder To Breathe
Released: 19th January
Fun fact: Maroon 5 are scheduled to release their second album in 2005 - too! much! excitement!
Best bits: 1. I have a tendency of getting very physical, so watch your step cos if I do you'll need a miracle
2. When it gets cold outside and you got nobody to love
3. Is there anyone out there cos it's getting harder and harder to bre-e-eathe
11th Most Poptastic Single Of 2004
V - Hip To Hip
Released: 9th August
Fun fact: This was the first DVD single I ever bought and is true brilliance, especially the interview which revealed that Aaron is vivacious but doesn't know what it means and Mark can do an impression of a plum tree.
Best bits: 1. Rock me, shock me, any way you know, but I guess I kinda like the status quo
2. Got a feelin'... somethings wack
3. Before I count to 3 you're here with me, before the blues attack
12th Most Poptastic Single Of 2004!
Maroon 5 - She Will Be Loved
Released: 23rd August
Fun fact: The impossibly lovely Ryan has finally returned to the band after being absent due to a shoulder injury (he's the drummer, in case you didn't know) most of this year. Mr Dusick is no longer sick!
Best bits: 1. It's not always rainbows and butterflies
2. Look for the girl with the broken smile
3. Beauty queen of only eighteen
13th Most Poptastic Single Of 2004!
Snow Patrol - Chocolate
Released: 12th April
Fun fact: There is a Snow Patrol song on the 2nd greatest movie of all time aka
Camp
, and there is also a Lightbody-penned track on the acest album of 2004,
Strangest Things
by Freeform Five!
Best bits: 1. Just because I'm sorry doesn't mean I didn't enjoy it at the time
2. With a name I'd never chosen I can make my first steps As a child of 25
3. You're the only thing that I love It scares me more every day
14th Most Poptastic Single Of 2004!
Snow Patrol - Spitting Games
Released: 12th July
Fun fact: I began 2004 thinking Snow Patrol were the most boring band on Earth, and it ends with them being one of my top discoveries of the year!
Best bit: 1. My heart is bursting in your perfect eyes
2. I'm far too shy to speak to you at school
3. Just raise the roof this once and follow me
15th Most Poptastic Single Of 2004!
Surferosa - Lucky Lipstick
Released: 12th April
Fun fact: They supported Electric 6 on tour last year, but don't let that put you off cos they're actually absolutely fantastic. And Norwegian!
Best bits: 1. I'm pretty ba-a-a-a-d!
2. You look so goood, so good, so good, come on!
3. Lookeeng at me, lookeeng at you, lookeeng at everywan
Guess The Talky Bit!
Here's a challenge for you: see how many of the following 'talky bits' you can recognise...

1. "The sky is blue and the beach is waiting for you"
2. "Oh, I'm having so much fun!"
3. "Oh, my God...here she comes!"
4. "Man I'm tired of singing"
5. "You're really dropping out, I think my battery must be low"
6. "Some people say I look like me Da"
7. "Cos frankly I don't even care"
8. "All these answers to my questions, I have to find"
9. "I drive my mini cooper and I'm feeling super-dooper"
10. "If you wanna catch this vibe, then get with us"

I will post the answers in a few days. The winner wins the knowledge that they are brilliant, so a very worthwhile prize I'm sure you'll agree.
16th Most Poptastic Single Of 2004!
Will Young - Friday's Child
Released: 5th July
Fun fact: Will is on tour now, but I'm not going - how depressing. However, I do have his lovely 2005 calendar. Why not
click here
and buy 'Sing With Will Young'! Your life is incomplete without it.
Best bits: The best bits are the musical bits which, not being at all musically-minded, I can't describe very intelligently. So just imagine aceness.
17th Most Poptastic Single Of 2004!
Phixx - Love Revolution
Released: 8th March
Fun fact: If Strange Loves comes out, Phixx will have released twice as many singles as One True Voice.
Best bits: 1. It's like fire burning through my veins and I feel so alive!
2. Woah! Come and join the revolution
2. It's a sanctuary, it's the sweetest tunnel of light.
18th Most Poptastic Single Of 2004!
Freeform Five - Strangest Things
Released: 5th July
Fun fact: Their album Strangest Things is quite possibly my favourite of the year!
Best bits: 1. Let's get taaangled
2. You turn me round now I can't find the ground
3. I'll do the strangest things to you baby
19th Most Poptastic Single Of 2004!
Girls Aloud - The Show
Released: 28th June
Fun fact: However hard I try, I can't sing this song without breaking into "the Vengabus is coming!"
Best bits: 1. Should've known, should've cared, Should've hung around the kitchen in my underwear.
2. I won't ooh unless you want me to, I want you, get in the queue!
3. Should've fluttered my mascara like a butterfly.
Kylie Minogue - I Believe In You
Released: 6th December
Fun fact: This song is actually out...today!
Best bits: 1. The joker's always smiling in every hand that's dealt
2. I believe I believe I belieeeeve iiiin youuuu
3. I believe in you I believe in
21st Most Poptastic Single Of 2004!
Rufus Wainwright - I Don't Know What It Is
Released: 26th July
Fun fact:
This website
decribes Rufus as "a cross between Lawrence Llewelyn Bowen and a 'deadpan' David Gray."
Best bits: 1. Could be heading for Poland or limbo or Lower Manhattan
2. Is there anyone else who has slightly mysterious bruises?
3. Get me heaven or hell, Calais or Dover
Dirrrty Pop Review: V - You Stood Up
I didn't even realise V's album was out this week until I saw an advert for it last weekend, so I got all excited and planned to do a double spend on the V and the Aloud. I've already reviewed WWTNS so now it's V's turn...
1. Blood, Sweat & Tears
Their 5ive-esque debut sets off the album as everything that's good
about boybands, which is a pretty good summary of the whole. 7/10
2. Hold Me
Very catchy mid-tempo love song with acoustic guitars. A big grower for me. 7/10
3. You Stood Up
I still think this is absolutely gorgeous and the perfect boyband ballad. The video definitely didn't so it justice and it should been Xmas no.1, not a mid-November flop. Grr! 10/10
4. Walk On
This appears to be written by Lemar, which was a suprise, especially as it doesn't really sound like his style. Perhaps that's why V ended up with it. Sounds more like early Blue actually. 6.5/10
5. Stop The Tears
2nd ballad of the album and a really nice, sad one. 8/10
6. Hip To Hip
The happiest, funnest song of the summer! I can't fail to smile when it comes on. Should have been no.1 forever! 10/10
7. Can You Feel It
Not the best cover version in the world but it works well for V and carries on the smiley summer vibe of Hip To Hip. It served it's purpose in getting them noticed even if they were fighting an impossible battle. 6/10
8. Chills In The Evening
Now we come to the song that awoke me to the charms of V in the first place, which is ironic since it's a duet with McFly. But! Only the good ones in McFly and the combination of a softened McFly and a toughened V is incredibly lovely. This should have been a single, maybe instead of B,S&T although I guess it wouldn't have been a great career move for McFly to duet with an unknown band for a single. 10/10
9. Angel
Upbeat with a great chorus lead-in ("I'm a fool, I'm a fool, I'm a fool!") and the chorus itself is pretty ace too. It's 1 of the 3 fabulous Xenomania tracks, alongside Hip To Hip and Fools. 9/10
10. Breakaway
I heard this first about 6 months ago on the album-sampler with You Stood Up, but this version sounds like a stripped-down demo which is disappointing. Much preferred the original Breakaway, but it's still quite good in an acousticy way. 7.5/10
11. Fools
One of my favourites of the new tracks. So catchy with the jangly guitars of Hip To Hip and I've been singing it all week. So cheery poppy boyband yay! 9.5/10
12. Earth, Wind & Fire
Basically Blood, Sweat & Tears part 2. It's the same song with different lyrics! Did they think we wouldn't notice? Very weird. But it's not terrible...just the same! 6/10
13. First Time
As with BS&T, Walk On and Earth, Wind & Fire, this was produced by Scandi super-producers Stargate. It's a bit monotonous but has a great middle 8. 5.5/10
18. 18
I'm not exactly sure what this hidden track is called but I'd take a guess at '18'. It's about turning 18 and the traumas of growing up. It's a lovely ballad with a great rap-ish bit that sounds just like "Pac's Changes. Beautifully cheesy, which is just how I like them. 9/10
My top 5 tracks from You Stood Up at this very moment:
1. Hip To Hip
2. You Stood Up
3. Chills In The Evening
4. Fools
5. Angel
Hooray!
22nd Most Poptastic Single Of 2004!
Portobella - Covered In Punk
Released: 14th June
Fun fact: Frontwoman Luciana Caporaso was in the pop duo Crush with Donna Air.
Best bits: 1. Look at me, I scream like a banchee; God save the drag queen! God save the drag queen!
2. It's my obsession, what's your confession?
3. Hey-oh!
23rd Most Poptastic Single Of 2004!
23. O-Zone - Dragostea Din Tei
Released: 7th June
Fun fact: According to
this website
, Ozone are "not gay". Hmmm...
Best bits: 1. Mai Ai Hii! Mai Ai Haa! etc.
2. Ti-am dat beep, si sunt voinic (I gave you a call, and I am tough)
3. Alo, alo, sunt eu Picasso (Hello, hello, it's me Picasso)
If you're enjoying the countdown so far why not pay
Michael
a visit to see his 'touching tribute'. I fear he's outdoing me already...
For the fly girl Y and her posse of aceness
Please go and visit
CFB Goes Pop!
to read about their brilliant roof-razing escapades for Scat Aid and raising awareness of the 80s pop starlet Collette (don't ask me!). If they get 20 sites to mention them they're going to sponsor a child so please help if you can! Here is the aforementioned Collette razing the roof for encouragement: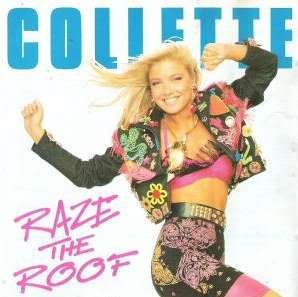 24th Most Poptastic Single Of 2004!
Girls Aloud - Love Machine
Released: 13th September
Fun fact: Last year's 24th most poptastic single was also by GA (Life Got Cold)
Best bit: 1. What will the neighbours say?...this time!
2. Cos we're living in 2 tribes and heading for war!
3. Gift wrapped kitty cat
25 Most Poptastic Singles Of 2004!
Long-term readers will remember last December's countdown of the 25 best songs of the year, culminating with the most poptastic single, Leave Right Now by Will Young. Unbelievably, a whole year has passed and it's that time again - the countdown is back, bigger and better than ever before! Let the fun begin...
25th Most Poptastic Single Of 2004
Delays - Lost In a Melody
Released: 22 November
Fun fact: The Delays come from Southampton, like me! They are the indie answer to 'N Sync (both weird-looking boybands with high-pitched singers) and for that you have to love them.
Best bits: 1. STOP!
2. That which I should have done I did not do and now the song is suuuuung
3. Runrunrunrun we should get in before the setting of the suuuuuun