A Decade Of Poptastic No.1s!
Madonna - Hung Up
19th November 2005
At last we reach the end of the top 25 no.1 songs of the decade, and funnily enough the final song was also my favourite song of 2005. It's also quite amusing that the only no.1 single I liked last year was my favourite song of the year, which I didn't point out when I did that countdown. I suppose it's quite optimistic - despite all the crap no.1s of 2005, the best single released still managed to top the charts. Maybe there is some hope left!
Hung Up reinstated my love not only for Madonna but even more for ABBA, and Hung Up in my mind belongs as much to them because it would not be the case that the song still makes me grin like a madwoman every time I hear it if it wasn't for that euphoric sample. I am now the proud owner of the ABBA Definitive Collection set (2 CDs and a DVD, it's fab) and even an ABBA calendar! Without ABBA, there might be no Alcazar or BWO, and there would definitely be no Hung Up, so that's 3 reasons to adore them already, add in their music and any sane person would, having realised this, denounce any ideas of the Beatles or the Rolling Stones being superior to them. ABBA are the height of brilliance, it cannot be denied!
Melodi Club
Now it's time for part 2 of my review of Norway's Melody Grand Prix. Again, click
here
to watch along with me.
Semi Final 2 (Bodø):
Queentastic - Absolutely Fabulous
As you will have no doubt guessed by now, this band are drag queens, and their music is every bit as camp as you would expect. But is it any good? Well, it's OK in a half-rate Alcazar sort of way. They're no Alcastars, that's for sure, but it is better than the usual MGP standard.
Hanne Haugsand - Heaven's In Your Eyes
Now this is what I call a catchy little number! Sadly her fashion sense slightly ruins it, as she is wearing a horrid purple fluffy thing, which kind of matches her huge fluffy hair, although that's not purple. At least if it was she might get work as a clown. Apparently Hanne was in a band called Charmed who had a hit called My Heart Goes Boom, a song they entered in Sweden's Melodifestivalen, but I don't think I've ever heard it.
Ovi Martin - The Better Side Of Me
Ooh, a boy at last! Well, one not dressed as a woman anyway. And he's really a man and a bit boring too. His song is a lovey-dovey ballad which doesn't stand out here and certainly wouldn't at Eurovision. There are much better songs with the word "better" in them, for example Better Best Forgotten, a song which title could also describe this performance.
Marit Strømøy - Too Much Love
Although she's actually only 29, Marit looks like someone much older trying to look much younger and of course failing. Hers is another light-weight pop song, a type of music which even I am getting a bit fed up of after watching 1 and a half episodes of Melodi Grand Prix.
Hans-Petter Moen & Kim Arne Hagen - I Hear Music
The wonderfully named Hans-Petter and Kim (a man) are very typical of Eurovision. Old-fashioned clothes, big smiles, stools and a guitar. You get a pair like this every year - last year for Latvia, the year before Holland. Will this year's smiley stool boys be from Norway? I hope not, cos these 2 are just a bit creepy.
Jannicke Abrahamsen - I Wanna Be
Another blonde lady in her late 20s and a short dress (this one is green, shiny and possibly the ugliest yet). She reminds me of Tricia Penrose, that Heartbeat actress who was so desperate to win Song For Europe in the UK a few years ago. Perhaps this really is her, having another go? Her song is another light, girly pop tune, but it's likeable enough.
So, who will be the winner? I really can't be botherd to listen to any more traditional music or whatever that was they tried to peddle us on the last show, so I'll just look it up on the web site. Returning for the 2nd chance show are... Ovi and Jannicke! And through to the final? The 2 duos, Queentastic and the weird blokes! Well done them.
A Decade Of Poptastic No.1s!
Britney Spears - Toxic
13th March 2004
As I'm sure you'll have noticed, brilliant no.1s have been a pretty rare occurence in the last 2 years - I've only included one song each from '04 and '05 in my top 25, and this is the song I've declared the best of 2004. It's also quite possibly Britney's best moment of the 00s, although I am extremely partial to Overprotected. I've said enough about Britney already in her earlier appearances - all that's left is to hope that her next single will be as good as this one and all the releases between the two can be conveniently forgotten.
A Decade Of Poptastic No.1s!
Will Young - Leave Right Now
6th December 2003
This song was 'make or break' for Will and luckily he more than survived. Will is known for his ballads and love songs, but he managed to do something here that was just a bit different and it worked marvellously. With this single Will became an artist in his own right - now Pop Idol is rarely ever mentioned when talking about Will, but Will is always mentioned when talking about reality TV graduates - he has to be the most successful of the lot.
10 Things I Learned From Saturday Morning TV
1. After many months of believing Ashlee Simpson "danced to" L-Lo's boyfriend, I have finally realised that she actually "didn't steal" him. Yeah right Ashlee!
2. Dork, whoever he is, has 5 sons, not 4 as I previously thought. Either that or a new one has been born since last week. Did they think we wouldn't notice?
3. Boy Least Likely To are the band least likely to ever make an interesting song, but their video is quite cute.
4. MTV Hits have finally run out of good themes for their themed days - today is "Don't Day" where every song has "Don't" in the title.
5. Leo Sayer should never be let out of the pop nursing home again - his miming along with his sample on Meck's single Thunder In My Heart and especially the dodgy dance routine on CD:UK this morning was the most frightening thing I've ever seen.
6. He's also really really small!
7. Craig David's new single is still really boring and I still can't remember it's name.
8. I might have to start watching Kerrang! with the sound turned off, cos the newFall Out Boy video has a v. cute boy in it (not one of the members obviously).
9. The POP channel on Sky clearly aren't aware that broadcasting Say Cheese by the Fast Food Rockers is a punishable offence.
10. Heaven Is A Half-Pipe by OPM was actually quite a good song!
Melodi Club
Last year I had great fun
reviewing
the Norwegian
Melodi Grand Prix
(their Eurovision selection show) final, so now I have decided to review the semi-finals of the 2006 programme. You can watch it all yourself
here
.
Semi Final 1 (Alta):
Trine Rein - Here For The Show
A "mature" lady in an unadvisably short skirt with a big voice singing a rocky number. She's no Katrina but the song is good live. According to her
web site
, Trine has been famous for many years in Norway, where she released Torn, the Natalie Imbruglia song, before even Natalie got her hands on it, and you can even hear her version if you skip through a few songs on her site's music player.
Geir Ronning & Jorun Erdal - Lost & Found
43 year old Geir will be recognised by Eurovision fans as last year's Finnish entry, who sang the song Why (the one that ripped off Careless Whisper). He is actually Norwegian, so we can't even tell him off for deserting his country, although we can reprimand him for his general boring rubbishness. Jorun is 42 and seems only to be famous for entering Melodi Grand Prix quite a lot. However, their song is really quite good! It's a catchy piece of cheesy sing-along schlager. It's probably not strong enough to do really well in Eurovision, but it wouldn't earn them nil points either.
Kirsti Carr - Misled
It seems to be Kirsti's stylist who is misleading her, cos she looks like she'd fit right in with the Slater girls on Eastenders in this picture, yet only the actual show she looks more like a young mum who has decided she needs to dress respectably now but ran out of trousers and had to put on her tacky white ones from the 80s at the last minute. The song is one of those ballads with a perky chorus that are very common in Eurovision, but it's not a very good one.
Christina Undhjem - My Dream
The presenter somehow manage to make her name sound like Christina Milian, and she has made herself look rather like Mariah Carey, but she is like neither of them - she is worse. This song is really really boring.
Mocci - Tonight
This lady apparently went to Paul McCartney's "fame school" in Liverpool and again she's getting on a bit, but she seems to have modelled herself on Cyndi Lauper rather than a GMTV presenter. I've heard good things about this song and it is the best so far definitely.
Arlene Wilkes - Sunshine
This is Arlene's second go at Melodi Grand Prix and she seems to be known for appearing in musicals in Norway. Her song is quite catchy and jolly, sounding like something S Club 7 or Jnrs would have done. Arlene may not be a cute stage school kid, but she sings it well and has heaps of stage presence (although this could just be cos she looks to be extremely tall).
After the performances it gets very weird - some old bloke goes on stage dressed like a friend of Robin Hood and does what can only be described as a combination of yodelling and gurgling (certainly not as singing). He does have some nice icicle chandeliers, though. Then an even older man arrives, seeming to be the mayor of somewhere in Norway (either that or he just has bad taste in "bling").
Finally the presenters get around to announcing who is through to the 2nd chance round (ie. 3rd and 4th places). The audience show a sense of humour with some mock nerves. It's... Kirsti! Also through is... Arlene! Hurrah!
Then, at last it's time for the winners who go through to the actual final. Announced first is... Trine! She seems excited and has fun running up to the stage without showing her knickers. Then she sings it again and I decide I am extremely bored of her. And also going through is... Geir and Jorun! Hurrah!
As usual, the Norwegian final is good but no patch on their Swedish neighbours. No-one really stands out. Still, there are a few more semi-finals to go (which I will of course be reviewing), so maybe a deserving winner will be among them
What's On Your Tube?
I have set up a
Poptastic YouTube
group for you all to join. Watch the videos and feel free to add some yourself. So far there's assorted Alcazar, Elena and other Eurovision aceness, with much more to be added later. What's brilliant about YouTube is that it's not dominated by Americans - every well-known artist in the world seems to have several videos available. It's also great because a lot of the videos are live performances which you can't find anywhere else - there's even one by Alcazar with Russian pop ladies Julia Savicheva and Natalya Podolskaya.
A Decade Of Poptastic No.1s!
Beyoncé - Crazy In Love
12th July 2003
This is the only single that could seriously be called r'n'b in my whole top 25, so Beyoncé should feel very privileged to have my love. Admittedly, this is as poptastic as r'n'b gets (and far more poptastic than many pop songs), but at least it shows that while my tastes are pretty strictly limited to pop, they are widely ranging within the different types of pop available. I actually don't believe pop is a genre - most pop acts combine several existing genres (such as rock, dance or r'n'b) to make the best song they can, hence pop music having such a wide appeal.
Focussing back on Beyoncé now, I must say I haven't been a big fan of any of her other solo singles, again proving what a spectacular song this is. I'm not usually one to pick a specific "song of the summer" every year but this was definitely the song of summer 2003 - to me it connotes parties and fabulous (even if rubbish) dancing better than any other song of the past few years. It's so sassy, creating Beyoncé as an in-your-face girl power icon simply through her music. I have to say, though, that the single cover is awful!
A Decade Of Poptastic No.1s!
t.A.T.u - All The Things She Said
8th Feb 2003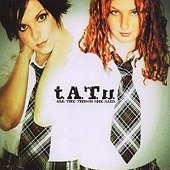 It may have been the girl-kissing which got t.A.T.u to no.1 but I'll still count it as a triumph for fabulous Eastern Euro-pop. t.A.T.u, their tough, emotional song and all the furore around them created an image of modern Russians as mysterious, extreme and a little bit scary. Maybe they didn't convert that many music fans to Europhilia, but they at least got a few people who wouldn't normally dream of it, buying a CD by a band who would later go on to enter Eurovision. Who cares if they weren't really lesbians, they did exactly what they aimed to and annoyed lots of old people with it - what more could you want from a pop band?
A Decade Of Poptastic No.1s!
Girls Aloud - Sound of the Underground
22 Dec 2002
This is by no mean's my favourite GA song, but it shows what a great band they are that this piece of pop genius is still nowhere near their best. When it was first released I was shamefully anti-Aloud, simply due to my fierce hatred of Louis Walsh (which due to X Factor the British public now finally agree with me) and annoyance at him beating pop master Pete Waterman. The reason I was supporting the boys in the first place was because there really were some great singers and some great popstars in the final ten, and although some of the great singers made the band, none of the great popstars did, hence the disaster that was One True Voice's career.
Luckily, GA's second single was so amazing that I couldn't hold out any longer and it's a very good job I decided to give in then because I really don't know what excuse I'd have made for disliking The Show or Biology. There really isn't one, and without the involvement of Louis Walsh (which now thankfully seems to be severed, except for when it suits Louis to be linked to the girls) there would have been no reason to dislike this track.
A Decade Of Poptastic No.1s!
Daniel Bedingfield - If You're Not The One
7th December 2002
Daniel may have become quite the laughing stock of pop music since being in it long enough for his "personality" to be revealed, yet this cannot take away the fact that he has made some amazing pop music, this being the very best example. It's definitely going to be a song that will be remembered long after Bedders has been forgotten.
The only worrying thing is that it's one of Simon Cowell's favourite songs, meaning Pop Idols (or just pop idols, if TV talent shows really do die out, as music snobs have been prophecising for the last 5 years - ever since they started) of future generations will probably be legally binded to release a cover of it.
Beware of superfluous teleological principles!
Finally I have learnt something at college that will actually be useful in real life. I have realised that I have a very Nietzschian approach to music! He said "Beware of superfluous teleological principles" which put more simply (not that it could be put less simply) means "ignore anyone who says there's a hidden meaning in anything" and by "anything" I include art and... music! Nietzsche may have said some rather bizarre and pointless things in his time, but clearly anyone who says he was mad is completely wrong, as in that statement he is speaking more sense than any other philosopher I've ever heard of. He is basically saying we should listen to music for its sound, and choose the music we listen to for its sound, not its lyrical content. Nietzsche says we should enjoy beauty for beauty's sake, and that is exactly what we do when we listen to pop music. We don't expect to learn anything from it, it's pure entertainment. I only hope this doesn't mean that I too, and all you other pop fans who are not fooled by the illusion of depth and meaning, will be called mad in our old age! Oh well, hopefully we'll all be put in a mental hospital together where we can listen to ABBA and chat about the merits of Alcazar vs. BWO all day. I'm quite looking forward to it actually!
A Decade Of Poptastic No.1s!
Will Young - Anything Is Possible / Evergreen
9th March 2002
At last, we reach the singer who has undoubtedly had the biggest effect on my life so far. In fact, I remember my teenage years as pre-Will and post-Will, the second half obviously being far more superior. It's 4 years since it's release, and later this year I will be able to celebrate half a decade of being a Will fan, since it was late 2001 when he first appeared on Pop Idol. It's interesting to note that this is the 18th of the 25 songs I have chosen for this feature, proving that the late 90s and early 00s really were far better for pop music than the time since Will. It seems almost like there is only so much pop aceness to go around and Will has taken up so much that there's not much left for other singers!
I could go on all year about how much I love Will and how exciting the time around the release of this song was, but there's not very much to say about either of the songs themselves. I preferred AIP, because it had no association with Westlife and a much nicer video, but apart from that it was the phenomenom of Pop Idol and my first absolute obsession with a pop star that made this so special. I do miss ye olde Willyum.
We lurve the new Popjustice
(note the royal "we" for accurate imitation) but we lurve
DARREN HAYES
AND
ALEXANDER BARD
!!! even more. Never has a true word been spoken than that of Alexander Bard: "God hates rock'n'roll" - forget Shakespeare, the greatest Bard is and always will be Alexander.
Post-exams Pop Quiz
I've had my exams so now it's time for you to test your brains and you lucky things only have to know about pop music! All the answers can be found on the Internet is you know where to look, and you have an incentive - whoever gets the most points wins a lovely bundle of the best songs of 2006 so far. Leave your answers in the comments box or e-mail them to poptasticuk@hotmail.com. Good luck!

Section 1: (Worth 1 point each)

Which country is each of the following acts from?

1. West End Girls
2. Alizée
3. The Veronicas

Name these acts' food-themed hits:
1. Craig David
2. Snow Patrol
3. Ash

Section 2: (Worth 2 points each)

Guess the talky bit:

1. You do the things that make me feel this way
It's so hard to find the right things to say
2. Celebration, toast the occasion
Talking about love and true dedication
The hand of love that's, oh,
so tender is gonna give you a night to remember
3. You can tell me to my face or even on the phone
You can write it in a letter, either way, I have to know

How many no.1 singles have each of these boybands had in the UK?

1. 5ive
2. Backstreet Boys
3. *N Sync

Section 3: (Worth 3 points each)

Who sang the original versions of these songs?

1. Rachel Stevens - Je m'appelle
2. Britney Spears - Do Somethin'
3. Javine - Don't Walk Away

Name the song entered and position reached by each of these acts in Eurovision:

1. Antique
2. Vanilla Ninja
3. Fame
I was just looking at the most played tracks of all users on
Last FM
this week and it is SO depressing. Apart from Rebellion (Lies), which is the one Arcade Fire song I like, if I had to pick the next best songs in the top 10 I'd probably go for Coldplay! The chart is actually worse than the UK top 10. I suppose the Last FM user demographic is a certain age group (probably mostly between 15 and 35), mostly male (spend more time on computers and it is kind of the Internet equivalent of ordering your CDs alphabetically) and fairly intelligent (setting up Audioscrobbler does require a few brain cells). Although why intelligent young men are not listening to good music is quite beyond me, this list does look quite representative of what they like.
It's interesting to also note the almost complete lack of women (highest placed female-fronted act is Black Eyed Peas at 38, with a song that's totally sexist anyway) and ethnic diversity - the highest placed black person is Kele from Bloc Party, a band who are about as far from urban as you can get, although there is in fact no reason they couldn't win a MOBO award. In total there is only one properly female act in the top 100 (Madonna) and only 2 female-led (BEPs and Frou Frou). Bloc Party and BEPs are the only acts with black members, although a few of the American acts I'm not 100% sure on.
Most of the music is not horrible. Postal Service for example have a few nice songs, but they are excruciatingly dull. Plus, Madonna, BEPs, Gorillaz and Frou Frou are the only acts who could seriously be called pop, and even then BEPs are more rap/r'n'b and Frou Frou are hardly the jolliest of bands. The rest are either indie or rock, or in most cases both. I presume that most Last FM users are America, but the Brits actually have an equally strong hold over this chart, perhaps because our indie/guitar music is pretty much all that does well from Britain in the US. But with the top British acts including James Blunt and Oasis, there's no cause for celebration.
It seems that Americans have 2 choices in modern music - urban or guitars. There's very little in between, unless you count country. As depressing as this is for America, and perhaps our own future, it has cheered me up a little as we at least still get our small share of quality pop and I for one am going to hang onto it for as long as possible (or at least until I can move to Sweden!).
A Decade Of Poptastic No.1s!
Kylie Minogue - Can't Get You Out Of My Head
29th September 2001
When I first heard this I thought it was quite good, within a week I absolutely I loved it, and a week or so after that it was being hailed as the best pop song in years. Kylie had had strong success with Spinning Around and the rest of the Light Years album, but it was this song that cemented her as one of pop's biggest icons. Before Spinning Around she was just seen as a legend of the late 80s, but since that song's release her profile has continually risen until now she is one of the biggest stars on the planet. However, if she hadn't found a song as great as this to follow up the Light Years album, her comeback probably would have stalled - instead it escalated.
This song has not only become Kylie's signature tune, but has made heaps of money for it's writers, who were also former pop stars making a comeback - Cathy Dennis and Rob Davis (guitarist from
Mud
), and from their involvement in this hit they became 2 of the most desirable pop writers around. CGYOOMH is not a complex song - in fact there is only one verse and a middle 8, the rest is either chorus or "la"s, but it's that simplicity and especially the "la"s which make this the song with the most appropriate title ever - you really can't get it out of your head!
A Decade Of Poptastic No.1s!
Hear'say - Pure & Simple
24th March 2001
OK, so maybe this wasn't the best song ever but it was the beginning of a trend that has completely changed pop music. Some may say reality TV killed pop, and it's a feasible argument - it made pop even less cool than it was, so now even children think they're above it (but not above buying the Crazy Frog - crazy logic more like). On the other hand, reality TV created several examples of the mad hysteria and obsessive fandom that pop music is inextricably linked with, and it gave us two of the greatest pop acts of the 00s, Will Young and Girls Aloud. If Hear'say hadn't been successful, it's unlikely that they would have got their breaks either.
I hate the way that Hear'say have been treated since their success began to wither. As they've said themselves, all they did was win a talent contest and release music very successfully - how on Earth can that be worthy of abuse on the street and ridicule in the press? It's clear that the case would have been the same whoever had won - it was no slight on the members themselves, who were each either talented or charismatic and perfectly deserving of their place in the band, although it's always a risk that putting the best people from a talent contest into a band won't work because how can you expect people who are different in many ways to make a cohesive, focussed group? One True Voice had the exact same problem and a similar, but faster downfall.
Whatever you think of Hear'say, Pure And Simple was a really good pop song and anything which was that much of a landmark deserves recognition. It also happens to be the first ever CD single I bought!
A Decade Of Poptastic No.1s!
LeAnn Rimes - Can't Fight The Moonlight
24th November 2000
I can't call myself a fan of LeAnn Rimes - in fact this is one of only 2 of her songs I like. The other is Right Kind Of Wrong, another song from the film Coyote Ugly and possibly even better than this one, which was of course the lead soundtrack single and a much-deserved although slightly surprising no.1. The only thing I can't condone is the horrendous single cover. Wholesome country stars should never try to be sexy.
This song was among the many that I referred to in my post about Baby One More Time -without that song, this one would have probably never existed, and what a shame that would be! I loved Coyote Ugly (especially Adam Garcia), as it seems most girls my age did. There can never be too many teen musicals, whether they market themselves as that (eg. Camp) or not (eg. Get Over It).
A Decade Of Poptastic No.1s!
Madison Avenue - Don't Call Me Baby
20th May 2000
Although Australia has produced some excellent pop stars, including one of the best ever in the form of Darren Hayes, their rate of producing ace pop music is not very high. This surprises me considering how jolly they seem to be as a race, but maybe I've just watched too much Neighbours and read too much CFB Goes Pop. However, they did spurn this, one of my favourite dance tracks ever. It's one of the songs I never tire of and like many of the songs I have posted about in this series, I still remember it word for word, due mostly to me having much more time to learn the lyrics as this was in my pre-Internet days. A very strange thought indeed, being unable to look things up immediately or hear almost any song you want to with a few clicks of your mouse, if you know where to look.
Although most of the songs I have written about so far would have difficulty gaining success in the current charts, I don't think this would have any trouble. It's timeless. Despite dance music being probably the most futuristic genre, it doesn't seem to age very quickly - aren't songs that were popular a few years ago always getting released again? Jacques Your Body and Basement Jaxx's Do Your Thing are two recent examples. If it makes you dance there's nothing you can do about it, and this one has added girl power too!
A Decade Of Poptastic No.1s!
Britney Spears - Oops!...I Did It Again
13th May 2000
Up until In The Zone I liked Britney more with every album she released. Her debut had 4 great singles but the rest was pretty rubbish, her second, the one that featured this song, was far better, and I personally loved Britney the album (although it doesn't seem to be that popular) and In The Zone, which produced three fab singles and held several more acetastic album tracks. However, since then I've not thought much of any of the songs Britney has released - Do Something wore off quickly, Someday was never on, although the new track And Then We Kiss from her remix CD does have more charm. It just seems a shame that someone who at one time could do no wrong, suddenly seems unable to do any right!
Oops was probably the song that cemented Britney as the princess of turn-of-the-milennium pop. She'd had amazing success with her first album so the pressure was on to continue it, and she succeeded magnificently. With the suggestion of Britney being "not that innocent" she retained the naughty schoolgirl idea of Baby One More Time, and she sensibly stuck with the jolly Swedes of the Cheiron team who had made her first album so fab.
I've found yet another reference to Sweden in the top 10! The word "Sweden" is actually in the lyrics twice!

"But baby we're in Sweden, how did you get to Sweden?"

It's a shame that the A-ha track isn't out until next Monday as that too was written by a Swede - the best Swedish writer ever in fact (even beating Alexander Bard), Max Martin. It's not his best work, but it's still his and therefore better than most things.
Is East 17's video for It's Alright...
meant to be so ridiculous? Several of them have teeth missing, one of the confusing ones has only the left side of his hair in braids, and Brian Harvey is wearing a hat which seems to be half "beanie", half chef's hat! Here's a picture which includes the hat at least:
Surely that was never in fashion! Some people say East 17 were the male All Saints, but with their attitude to clothing I'd say they have more in common with Cleopatra.
A Decade Of Poptastic No.1s!
S Club 7 - Bring It All Back
19th June 1999
Weren't they sweet in those days! Paul was thin and beardless, Tina wasn't desperate to steal the limelight and Hannah looked about 8. Miami 7 was a huge obsession for me in 1999. It was rather brilliant, although whether it would seem as great today I'm not sure. I was a fan of the 7 for their first 2 albums but strangely never bought Sunshine and rarely watched their TV show set in Spain (was it called Viva S Club?), so I wasn't very upset when they split up. I don't know why I stopped liking them, but I love them now and their last single, Love Ain't Gonna Wait was one of my favourite songs they ever did.
Like Love Ain't Gonna Wait, Bring It All Back sounded like sunshine and the message is as positive as the sound of the song - don't give up, keep dreaming etc., as seen again in yet another of their massive hits, Reach in 2000 (only a year after this one, yet it seemed ages!). They were completely wholesome and full of joy - perfectly marketed for a pre-teen audience and like B*Witched, no mother could complain.
A Decade Of Poptastic No.1s!
Backstreet Boys - I Want It That Way
15th May 1999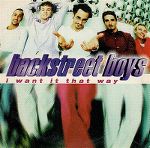 This was the song that made me realise how great the Backstreet Boys were, and it has been one of my absolute all time favourite songs ever since. The BSBs were my favourite band for 2 years, until Savage Garden (who sadly never had a no.1) overtook then and then I had no time for bands due to my Will Young obsession which began of course at the end of 2001 (more on that later I can assure you!). However, I never liked the BSBs any less, it was only that there were other acts that I loved that little bit more, and it's likely that they will always be my favourite "proper" pop band. I finally got to see them live last October and it was one of the best concerts I've been to. The atmosphere of the crowd, every one of whom was clearly quite obsessed with the band at least for that night, was amazing, as was the music - a constant stream of songs better than most bands could dream of releasing.
I love every word and note of this song. There is not a thing I would change about it, and every time I hear it is as good as the first time. This one song represents being a naive but always cheerful young teenager, despite that period of my life probably being the least fabulous, but I only realised it later and having music like this at the time was probably what stopped me from ever feeling depressed. Pop music has really truly defined and often decided the path of my life for the past decade, and I would never change that.
The Swedish Conquest of 2006 Has Begun!
This week's top 10 singles in 30% written by Swedes! That's My Goal, as I mentioned before, is written by Swedes, Hung Up of course includes an Abba sample, and José Gonzales is a Swede covering a Swedish song. Considering Sweden is only one small country it's pretty impressive for them to be involved with so many songs in the slightly xenophobic UK chart. Now all we need is some actual Swedish pop to succeed over here.
Hahahaha!
I just saw the trailer for the new Lindsay Lohan film Just My Luck, the one that's supposed to be McFly's big break in America, but they really will be lucky if they get anywhere from this - they're in the trailer for approximately a quarter of a second!
New Pop On The Block
The Modern - Industry
I saw this band live a few months ago in a tiny venue in Stratford-Upon-Avon and I never did review it here as I planned to, but I think it's pretty certain that it wasn't one of the band's favourite gigs ever, mainly because there were only about 20 people watching and I would say about 5 of them had a clue who they were, one of whom was a lady who seemed to have taken style tips from Sesame Street. I put the lead singer's seemingly rather negative attitude down to the unresponsive crowd, but actually watching their new video it seems she just is grumpy. It kind of works, she certainly has attitude and you know she won't be doing anything she doesn't want to in her ascencion to the top of the pops, but it would be nice if she smiled a bit. As for the song, of course it's excellent and I really hope it does as well as it deserves to - it's been suggested that Dear Eskiimo could be the UK's answer to the Scissor Sisters, but I actually think this lot have much more chance.
95% Poptastic!

The Delays - Valentine
I was really looking forward to hearing the new Delays single because I'd heard that they were going in a more electro direction and I LOVED their last single, Lost In A Melody, which was proper electro-pop-rock aceness. However, I am a bit disappointed with Valentine. It's not bad exactly, but it's nothing on Lost In A Melody.
67% Poptastic!

Wigwam - Wigwam
As followers of Popjustice will know, Wigwam is a new group combining fabulous 90s pop star Betty Boo (also known as Alison Clarkson, writer for Xenomania) and some bloke out of Blur, and this is their self-titled debut single. I had high expectations and luckily they have been totally fulfilled - this is ACE! I'm not sure how likely it is to be successful but with both members already being well-known to some extent at least they will get some publicity. Let's just hope they don't plan to release in Norway, as their Eurovision entry last year, as I'm sure you'll remember, were a glam-rock band called Wigwam.
78% Poptastic!

El Presidente - Turn This Thing Around
I couldn't even bear to listen to any of this group's previous releases, yet somehow this single is absolutely brilliant! Why it wasn't their first single I have no idea because it was on their first album so it easily could have been. They clearly have no taste.
75% Poptastic!

Craig David - Boring Song
I can't remember the title of Craig's new single but I do remember that it is very boring and embarrassingly soppy. Hopefully he'll do another interview on Popworld while clearly being quite drunk and crack some jokes which don't even make sense, as that would make up for this rubbishness in pure comedy value.
23% Poptastic!
A Decade Of Poptastic No.1s!
Britney Spears - Baby One More Time
27th Feb 1999

This has to be one of the best loved and most memorable pop songs of the last decade, so it's quite surprising that I didn't really care that much for it at the time of release. Of course I soon realised its greatness, but to begin with it sounded much harsher and tougher than the pop music like B*Witched and Bille that I was into at the time. In fact, when it came out it was quite unusual sounding, and it shows what an effect this song has had on pop music that it now sounds anything but unusual - it began a whole new mini-era of pop music with countless acts trying to follow in Britney's footsteps ever since.
Of course now if you mention Britney Spears' baby, people will presume you are referring to the actual human baby which popped out of her at the end of last year. I certainly didn't think when this single was released that 7 years down the line (can you believe it's been that long?) Britney would still be a massive star, although she is certainly "not that innocent" anymore!
A Decade Of Poptastic No.1s!
B*witched - C'est La Vie
6th June 1998
If I ever vote in a poll for the best year in music ever, I'll go for 1998. I'm sure thsi had more to do with it being the year I started really loving pop music and discovering the joys of being a pop fan, but I still think it was an utterly brilliant year for pop. New on the scene were, amongst others, Steps, Billie Piper, Robyn, 5ive and B*Witched.
B*Witched were my favourite band for about 18 months, beginning in June 1998 when I bought this single and I was soon assigned the role of Keavy in my school playground's version of the band. Of course we were all 9 years old, couldn't sing and certainly couldn't do an Irish jig, but we tried our best and it was fun. The lyrics were ridiculously easy to learn and the high-pitched voices are not so difficult to imitate when you're 9. Their super-smiley and squeaky clean image was tailor-made for pre-teens too and my mum much preferred them to the Spice Girls, who by now were terribly uncool. I listened to this song so many times that I can still remember the words from start to finish.
A Decade Of Poptastic No.1s!
The Tamperer ft. Maya - Feel It
30th May 1998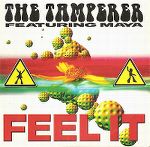 I had actually totally forgotten that this got to no.1 but it did and what a deserving no.1 it was. I bought (for less than £2!) and reviewed the Tamperer's album a few months ago, and I liked it but I can't say I've listened to it a lot since. It is good, though, and this and the other single, If You Buy This Record (Your Life Will Be Better) are both amazing songs which I never tire of.
This has to be one of the best uses of sampling ever, definitely bettering Madonna's recent use of the same sample. And being better than Madonna is not a compliment I give out easily! Admittedly Madonna has had far more good single than The Tamperer ever will, but compare Sorry with Feel It and you have a clear winner. Would Madonna ever come up with the utterly insane line of "What's she gonna look like with a chimney on her?" I think not!
A Decade Of Poptastic No.1s!
Madonna - Frozen
7th March 1997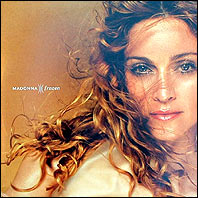 I always preferred this to Music and Ray of Light. In fact I think it was the first Madge song I ever really liked, as I knew very little about any music from earlier than 1996 at the time. Due to this lack of knowledge I had no idea when this was released that Madonna was actually a poptastic disco queen, I just thought she was a lady the age of my mum who was really famous for some reason and had released this lovely song. I was also very confused by her having black hair in the video but blonde hair in photographs.
I remember singing along to it (particularly the "ooooh if I could melt your heart" bit, which I love) on the chart show each Sunday, back in the days when missing it was the end of the world, using my Smash Hits or Top of the Pops song lyrics. I still have every single page or card of lyrics I got from those magazines, as I spent ages filing them (a bit pointless nowadays with lyrics so easy available online) and now I can't bear to throw them away.
A Decade Of Poptastic No.1s!
Spice Girls - Spice Up Your Life
25th October
This is the last appearance of the Spice Girls in this project, I promise! Like Who Do You Think You Are, this is great because its perfect for making up dance routines to, with the "slam it to the left! shake it to the right!" bit and of course "ha! see ya!" (quite obviously not the real lyrics) where all sane people would do a high kick and then probably fall over in pain thanks to their success in avoiding PE throughout most of secondary school. Or maybe that's just me!
I remember this song very well because it was in the singles charts at the time when I first started listening to them (on the advice of my dad who knew I'd love Barbie Girl, which was no.1 that week) and that was one of many triggers that sent me off into a spiral of pop love.
New Year, New Pop
It's traditional that the the music charts get very slow at this time of year, and so far the pattern is the same as ever with the charts being composed mostly of popular singles from the last few months of 2005, and some of the most popular songs of the year have even re-entered the charts possibility due to a rise in downloads by people who got iPods for Christmas. However, the Christmas season is now most definitely over and there's a whole onslaught of new music attempting to gain high chart positions while there is less competition.

Lee Ryan - When I Think Of You
2005 proved that the genius suggested by Think of the People did not really exist - Lee's solo singles were not hilariously useless, they were just plain useless and very dull. Blue splitting up seemed like such a good thing at the time but now we have 4 solo singers who are only a quarter as good as Blue, which is really quite bad (although Simon's last single was, probably accidentally, rather good). This new one from Lee is either sampling or just ripping off an old song, although I can't seem to work out what and it's annoying me greatly so if you know please please tell me!
30% Poptastic!

A-ha - Analogue
I should support A-ha since they are Scandinavian, but this song is a bit boring. It's not totally awful though and they are fairly inoffensive. I was rather surprised to see this at no.1 on the CD:UK MiTracks chart this weekend. I know they had some big hits in the 80s, but I had no idea they still had a strong fanbase who would make the effort to vote in these things. It does seem, though, that the artists with older and usually female fanbases often do better in these things that you can obsessively vote for than the young acts whose fans soon get distracted or just know that unofficial charts, and even the official ones to some extent, don't really matter that much.
55% Poptastic!

Friday Hill - One More Night Alone
Kenzie also made an appearance on this week's CD:UK and not only claimed that his new favourite band is Razorlight, but that this new single by his Blazin' Squad offshoot band is indie! There are many things it is but indie is not one of them. OK so it has a slightly more guitar-based sound than their last single, but it's just as cheesy.
40% Poptastic!
A Decade Of Poptastic No.1s!
Hanson - Mmmbop
7th June 1997
It's funny that a year ago I was excited by Hanson's comeback, but now it seems everyone has forgotten about them again. The two singles from their last album were really good, but the rest of it was a bit disappointing to be honest. They're still a great pop band and everyone loves this song in a retro way, although most are probably pretending to be ironic. People may not think it's cool but there is definitely huge love for this single even 9 years after its release, and still everyone thinks the joke that they look like girls (which they don't anymore) is really original and hilarious.
This isn't actually my favourite Hanson single - that was I Will Come To You, which criminally wasn't a no.1 but remains one of my favourite pop ballads of all time. Mmmbop may be good for a laugh, but their serious songs were even better and considering their age and the ridicule they've often had to put up with, they are actually excellent singers and songwriters.
A Decade Of Poptastic No.1s!
Spice Girls - Who Do You Think You Are/Mama
15th March 1997
This was one of the first singles I owned, or part-owned, since I had to share it with my sister, and at the time I found it utterly hilarious that she thought the lyrics went "Who do you think you are? Put it in a jam jar!" Actually it's still quite funny and I will remind her of it next time she's being annoying, which I'm sure I won't have to wait long for. I've already written about the Spicies once, in the entry for Wannabe, so I won't go on anymore about the band.
Who Do You Think You Are was my favourite of theirs from the first time I heard it and it still is. It's one of their most fun and poppiest songs, and great to make up dance routines for. Mama wasn't a favourite at the time but hearing it now really makes me reminisce about "the good old days" - it just sounds so 90s in a hugely comforting way, as old familiar things do. It's actually a lovely song.
I've been around the world (wide web)
and, in the words of Aqua, I've seen it all... including:
Get With Us
, the new blog by the Pop girls, may or may not be named after the Billie lyric, but involves the mighty feat of counting down the top 1001 songs ever and with their commentary (as well as comments from a selection of their, and my, acest friends) you know it'll be highlarious!
Also launching a new blog is fabulous Girls Aloud fan Will, who will be posting lots of poptastic tunes on his
Eye Pod
!
Not a Mariah cover, phew!
Click
here
to watch the video for a new song by Gavin Degraw, called We Belong Together. It's from the soundtrack of a new film called Tristan and Isolde and it will probably be a single in some countries but I'm not sure about here yet - it may depend on the success of the movie which seems unlikely to be huge as I for one had never heard of it before. The song isn't really up to Gavin's brilliant usual standard, but the chorus is quite mighty.
A Decade Of Poptastic No.1s!
No Doubt - Don't Speak
22nd February 1997
Seeing the video for this on Top of the Pops was my first glimpse of the young lady who would eventually become one of the most important pop stars of recent years, Miss Gwen Stefani! As great as this single is, it certainly showed no signs of being sung by someone who'd go on to make Love.Angel.Music.Baby. In fact it doesn't sound very typical of No Doubt's musical output at all, but without it there would quite possibly be no solo Gwen - No Doubt might never have been well known enough to get her a solo deal, but of course it turned out when she wanted one it was there in a flash and her profile has only grown since.
I think the main reason Don't Speak was so popular was it's broad appeal - they already had a reputation among younger music fans as a cool band, but this song was the first a lot of more casual music buyers knew of them, and it appealed to the fans of love/break-up songs as well, who don't care who is singing it if it sounds this good. Her unusual voice, the originality of the song (there may be others that sound like it but none that I can think of have done anywhere near as well) and the combination of ballad and rock instruments all came together to make it the slushy song it was cool to like and the rock song that wouldn't scare your grandma.
A Decade Of Poptastic No.1s!
Spice Girls - Wannabe
27th July 1996
As I mentioned yesterday, it was the Spice Girls who first got me into pop music in a big way, and it seems to be the same story for most people in my age group. I was so lucky to be just the right age for one of the biggest pop phenomena of all time. Although they became terribly uncool around the time of their last album and still are individually, it seems that what they achieved in their early days as pop stars is still remembered very fondly by their fans. Everyone I know has stories of pretending to be one of the girls, learning the dance routines, collecting the stickers and photos, of the singles and even the album tracks, the film and the clothes. I'm sure there'll come a day when wearing a Spice Girls t-shirt will be much cooler than a Ramones one, even if some wearers may just be doing so to be ironic. They'll still be buying into the Spice brand, just like the good old days!
Jessica's Pop News Update
>> I've decided that I really like
Protocol
. It's so easy to pretend they're Melody Club.
>> If you don't believe that Robyn is ace after seeing
this
, then you never will.
>> The bit where Richard Ashcroft sings "ti-ime" in his new single sounds like the Backstreet Boys. Shame about the rest of the song!
>> Edward O of Enthusiastic But Mediocre and Umlauts fame has a brand new
blog
and as usual it's great.
A Decade Of Poptastic No.1s!
Time for a brand new exciting feature for 2006! Well, actually just January. But FUN!
It's now a whole decade since 1996, the year when the Spice Girls first hit the charts and I became totally addicted to pop! As you know, that obsession has only got worse (or better, since you should never be ashamed of pop fandom) since then and to mark this exciting anniversary I have decided to commemorate the top 25 no.1 singles of those years. Obviously I mean the best 10 rather than the biggest selling, and it's all decided by me so if you disagree, you are just wrong. They will be in chronological order, because choosing favourites would be impossible. Now, if you're sitting comfortably, let's begin...
Gina G - Ooh Aah Just A Little Bit
25th May 1996
I recently learned (from Girls On Pop, no less) a new fact about Gina G - one of her dancers was fabulous Xenomania writer and ex-popstar Miranda Cooper (aka Moonbaby), who went on to form a pop duo with another of Gina's dancers called T-Shirt. They released a cover of You Sexy Thing which got precisely nowhere, but it's an interesting fact all the same.
This song is probably to blame for my Eurovision obsession. I have watched the show every year since I can remember, but Gina's entry was the first one that I absolutely loved, and from that year onwards I have spent most of the first five months of each year being terribly excited about an event which lasts just a few hours. But it is an extremely exciting event and it helped me get into European music in the first place.
Hearing this song makes me think of the sparkly dresses she wore on Eurovision and in the video, so in my mind it's a sparkly song and sparkly things make me smile so this a very good song for cheering me up. I love the very 90s dance music noises in the background and the dramatic, poptastic "woo-oo-oo-ooh!"
Another one tomorrow!
Question!
Is You Can Have It All the new Kaiser Chiefs single? I had no idea they were releasing it, but I just heard it on the radio and now I am full of hope that since the year of musical terror is finally over, the ban on releasing good singles from albums has been removed.
Top 100 Most Poptastic Singles Of 2005
It may not be 2005 anymore but that doesn't change the fact that I haven't told you what the rest of my top 100 was and since I spent so much time deciding on it, I'll post them now:

26. Gavin Degraw - Follow Through
27. Gwen Stefani - Rich Girl
28. Espen Lind - Unloved
29. Freeform Five - Electromagnetic
30. Girls Aloud - Wake Me Up
31. Caesars - Jerk It Out
32. Clea - We Don't have To Take Our Clothes Off
33. Alexis Strum - Bad Haircut
34. Gwen Stefani - Cool
35. Joy Zipper - 1
36. Maroon 5 - Must Get Out
37. Charlotte Hatherley - Bastardo
38. Snoop Dogg feat. Justin Timberlake and Charlie Wilson – Signs
39. Freeform Five - No More Conversations
40. Uniting Nations - You & Me
41. The Cardigans - I Need Some Fine Wine...
42. Ladytron - Destroy Everything You Touch
43. Mario - Let Me Love You
44. M.I.A. – Bucky Done Gun
45. Girls Aloud - See The Day
46. Tina Cousins - Wonderful Life
47. The Arcade Fire - Rebellion (Lies)
48. Amerie - 1 Thing
49. Gwen Stefani - Luxurious
50. Charlotte Church - Crazy Chick
51. Within Temptation - Angels
52. The Bravery - Honest Mistake
53. Kelly Clarkson - Since U Been Gone
54. Triple 8 - Good To Go
55. Hal - Play The Hits
56. Basement Jaxx - Oh My Gosh
57. Kate Bush - King Of The Mountain
58. Goldfrapp – Ooh La La
59. Jo O'Meara - What Hurts The Most
60. MC Lars - Signing Emo
61. Goldfrapp - Ooh La La
62. New Order ft. Ana Matronic - Jetstream
63. Sugababes - Ugly
64. Phixx - Strange Love
65. Javine - Touch My Fire
66. Pop! - Serious
67. Sugababes - Push The Button
68. Natalie Imbruglia - Counting Down The Days
69. Stonebridge - Take Me Away
70. The Servant - Liquify
71. Idlewild - El Capitan
72. The Like - What I Say And What I Mean
73. LCD Soundsystem - Disco Infiltrator
74. Big Ang ft. Siobhan - It's Over Now
75. Missy Higgins - Scar
76. Hard-Fi - Cash Machine
77. Lindsay Lohan - Over
78. Kim-Lian - Teenage Superstar
79. Sara Jorge - Dirty Business
80. Bratz - So Good
81. Missy Higgins - 10 Days
82. Natalie Imbruglia - Shiver
83. Ashlee Simpson - La La
84. Kylie Minogue - Giving You Up
85. Portobella - Vive La Difference
86. Le Tigre - T.K.O
87. Xavier - Give Me The Night
88. Kylie Minogue - Giving It Up
89. Bananarama - Look On The Floor
90. Charlotte Church - Even God Can't Change The Past
91. Franz Ferdinand - Do You Want To
92. Hard-Fi - Living For The Weekend
93. Dancing DJs vs. Roxette - Fading Like A Flower 2005
94. DHT ft. Edmee - Listen To Your Heart
95. The Faders - No Sleep Tonight
96. The Faders - Jump
97. The Subways - Oh Yeah
98. Tyler James - Foolish
99. Futureheads - Hounds Of Love
100. Lovebites - You Broke My Heart

THE END! Phew!